WordPress team plugin brings a great reputation for your business. As a result, your business turns into the next level of success. Because a WordPress team plugin represents the skills and expertness of each team member of your company. Consequently, it increases the faith to the customers or visitors.
If you don't have any experience of using any WordPress team plugin, I recommend you to use it on your website. You find its great impact on your business. Moreover, a WordPress team plugin provides a great and smart presentation of the details of each member of your team.
If you are interested in using it, I recommend using the WP Team, one of the best WordPress team plugins. It is open-source with huge functionalities and highly customizable options. It is light-weight, slick, SEO friendly, fully responsive and so on.
Today, I am going to share my experience with the WP Team plugin and those features of this plugin that absolutely impressed me to use it for my own WordPress website. I hope if you take a look at all features, you will also never miss to use it for your own WordPress website.
Key Features of WP Team
Now I want to focus the most mind-blowing features of the WP Team plugin that will satisfy your needs. So, let start it.
Completely Clean Admin Settings Panel
WP Team plugin has a neat and clean admin panel that is user-friendly. There is a separate panel for adding each team member that contains all necessary input fields for a team member. You can add unlimited team members as per your needs.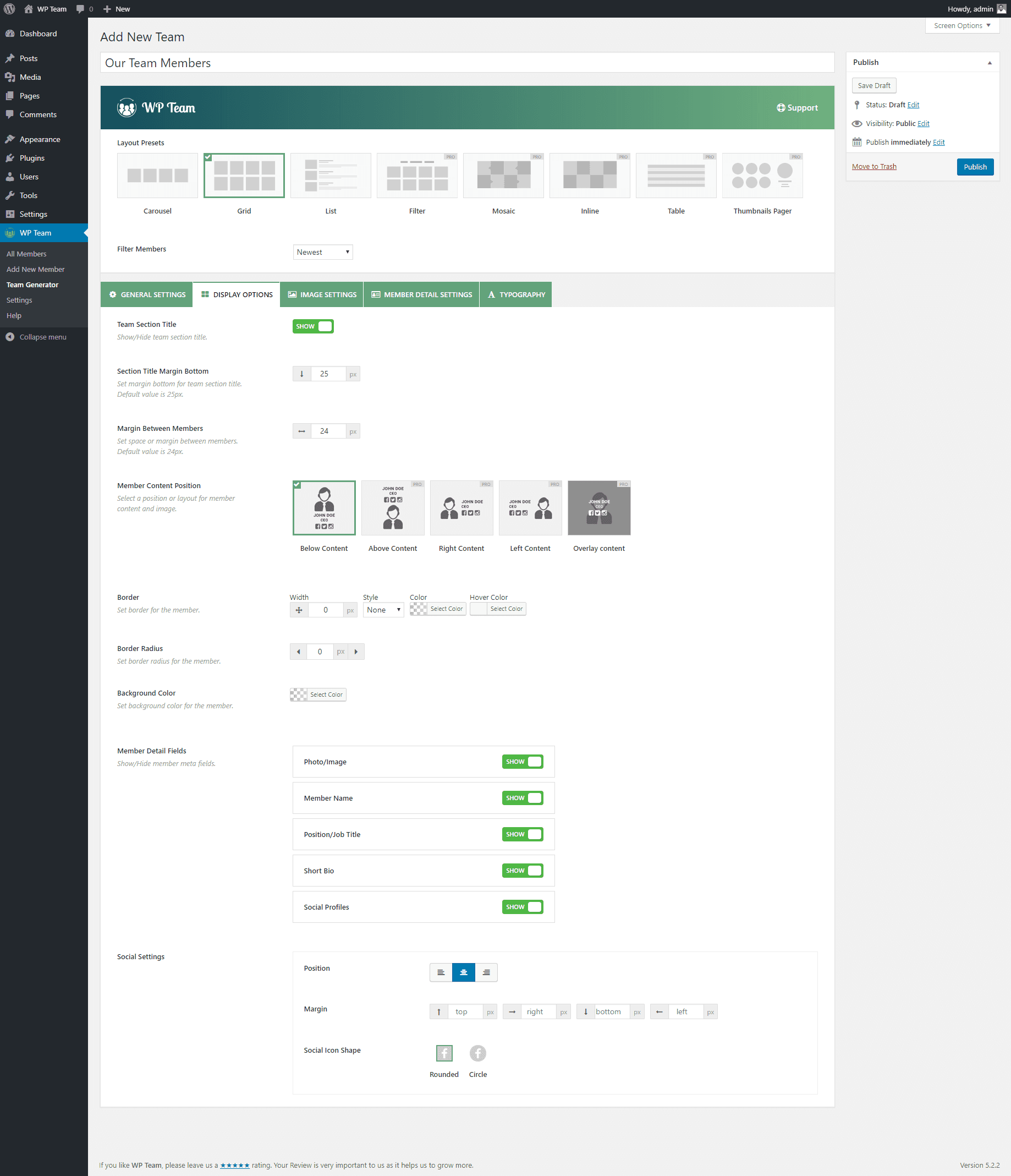 Similarly, there is another panel for generating teams. This panel contains highly customizable setting options, controls and much more. You will get a complete settings panel for creating a mind-blowing awesome team. You can also create unlimited teams with individual shortcode and you can display them easily using the shortcode.
Slick and Super-fast
WP Team plugin is light-weight, slick, elegant and super-fast. It is optimized for light-weight. As a result, it will never slow down your site due to its weight.
Fully Responsive
Responsiveness is an important feature of WordPress themes. The mobile-friendly environment plays an important role in Search Engines. In this case, the WP Team plugin is fully responsive and mobile-friendly.
3 Unique Layouts
Its freemium version offers 3 unique and smart layouts. As a result, you can display your team members in different styles. These three layouts provide the flexibility to represent your team members in your expected style.
If you choose the carousel layout and keep all other settings as default, you will find an awesome carousel of your all team members and you can display it wherever you want. I have made one and got the following result on my WordPress website.
Team Carousel Layout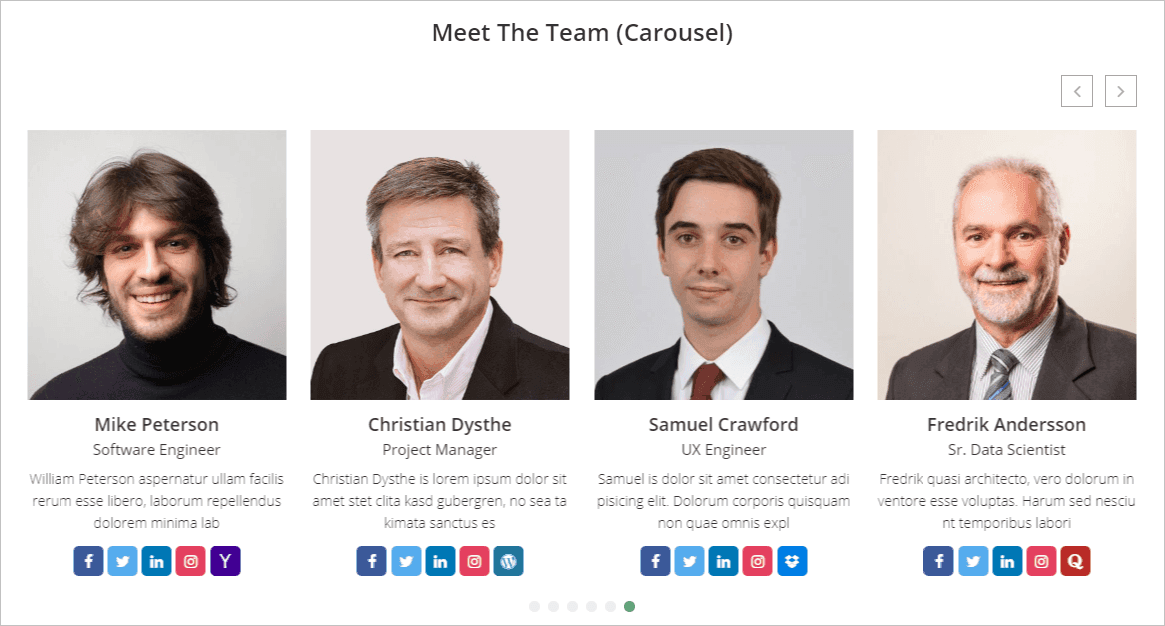 You have the flexibility of changing this layout. You can easily change this layout and select one that you like. I have changed the layout and select the Grid layout and found the following output.
Team Grid Layout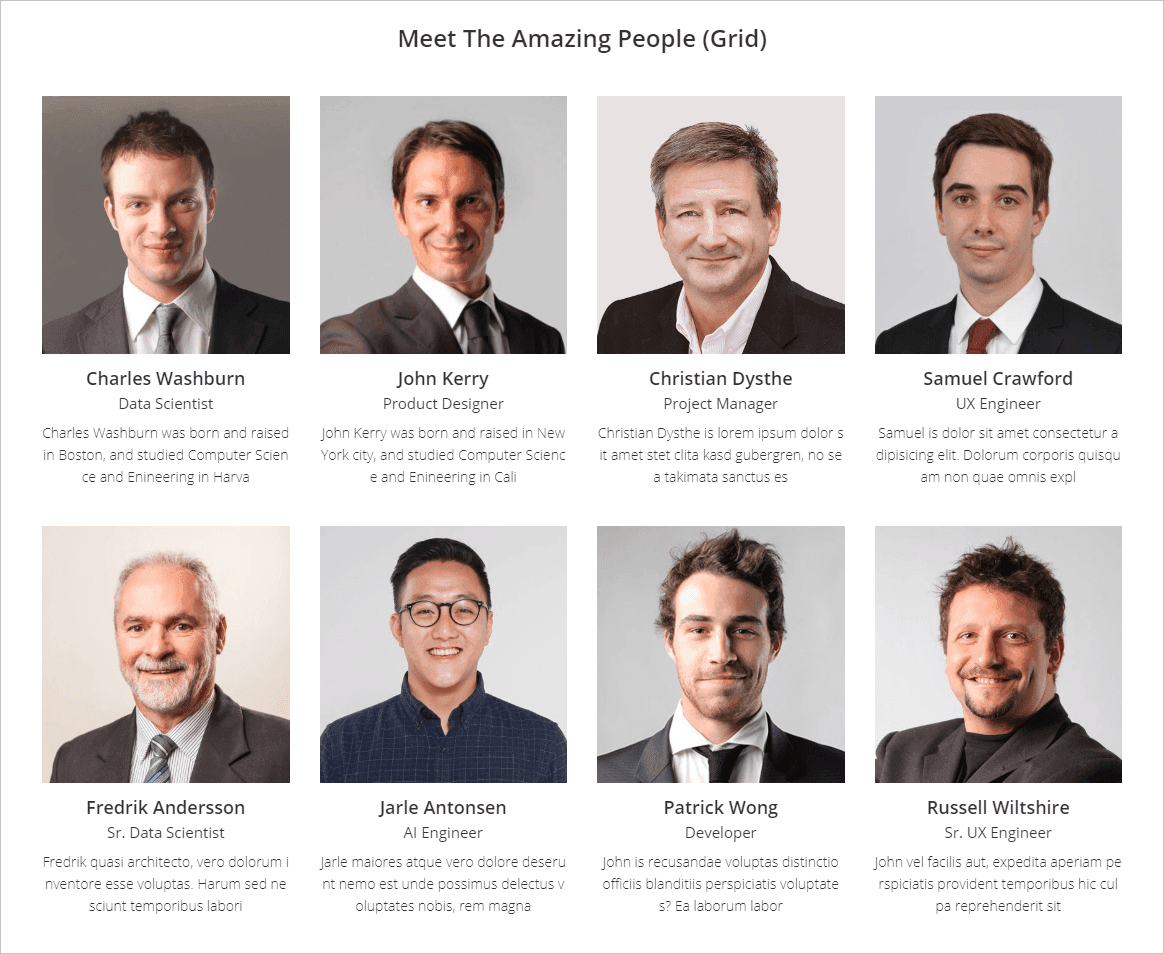 Similarly, there is another layout available to represent your team members and that is List layout. If you select the List layout, you may find the following result.
Team List Layout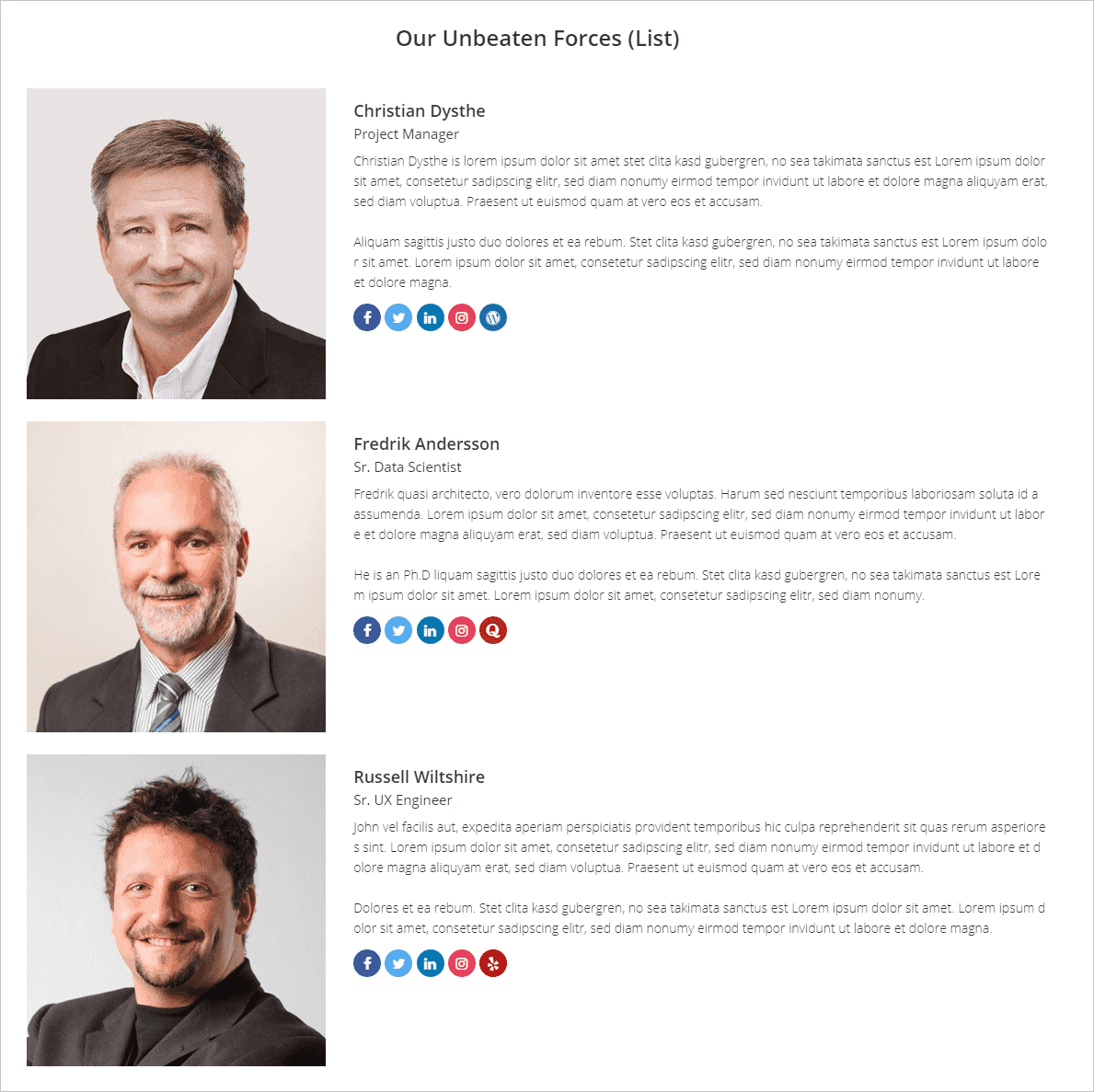 No Coding Required
It is good news for you if you don't have any programming I mean coding knowledge. Because no coding knowledge is required for using the WP Team plugin on your website. Without any coding skill, you can easily create your team members' presentation and display on your website.
Highly Customizable
The WP Team is a highly customizable WordPress team plugin. It includes a huge number of customizations options and settings. You can customize everything as per your needs. Every team member area, you can customize it.
You can add a border, radius, and background-color, etc to each team member. You may also hide or show any specific element of the member. In addition, you can set margin or space between members. So, I ensure you that the WP Team is a highly customizable plugin ever.
Multiple Carousel Controls
If you are interested in using the carousel layout for your team, you will find a number of controls to customize it as per your needs. About 10+ Carousel controls like AutoPlay, AutoPlay speed, Slide scrolling speed, Slide to scroll, Pause on hover, Infinite loop slider, Show/hide navigation, Navigation color, etc.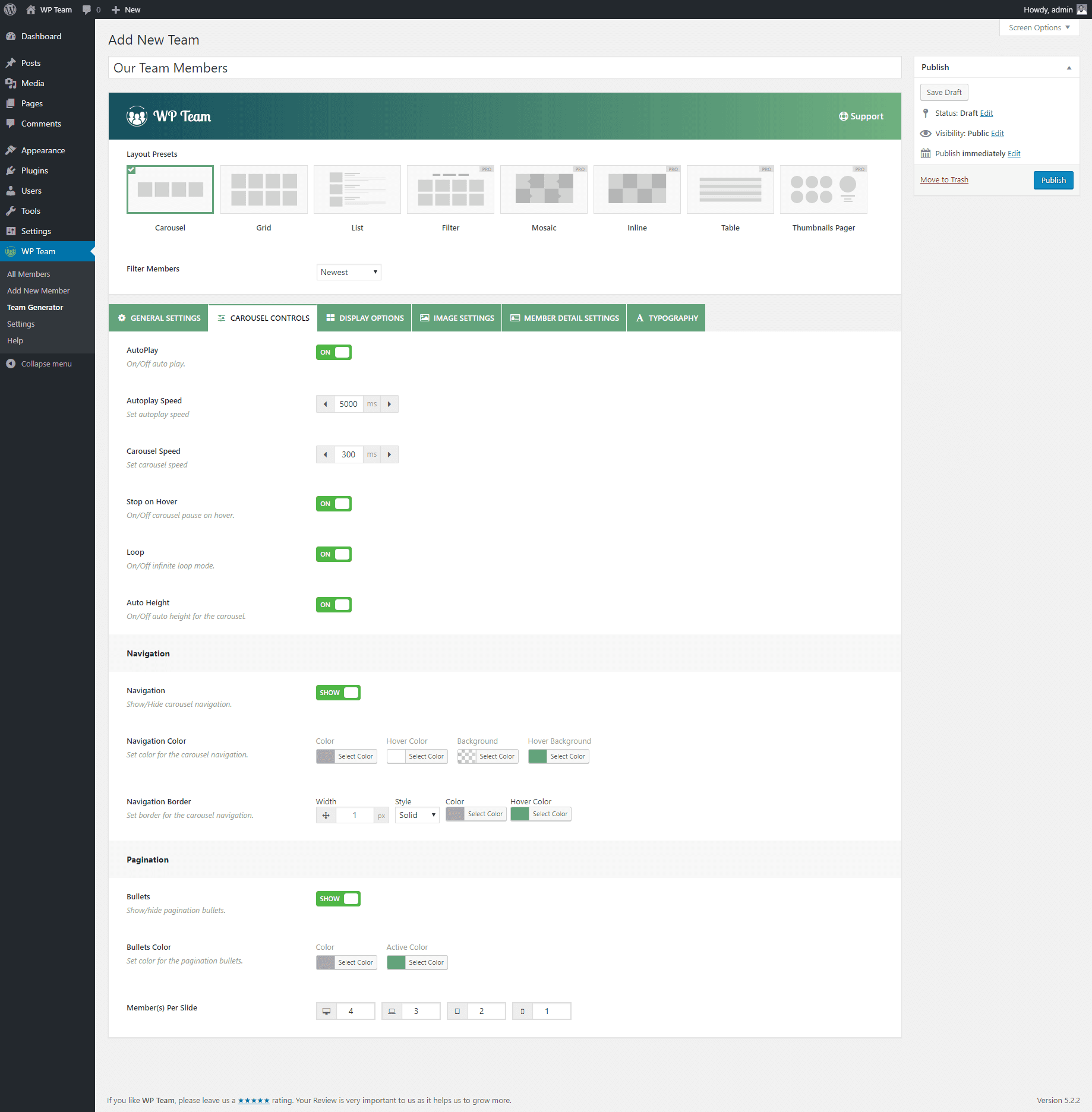 Image Sizing and Effects
There are different image sizes. You can choose any image size as per your needs. In addition, it includes a number of image effects like zoom in, zooms out, etc. So, you also get the flexibility of the customization of the team member's photo.
WPML Ready
The WP Team is multi-languages supported. WPML is completely ready. It is compatible with the different popular multi-languages supported plugins like WPML, Polylang, Loco Translate, qTranslate-x, GTranslate, Google Language Translator, WPGlobus.
Multisite Support
This plugin also supports multisite. Obviously it is an important feature if you need it.
Countless Compatibility
Compatibility is an important issue. A good plugin should be compatible with the most popular themes and other plugins. In this case, the WP Team is compatible with any themes or plugin.
Even, it is compatible with any page builder like Gutenberg, WPBakery, Elementor, Divi Builders, BeaverBuilder, SiteOrgin, Themify Builder, Fusion Builder, Genesis Framework. Besides, it is a cross-browser supported. It is compatible with all modern browsers.
Advanced Settings
Sometimes, you may need to override some styles on the existing style and enqueue or dequeue different JS/CSS to avoid conflicts and loading issues. You can easily do it using the Custom CSS options where you can put custom codes for custom styles.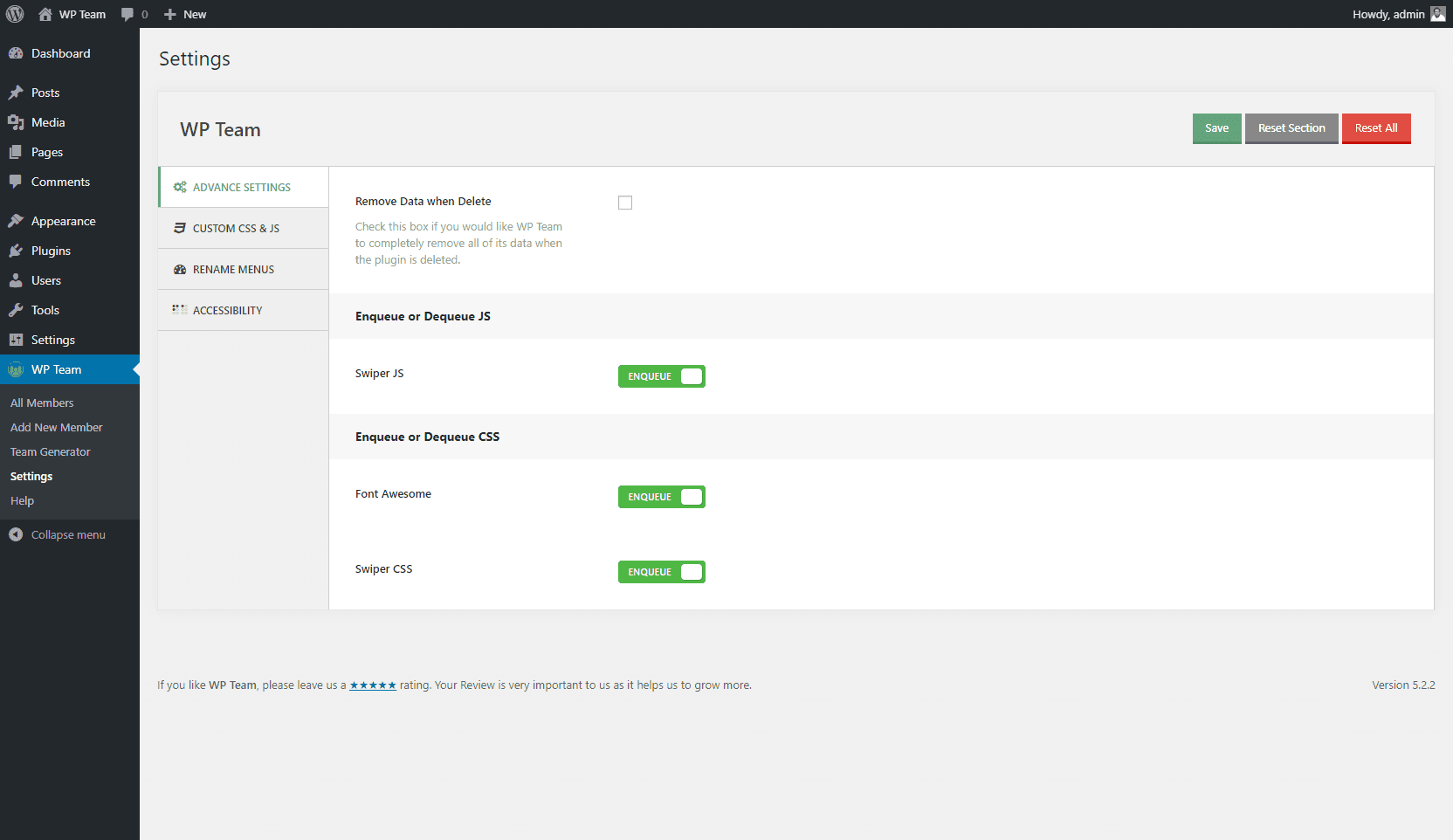 Conclusion
Finally, at the end of this article, I just say one speech that I have focused on just a few important features. Let along the WP Team contains many more features that are really impressive and cool. I have got a great experience with it and you can try it to see its interesting features.