Are you looking for a plugin that helps to gather and display your customers' feedback? If so, then you should check out this Real testimonials review.
Real testimonials is easy to use. It allows customers to leave testimonials on your website. Plus, it integrates with popular WordPress themes and page builders.
The best thing is you can make the review collection and display process automatic.
This plugin also offers exciting features such as testimonials filtering. Also, it supports several languages. Furthermore, it provides greater room for style customization.
So, is it the right reviews plugin for your website?
To get this answer, continue reading this Real testimonials review.
Real testimonials review
Here is the in-depth review of Real testimonials. Let's dive into it without further delay.
Features
Easy to use
Easy usability is a crucial fact of any software.
Thanks to the Real testimonials plugin for its easy-to-use interface. Anyone can use this plugin without learning anything. You don't need to learn to code or need coding skills to use it. Anyone can start using this testimonial plugin after installing it.
14 display fields
This plugin offers 14 fields for displaying reviewer information.
These fields include full name, email address, position, company name, location, mobile, website, rating, social profiles, etc.
This number of display fields makes it the best among its competitors.
Mobile and SEO friendly
SEO is crucial for small and large businesses.
Real testimonials is responsive and SEO friendly. It has a feature to adjust the number of columns for particular devices. Thus, it helps to control the number of reviews on different devices.
Moreover, this plugin has a feature for Google Rich Snippets. As a result, your testimonials will appear on Google as Rich Snippets.
This plugin takes the SEO matter seriously.
Super fast
Website speed is a crucial fact for user experience. Also, it has a direct effect on SEO.
The Real testimonials plugin is super fast. It performs fast with every kind of website. Moreover, it doesn't slow down websites. Thanks to its super clean and best WordPress standard code.
So, your customers will have a smooth and fast user experience.
Supports multiple languages
A business website should be accessible in multiple languages.
That's why Real testimonials come with multiple language support. Thus, you can use this plugin to collect and display reviews in many languages. Moreover, you can use this plugin to create multilingual websites.
Multi-language support makes this plugin stand out among its competitors.
Unlimited testimonials
This customer review plugin doesn't have a limit on reviews collection. Also, it doesn't have limitations on reviews display. You can collect, store, and display as many customer reviews as you want.
Thus, this plugin is suitable for any size website.
Five layouts
Reviews displaying layouts play an important role in user experience.
Thanks to Real testimonial for providing five popular layouts. These display layouts include Grid, List, Masonry, Isotope, and Slider.
You can use any of them for displaying user reviews. You can use the Slider to display the review's slider.
These displaying layouts make it the best among its competitors.
Testimonials Thumbnails Slider
The reviews thumbnail slider takes testimonial marketing to the next level.
It inspires customers to read/watch more feedback. As a result, sales increase.
It features testimonials thumbnail slider, which creates stunning thumbnail sliders. You can create a great thumbnail slider with a click. Customers can read/view several reviews without clicking. It enhances users' experience.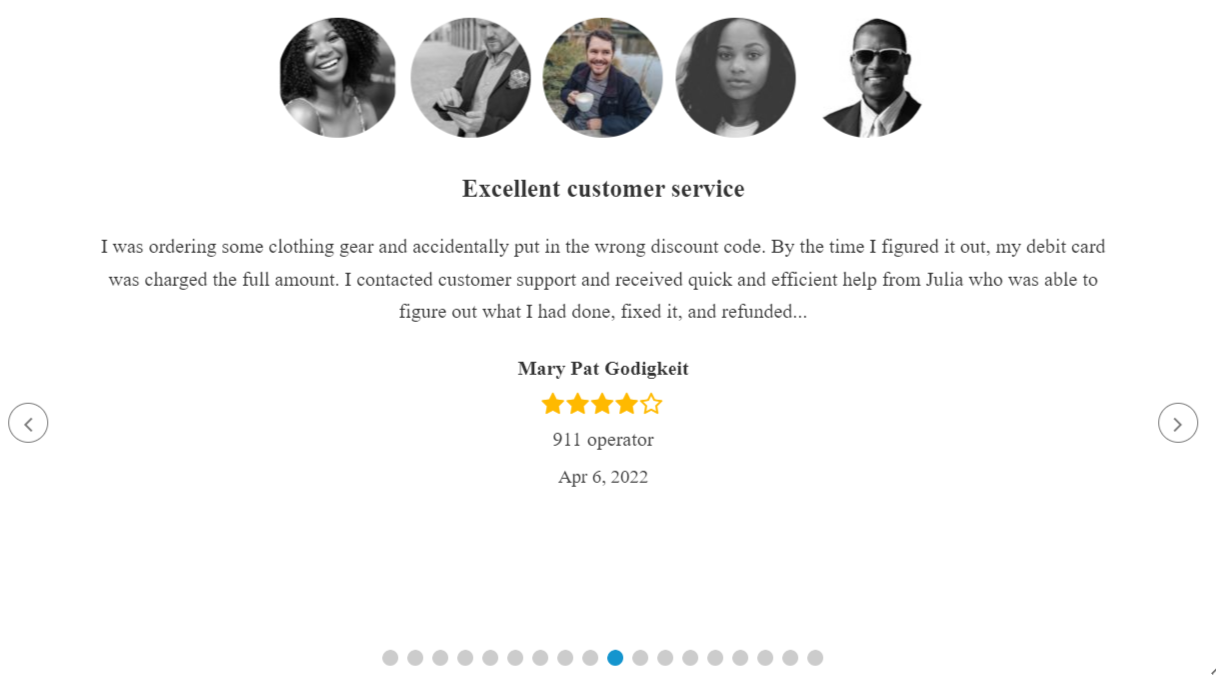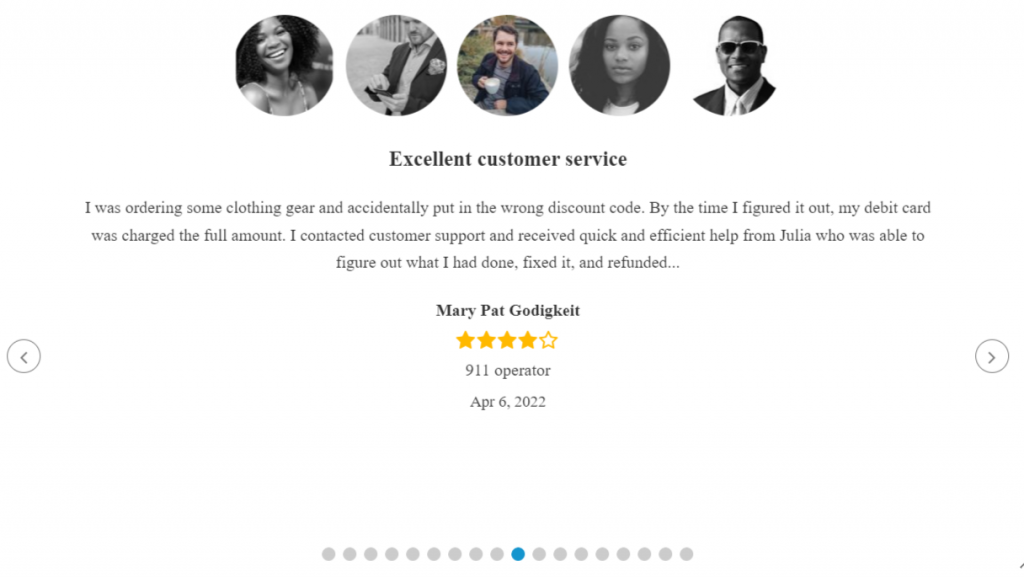 Testimonials filtering
Reviews filtering is a must-have feature for review plugins.
This plugin offers a state-of-the-art review filtering feature.
It filters reviews by Latest, Groups, Exclude, and Specific.
The Latest option displays all the latest reviews. The Groups option displays testimonials from the specific group/category.
Moreover, the specific option shows specific reviews. Furthermore, Exclude option forbids specific testimonials from displaying.
Use the reviews filtering feature to display your products/services' best feedback. Hence, your conversion and sales will increase.
Video Testimonials
When it comes to user reviews, video review is the most effective.
This plugin offers to collect and display video reviews. You can display customers' video feedback along with other information.
You need to add a video URL to the testimonial to add video reviews. Customers can add videos from third-party sites like YouTube and Vimeo while submitting a review.
Video reviews boost business credibility. Also, it increases sales and revenue.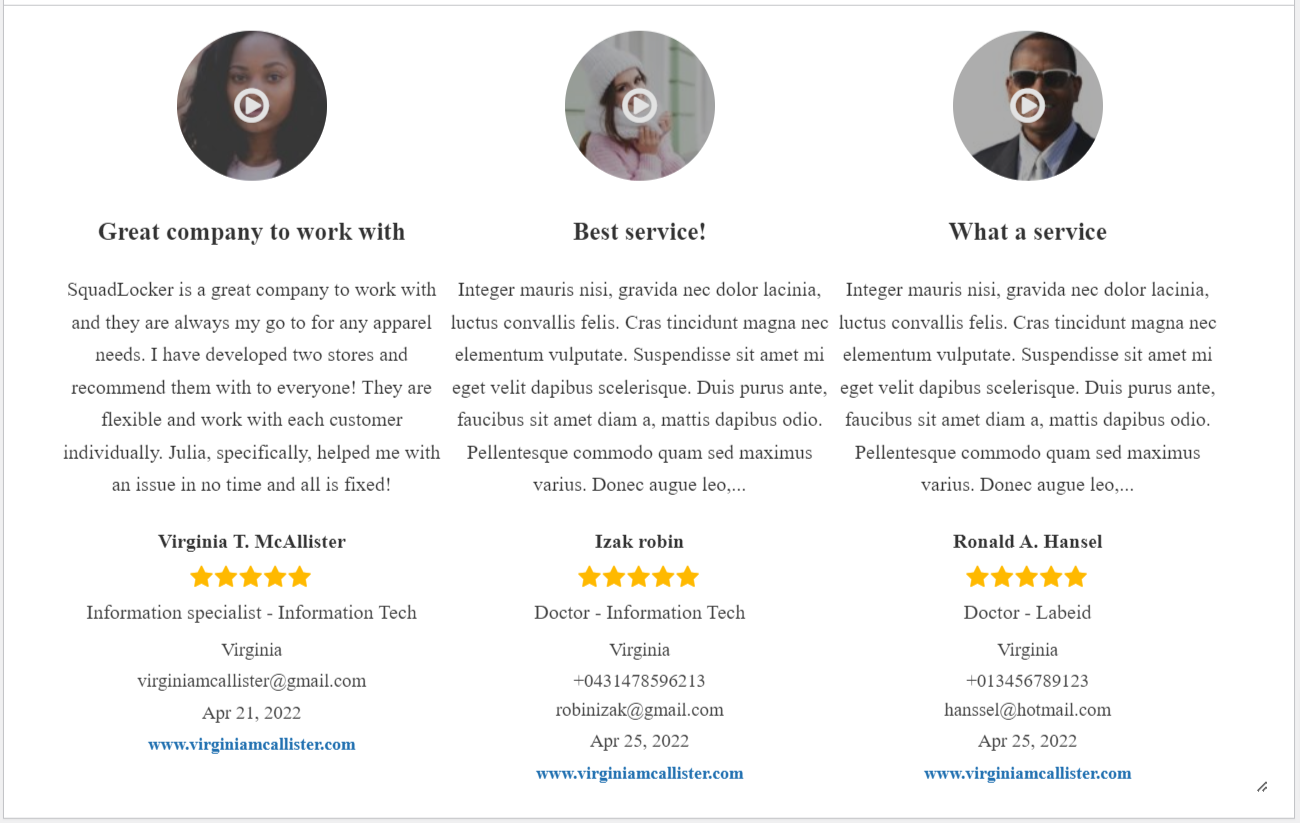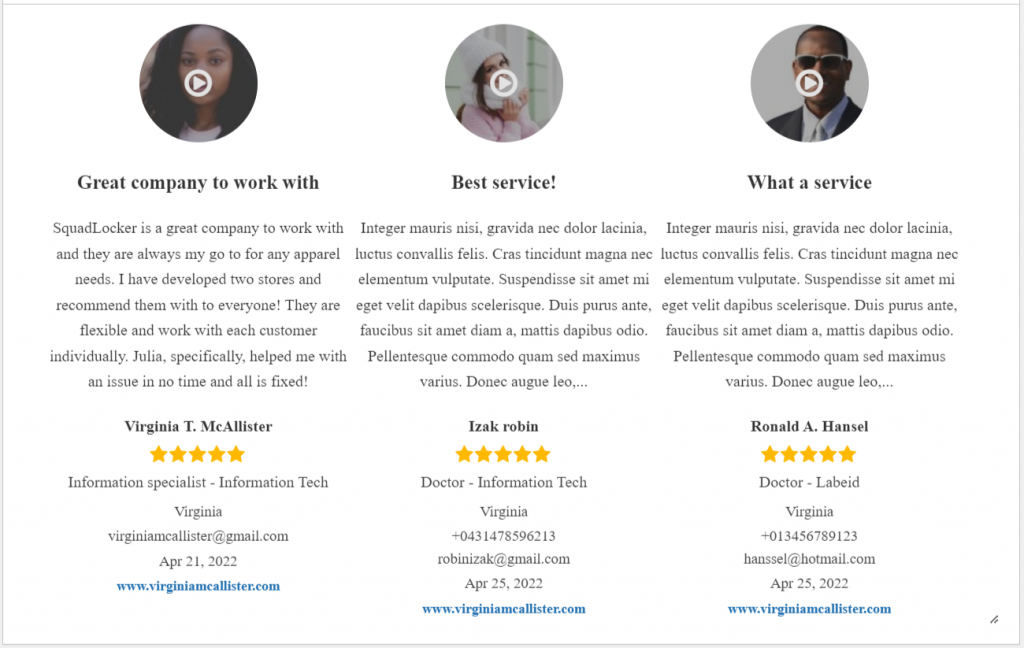 Testimonial forms
The testimonials form is great for collecting customer feedback.
Real testimonials come with testimonial forms. It helps to collect customers' reviews from websites. It has 16 fields. These fields include full name, e-mail address, position, company name, testimonial title, testimonial, groups, image, location, phone, website, video URL, rating, social profile, checkbox, and reCAPTCHA.
You can add any field to the forms you want. Also, you can customize the form's appearance.
The best thing about this form is that it can automatically collect and publish testimonials.
Anyone can use this customer feedback collection form without learning anything.


Seamless integration
Integration capability is an important fact for any plugins.
Real testimonials integrate with all page builders and themes smoothly. This plugin doesn't create problems with other plugins.
It works with popular page builders like Gutenberg Bloc, Elementor, Divi, WPBakery, etc.
Real testimonial also works with popular translate plugins like WPML, Polylang, qTranslate, etc.
Moreover, it works with popular themes like Avada, XTheme, BeTheme, Astra, OceanWP, etc.
So, you don't need to worry about the integration issue of this plugin.
Appearance customization
The Real testimonials offer greater room for customization.
Its appearance customization features make it the best among other review plugins.
It offers ten themes for reviews. Also, these themes are customizable. You can change rating color, rating icon, and more.
The image setting helps choose the image shape, background, size, etc.
Furthermore, the Typography setting helps change font family, font color, and font style.
Who it's for
This plugin is for people who want to show their most satisfied customers' feedback.
It doesn't matter if you are a small or large business owner; this plugin will work for you.
If you are running a small/large eCommerce website, this plugin can help to collect and display customer reviews.
If you sell products/services on your website, it can help to showcase your most satisfied customers' feedback.
So, it doesn't matter what you sell online. If you want to showcase your satisfied customers' feedback, Real testimonials is the ideal tool for you.
Pricing
The Real testimonials offer a free version with limited features and a paid version with exciting features.
Paid version comes with three pricing models; Personal, Business, and Agency.
The Personal plan costs $39 per year and $139 for the lifetime. This plan allows activation for one website.
Besides, the Business plan costs $99 per year and $239 for the lifetime. It allows five website activation.
Moreover, the Agency plan costs $199 per year and $499 for the lifetime for unlimited websites.
The Real testimonials offer a 14-day money-back guarantee. If you are not satisfied with the Real testimonials pro in this period, you will get 100% money back.
So, you can buy and test this plugin without risks.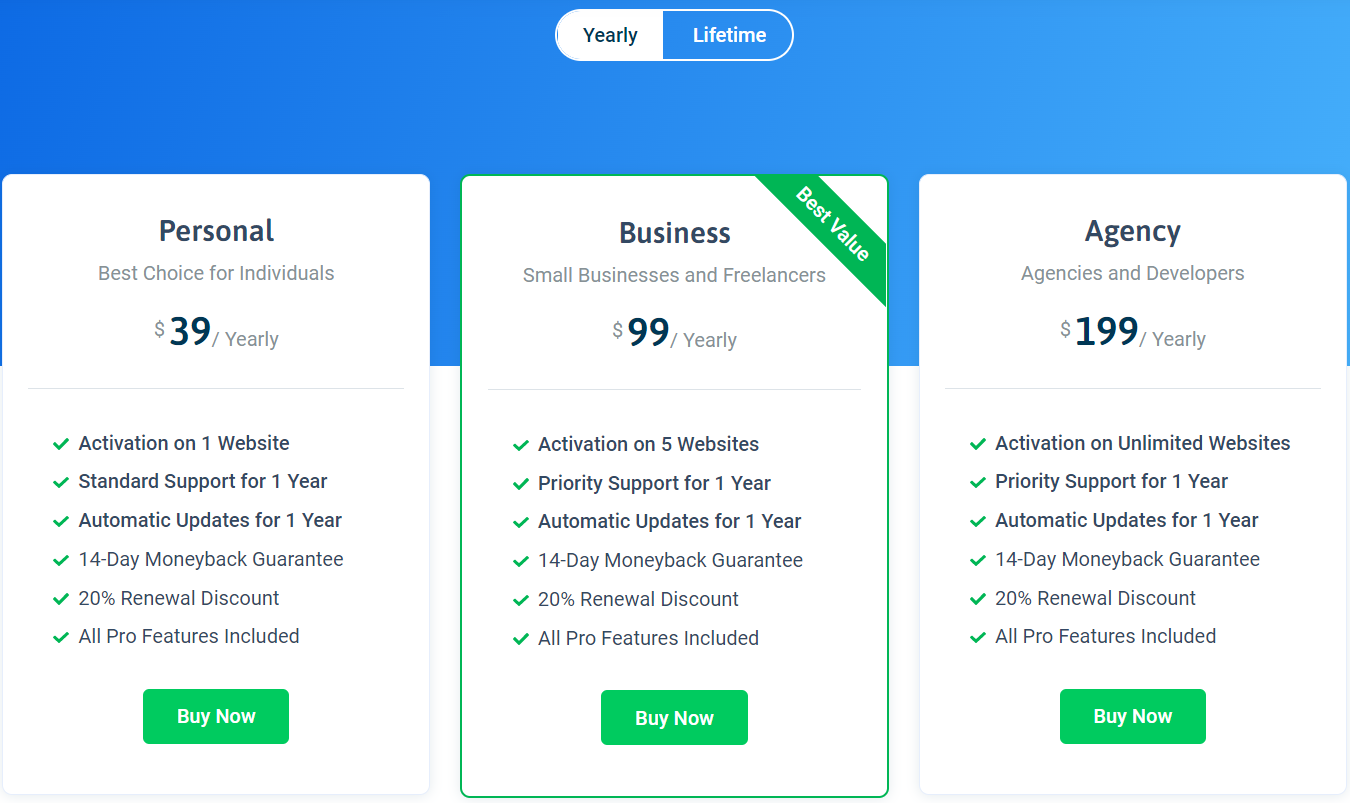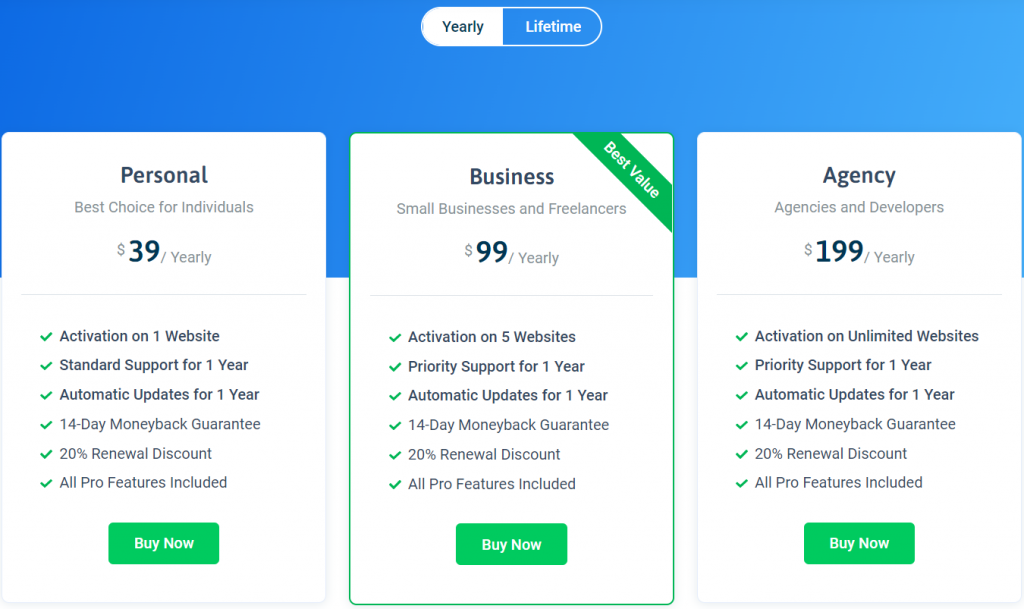 Why Real testimonials is the best testimonials plugin
This user review plugin is easy to use, and everything is customizable. Moreover, you can collect and display feedback anywhere on your website
It offers 14 field display options. Plus, it offers to add custom fields
This plugin is SEO friendly and super fast
Features reviews thumbnail sliders
It supports video reviews. You can collect and display video reviews
Unique review filtering feature. You can display what you want
State-of-the-art anti-spam protection feature
Support schema markup
Features advanced testimonials forms. Plus, there is no limit on form creation
Fifteen testimonials form fields
Notification email for new review submission
It works smoothly with popular WordPress themes and page builders
Features reviews slider
Support multiple languages
Top-notch customer support
14-day money-back guarantee
What could be better
It could be better if Real testimonials offer several review collection ways. Moreover, it could also support review collection from other platforms.
Final words
Real testimonials is easy to use, super-fast, SEO friendly, and smoothly works with themes and page builders.
It offers many information collection fields. Plus, its reviews collection form is outstanding.
Besides, its review filtering feature is excellent.
But, it doesn't provide too many options for review collection.
Apart from that, Real testimonials is the best plugin for collecting and displaying users' reviews.
You can't go wrong if you buy this plugin for collecting and displaying reviews for your WordPress website.