When you run your business based website to grab more customers, it's not always easy to get some. However, the website is the only way to tell the world about your product. In this case, there are some drawbacks too! Your customers are not going to trust you so easily even if you own a website. So, to do now? Well, you can tell everyone about your existing customers by keeping their company logos on your site. It increases the credibility of your business to all the new clients.
There are some WordPress Logo Carousel or Slider plugins available for you. You can choose any of them to make the logo slide view amazing. Let's see some of the best logo carousel plugins that you can choose for your site:
Logo Carousel

This plugin is very powerful and well-designed for WordPress logo carousel. It has so many amazing features with it.
Let's see the video how it works:
Key Features:
Responsive & Performance Ready.
Shortcode Generator.
AutoPlay on/off.
AutoPlay Speed.
Logo border on/off & color.
Navigation and pagination dots.
Show/hide navigation arrow in Carousel.
Navigation & Pagination color.
Pause on hover carousel.
Control logo columns in different devices.
Logo order & order by.
Extremely user-friendly settings panel.
Supports more than one Logo Carousel per page.
Unique settings for every logo carousel.
Insert the shortcode into post or page with TinyMCE button.
Touch-Swipe on/off.
Mouse Dragable on/off.
RTL (Right to Left) Ready.
Support all modern browsers.
Fast and friendly support.
Translation ready with WPML and more
And much more.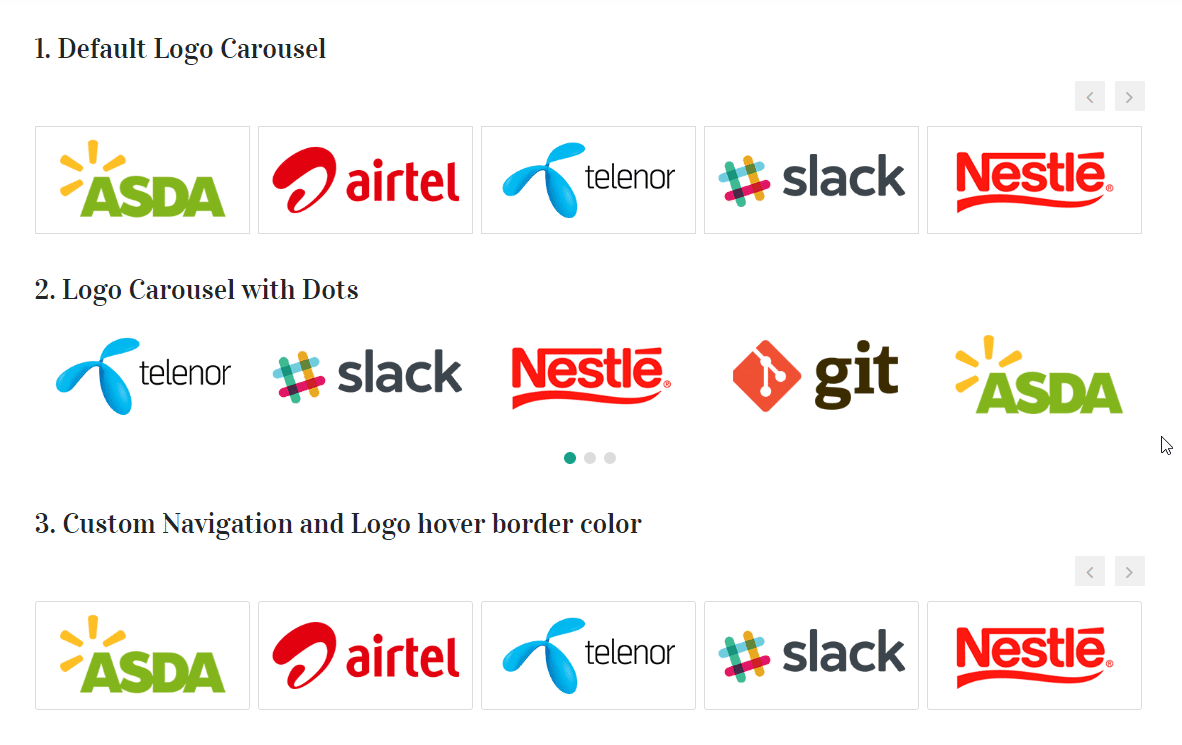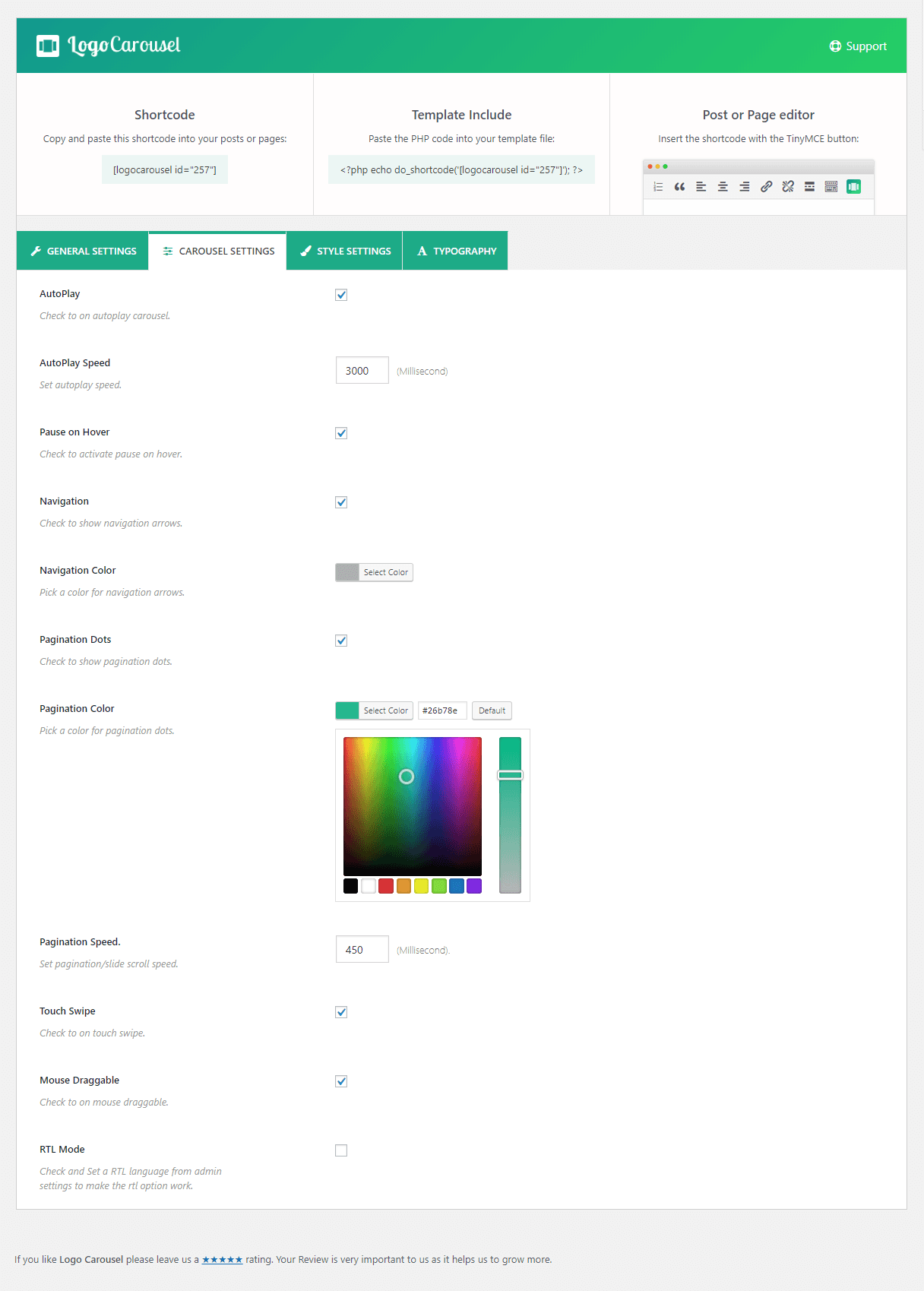 Download / More Info  Live Demo
Logo Carousel Pro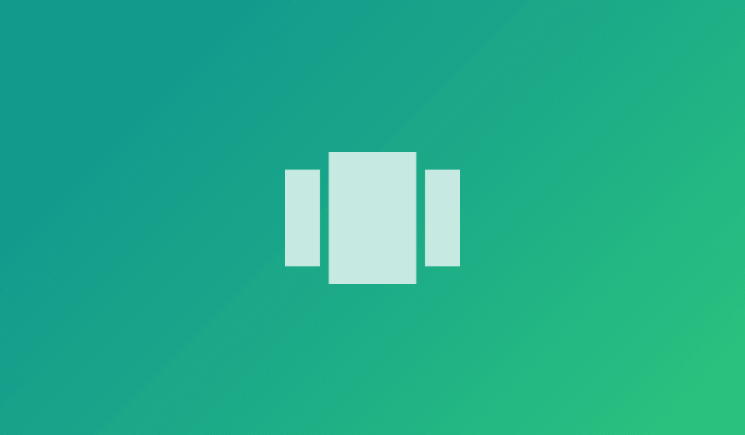 Logo carousel Pro helps you to display all the logos of your clients, partners, affiliates, and sponsors. It can display logos in different ways such as grid, isotope and slider filtering. It comes with some amazing features.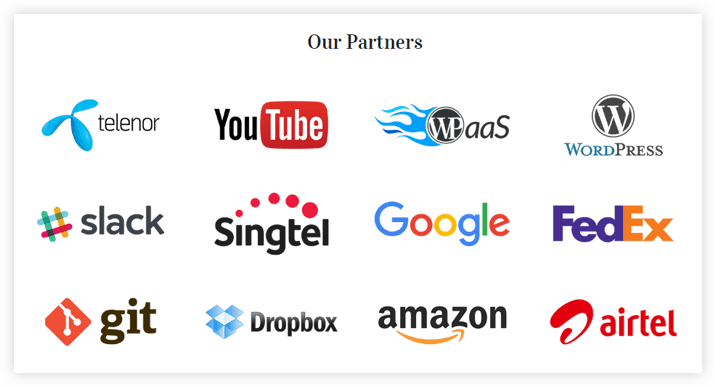 Watch the Video How It Works
Key Features:
Advanced Shortcode Generator.
Carousel, Grid, Filter, List, Inline Layouts
Advanced Typography options with 840+ Google Fonts.
200+ Advanced Styling & Layout Customization Options.
Internal & External Logo Links.
Group Logo Showcase
Standard, Ticker, and Center Carousel Mode.
Popup View for Logo Detail.
Custom Logo Re-sizing.
Multilingual Supported with WPML.
Multi-site Supported.
Fast and Friendly Support.
Lifetime Free Updates (built-in Automatic Updates)
and much more options…
Download / More Info Live Demo
You might also read these following articles
GS Logo Slider

GS Logo Slider is one of the most amazing plugins that can create custom post type to show the logo by using shortcodes. It's very easy to manage and flexible.
Features: Shortcode ready, light, custom post type logo posting, user-friendly, works with all WordPress themes, advanced setting panel with various options, necessary documentation, great customer support facility and more.
Logo Slider

To increase the trust factors of your site, this cutting-edge plugin can play a significant role. You can also add clients, partners, and sponsors logo through this plugin using a simple shortcode.
Features: Drag and drop option, easy image uploader, auto-slide option, easily customizable, 100% responsive, simple, fast and more.
Kiwi Logo Carousel
Another classy logo slider plugin that supports almost every modern age browsers. It's a very powerful slider plugin to add logos to your site. It comes with an individual settings option.
Features: multiple logo carousel support for a single page, multiple carousel facilities for different logos, 100% responsive, grayscale image effect, clickable logos and much more.
WEN Logo Slider

This logo slider is an OWL carousal-based slider designed by WEN themes. Visitors will understand the importance of your business or site. This is a perfect solution for your site to display to display logos.
Features: easy to use, fully responsive, changeable image size, drag and drop option, multiple slideshows, can use WordPress media library to upload images and more.
Easy Logo Slider

JW Themes has brought an excellent logo slider plugin for your site. As its name says, it's easy to manage and come with an amazing user interface and settings option.
Feature: Fast and easy, pause on hover, responsive, auto-slide, well-designed user interface, multiple logo sliders for different logos and many more.
Unlimited Logo Carousel

If you are looking for a customizable and fast-paced logo carousel, then Unlimited Logo Carousel is a perfect choice. It suits best for customer logo presentation as its name implies.
Download Unlimited Logo Carousel
WP Logo Showcase Slider

It is one of the most responsive logo slider plugins. It contains layouts to showcase all the logos of your customers. You can modify logo display with the help of shortcodes too.
Features: You can add a link to the image, can display the logo with and without a title, multiple sliders, can set image size, multilingual and many pro features.
Client Logo Carousel

This plugin features almost everything that other plugins had. But the only difference is, it is very light and fast because it doesn't load bloated codes.
Features: Responsive, multiple carousels, the auto-slide option available, settings panel, navigation arrows, supports all browsers, simple and fast and much more.
The Logo Slider

This plugin is SEO friendly and mobile device optimized. It's also very easy to manage and very flexible when it comes to using codes.
Features: easy to manage, light and fast, no bloated codes problem and much more.
Final Verdict
These are some amazing logo slider plugins you may choose for your website. There are much more. However, these are some of the top rated plugins out there. It doesn't matter which plugin you use, just make sure it has all the necessary features and can help you gain customers trust.

Published on