It's crucial to have a website of a blog if you really want to spread your business idea and personal works and personal thoughts all around the world. So what do you need? Of course, all the necessary points to build sites. Plugins are one of those important parts in terms of creating a full-fledged website. So, a plugin is a piece of software that adds some functions to the WordPress website. In this article, we will talk about post carousel slider plugins for WordPress.
Post carousel plugin allows you to show all the blog posts and recent posts in a perfect and beautiful way. If you're looking for some amazing post carousel plugins for your website or blog then you're at the right place, my friend! Here we start now,
Post Carousel

Starting with the post carousel developed by ShapedPlugin. If you're looking for a plugin that can showcase your blog post in a nice slider, then post carousel is the one for you. It comes with some amazing features which are quite user-friendly. It includes 100% Responsive & columns structure, Show/hide Carousel title, multiple slideshows, unlimited color and styling options, extremely user-friendly settings panel for coders and non-coders and much more.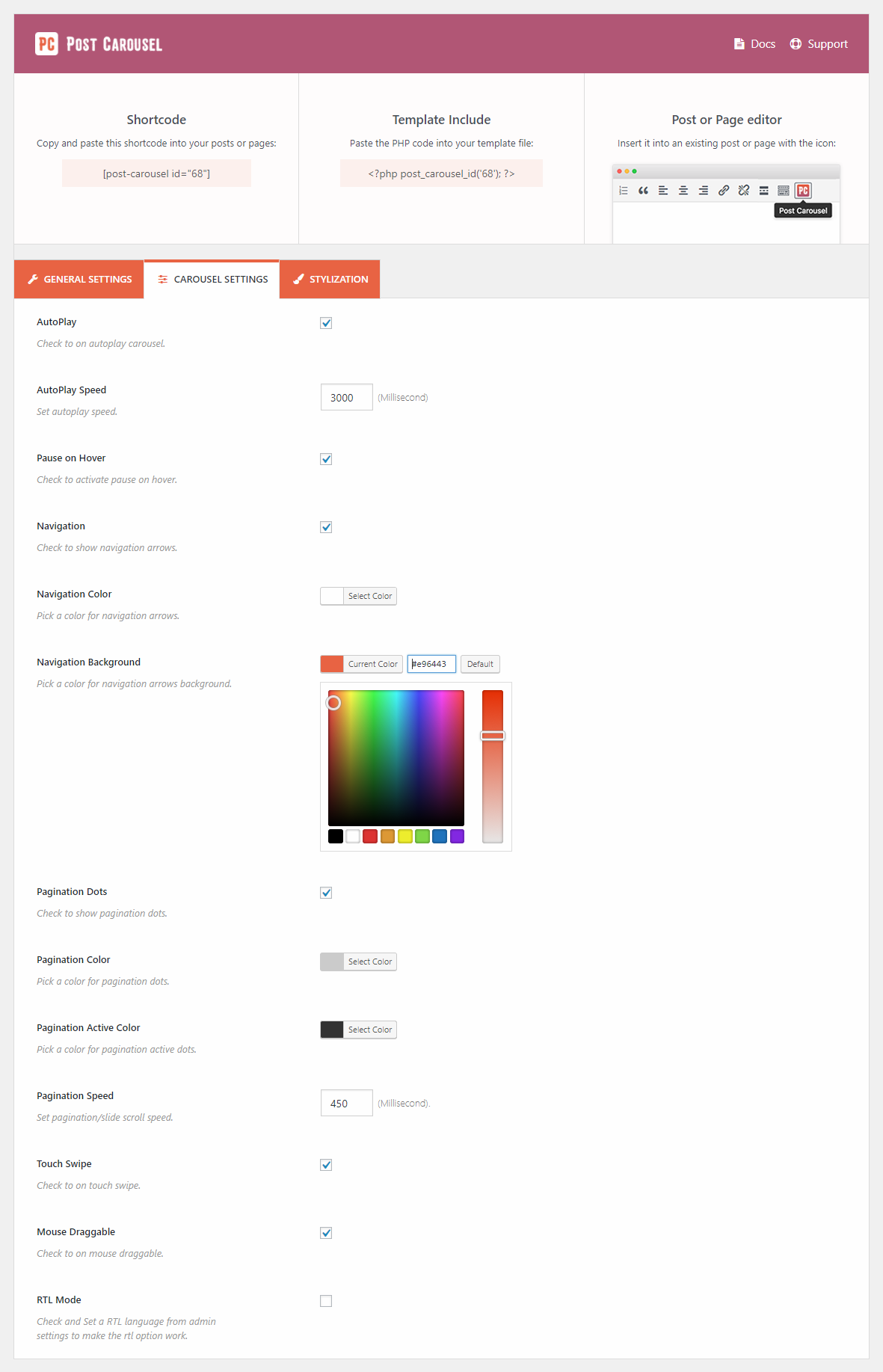 Post Carousel Pro
Post Carousel Pro is the best Responsive Post Showcase Plugin for WordPress. It has so many robust features, such as 10+ Amazing Theme Styles, 4+ Post Layouts, Ajax pagination load more, isotope post filtering for any taxonomy, lightbox icon color, hover color and image overlay color, 8+ different navigation arrow positions and much more features to offer.
WordPress Carousel

ShapedPlugin is bringing another fantastic plugin for you. You'll have amazing options to showcase all the blog posts whenever you wish. Let's check what features it has to offer. It comes with some primary and pro features along with it. It's 100% Responsive, lightweight, fast & powerful, Translation Ready, compatible with any theme, SEO friendly, cross-browser compatibility and much more.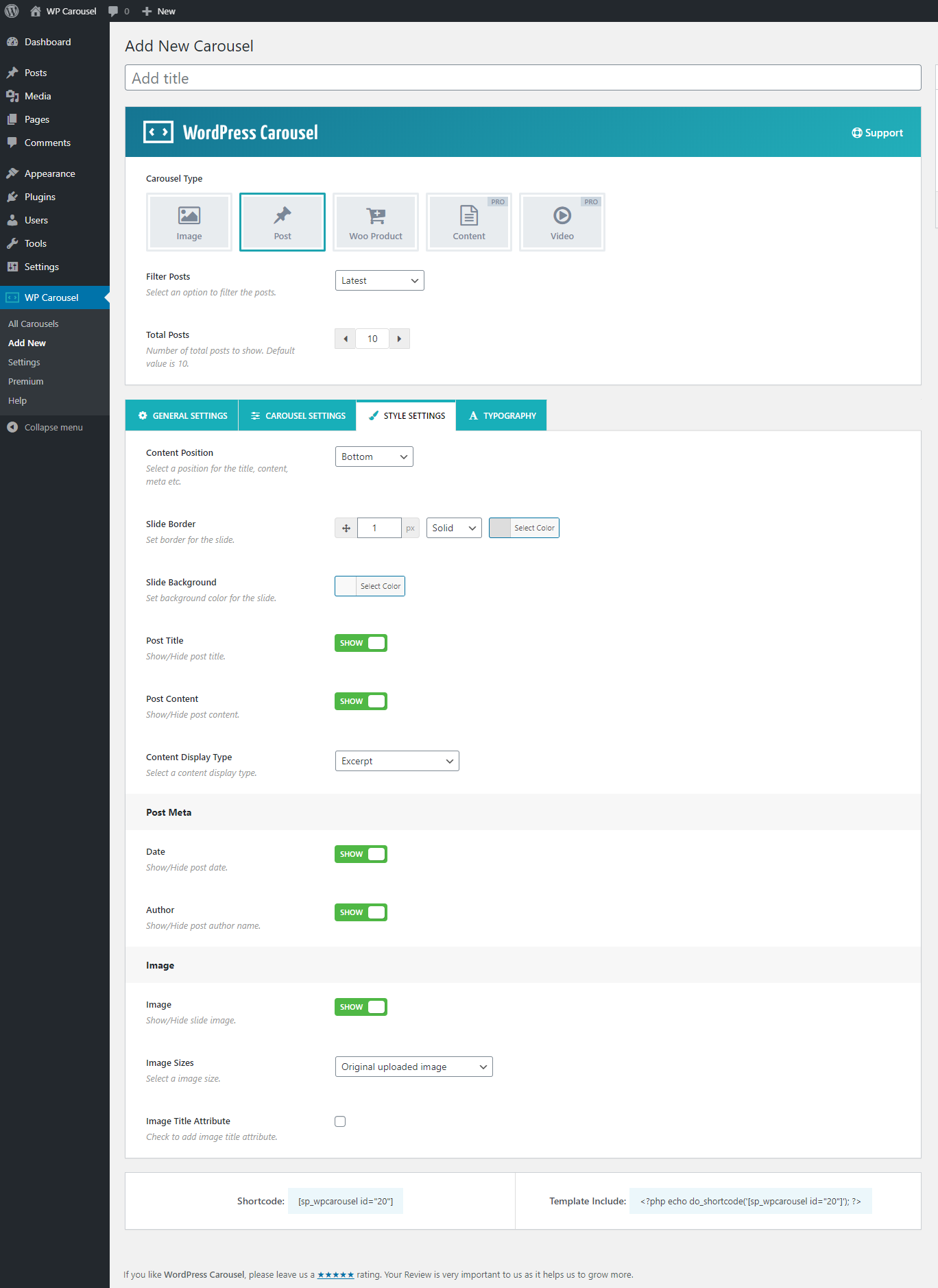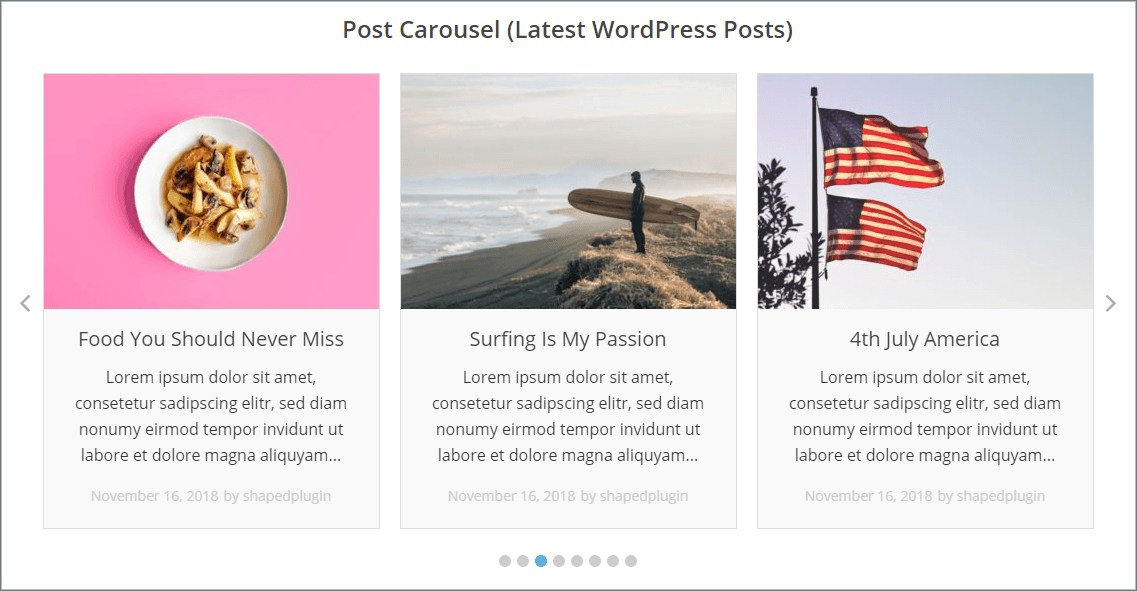 Let's see some Pro Features: It has 5+ Different Carousel Types (Images, Posts, WooCommerce Products, Video and Content), slide any post type, ticker carousel, simple navigation arrows, unlimited custom colors, different types of sliding effects, re-order the carousel items, 7+ different style Testimonial slider, WooCommerce Product Carousel Slider and much more.
Download / More Info Live Demo
Widget Post Slider

Widget Post Slider is another post carousel plugin brought you by ShapedPlugin developer team. If you wish to add widget to showcase all the post images with caption in a slider widget, then post slider is here for you. This plugin is absolutely free. As a free plugin, it still has amazing features to offer. It's 100% responsive, multiple carousel, user-friendly control panel, clean short code, slider on widget, unlimited post slider, limiting slider with option and much more things to show. You can download post slider from here.
You might also read these following articles
Carousel Horizontal Posts Content Slider

Carousel Horizontal Posts Content Slider is a jQuery and CarouFredsel-based post carousel slider plugin. This plugin will allow you to show all the posts in a nice slider. There're numerous primary and pro features available with the plugin. Let's check: this plugin is responsive and mobile friendly, widget ready, translation ready, SEO friendly, it also has navigation arrows, pagination, FX and easing effects, slide any post type, 50+ custom options, 7 Built-in effects, option to enable CSS3, custom option to override styles and much more.
IG Posts Carousel

If you're looking for a post and product carousel slider then IG Post carousel can be a great choice. It's an easy and very flexible plugin for WordPress. It has multiple ways to showcase your posts and product in sliders. The plugin is really easy to install and configure. It has plenty of primary and pro features inside. It has post carousel, 100% responsive, it has WooCommerce products carousel, Easy Digital Download products carousel, Carousel shortcode, carousel widget, easy to customize, products and posts can be filtered by categories and much more.
WP Posts Carousel

WP Posts Carousel is a very simple but yet a versatile post carousel plugin you can ever get. This Posts Carousel allows to view the list of selected post types in a carousel slider. It offers rich parameters of carousel display and post detail information, and provides much better support for mobile devices. Let's see the features: It has widget, short code generator, Frond Awesome, multiple post types and multiple themes and much more.
Carousel Slider

Carousel slider is a touch enable slider that allows you to create a stylish and highly customized and responsive carousel slider. You can create image carousel by using custom URL, video carousel, post carousel and media gallery. Let's see what features it has included. It's SEO friendly, fully responsive, touch & grab enabled, lightweight, it has CSS3 3D Acceleration, multiple carousel on same page, lazy load images, multiple carousel in a single page and much more. You can download this plugin from here. So get it now!
OWL Carousel Slider

If you're looking for a highly customizable and stylish post carousel plugin for you the OWL carousel is the one you need right now. It's very responsive and user-friendly plugin you should try. So, let's look at the features: Responsive & Touch Friendly Slides, Background image and color for slider area, Slider Widget, One-Click Short code Button, Owl Carousel Options, Support Images/ Videos/ Description, Well Organized allow to Customize Easily and much more to offer. You can download the plugin right here. So, get this plugin now!
CPT Bootstrap Carousel

If you're looking for a Bootstrap carousel plugin then CPT Bootstrap is the perfect plugin for your site.  It has everything you need to decorate a website or a blog. However, it's absolutely free and has fantastic features inside. It's truly responsive, it has clean shot codes, multiple color options, multiple sliders and much more. So, get this plugin now!
Ocean Posts Slider

Ocean posts slider is a very simple, flexible and stylish plugin for your site. It has a very clean and clear view, multiple image slider, multiple colors, SEO friendly, absolutely responsive and much more. Get this plugin from the link below.
WP Responsive Recent Post Slider

This lightweight and stylish plugin will allow to show all the recent post in a slider. It's fully responsive, easy to add, responsive touch slider, mouse draggable, it has custom post type support and so many user-friendly features.
So, these are some fantabulous post carousel plugins for your website. However, there're so many plugins available on the internet. So, you may choose any of those or you can go with the desired one described above. Finally, I hope the article was helpful enough to enlighten you about post carousel plugins. Share the article and let others know.
Do you want to increase your conversion rate? Add Customers' Testimonials and Positive Reviews to your Websites and Increase Sales of products and services!
Try Most Customizable Testimonial Plugin for WordPress
Published on