Nowadays, eCommerce business has become a modern trend of commercial bodies. Now anyone can start eCommerce business without any larger amount of investments. eCommerce has made the company run easy. Now anyone can start and control business from home. WooCommerce is accelerating the speed of eCommerce. We know about WooCommerce more or less. It's a free plugin that helps anyone to sell anything or product through a WordPress eCommerce site.
Starting an eCommerce business with WooCommerce is some of those necessary steps. Now you need to apply your secret formula to attract more customers. How will you do that? Well, there are many ways. You add some extraordinary beauty and additional facilities to your eCommerce site. Adding product slider one of that secret formula. Product slider helps the visitors choose their desired or best-selling products of your site. In this article, we shall see some Wo0Commerce product slider extension plugins.
WooCommerce Product Slider

WooCommerce product slider is a very lightweight and fantastic plugin to slide your WooCommerce products. It comes with very convincing design and very easy to use. It also includes:
100% Responsive and mobile friendly.
Lightweight, fast & powerful.
Shortcode Generator.
3 Ready Theme Styles.
Infinite loop for the slider.
Navigation arrows, pagination dots.
Show/hide navigation arrows.
Show/hide pagination dots.
AutoPlay on/off.
Stop on hover slider.
Set the number of columns you want to show.
Unlimited product slider or carousel.
Touch-Swipe Enabled.
Support all modern browsers.
Easy to use & developer friendly.
Compatible with any WordPress themes.
Translation Ready.
SEO friendly & optimized.
Displaying Latest or Recent Products Slider and more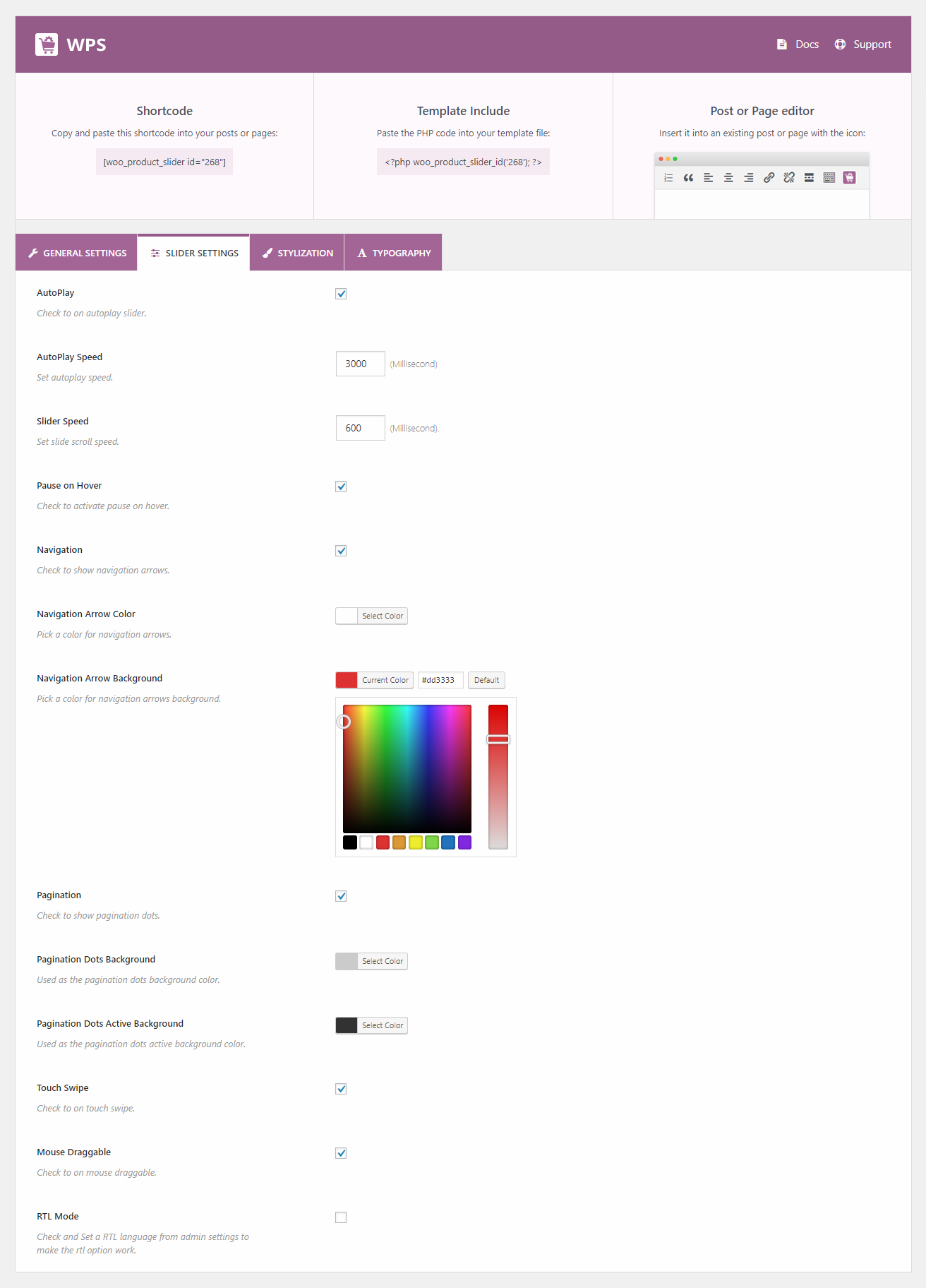 You might also read these following articles
WooCommerce Product Carousel

This fast responsive plugin allows you to create unlimited product carousel sliders on your website. It is very lightweight and easy to use. Let's see the features:
100% Responsive
3+ Different Theme Styles
Lightweight, Fast & Powerful
Latest/Recent Product Carousel
Infinite loop for products
Navigation arrows, dots
Show/hide nav arrows, dots
Product image border
Show/hide product image border
AutoPlay on/off
Set number of display products in the carousel
Unlimited product carousel in anywhere
Touch and Swipe enabled
Easy to use & developer friendly
Work with any WordPress Themes
Translation Ready
SEO friendly
Support for all browsers
Touch and Swipe enabled and much more
WooCommerce Product Slider

WooCommerce Product Slider plugin is a very responsive and suits in any device very easily. It comes with some fantastic features as follows:
Pagination and navigation arrows.
100% responsive.
Mobile friendly.
It is SEO friendly.
Category filtering – Best-selling, newest, featured, specific products.
50+ custom option to control slider.
Support vertical and horizontal direction.
Multisite supported.
Lightbox functionality for images.
Quick installation.
Supports all browser.
Lightweight and easy to use.
Easing effects and FX.
WooCommerce Product Slider Pro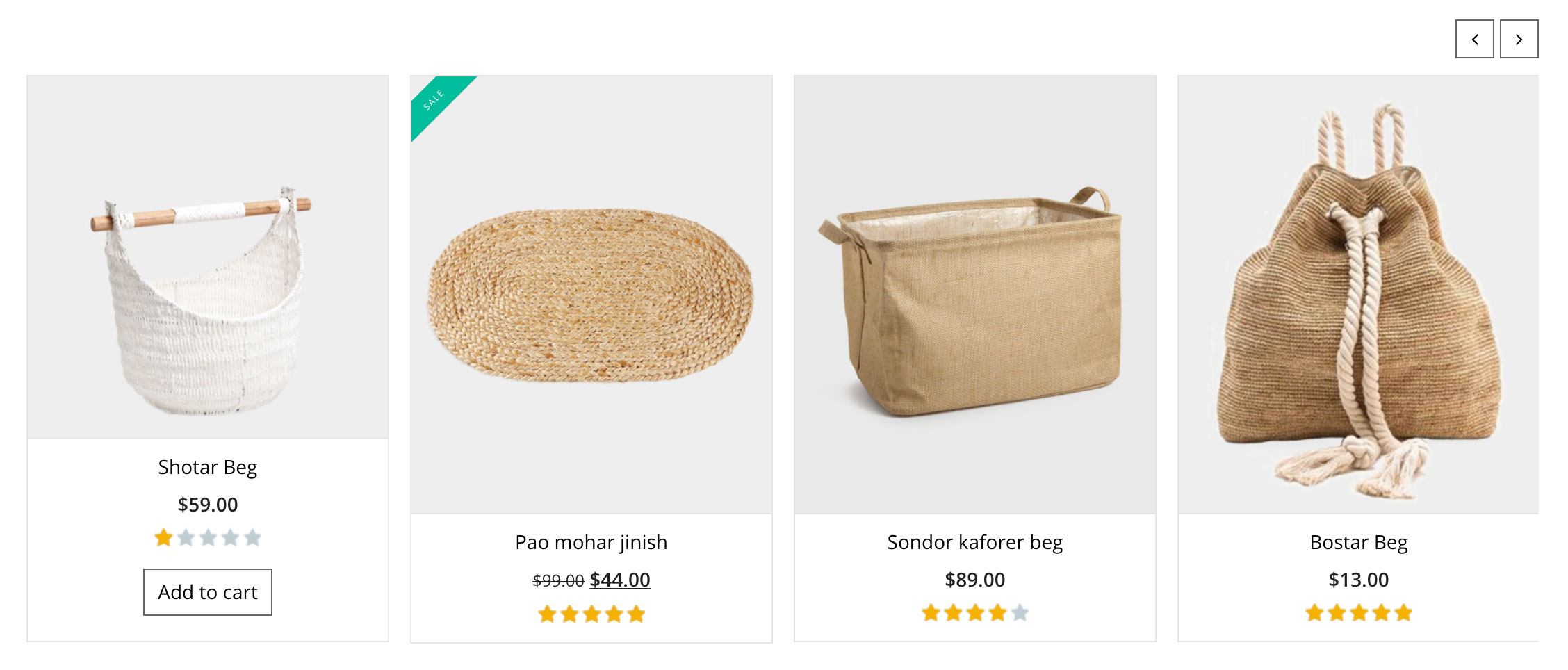 WooCommerce Product Slider is an amazing product slider to slide your WooCommerce Products. You can easily display this advanced slider using Shortcode in page, post, sidebar, widget area even anywhere in your theme/WordPress site. It supports latest product slider, featured product slider, category product slider, on sell product slider. It comes with built-in advanced shortcode generator to easily control the look and function of the slideshow. We have developed two different style options for easing to match your theme. You can customize every aspect of the design with our robust documentation and let your visitors fully experience what you have to offer:
Advanced Shortcode Generator.
30+ Pre-defined modern theme styles.
Filter by different product types:
       -Featured
       -Categories
       -Tags
       -On sale
       -Latest or Recent
       -Best selling or Popular
       -Top rated
       -Most viewed
       -Recently viewed
       -Free products
       -By product ID or SKU
       -Attribute
       -Exclude categories & tags
       -Specific products etc.
Product slider from selected products.
Special product category slider or carousel.
Hide Out of Stock Products.
Hide free Products.
Show/hide product image.
Set a default or custom placeholder image.
Show/hide product image border.
Change product image border, size(width) & hover color.
Whole product border, size (width) & hover color.
Highlighted box-shadow and material style for the product.
Product image hovers effects (Mouse overlay).
Show/hide product category.
Show/hide product title.
Product title & hover color change option.
Product title upper-case and normal or lower-case option.
Show/hide price for products in the slider.
Change product title and price font size.
Product regular price & discount price color change.
Show/hide "Add to Cart" button for products in the slider.
Change "Add to Cart" button border, background & hover color.
Change "Add to Cart" button border size.
Show/hide product rating or review in the slider.
Change rating star color with the picker.
24/7 Dedicated Support.
Extensive Online docs & Tutorials.
Free Lifetime updates.
100% money back guarantee.
And much more options…
YITH WooCommerce Product Slider Carousel

Yitheme has designed this plugin. They have created many WooCommerce related products for a long time. They have added this product slider to their collection.
RTL support.
You can set a maximum number of products to add to the slider.
Endless loop for product slider.
Autoplay option.
Slider navigation.
You can hide and display the slider title.
You can show product from multiple categories.
Sort products by name, date, and price.
Entrance and exit animation for each product and much more.
WooCommerce Products Slider

With incredible flexibility, WooCommerce product slider helps you to display all the WooCommerce product in a perfect way. Features are:
100% responsive and mobile friendly.
Custom number of sliders.
3 slider navigation positions.
Slider autoplay.
3 ready themes.
Slider stop on hover.
Custom ribbons with over 20 ready ribbons.
Custom sale and featured marker icons.
Add to cart button and more.
WooCommerce Widget Product Slider

It is a widget-based feasible product slider plugin. You can use it to add responsive slider gallery in widgetized homepages. Let's see the features:
Attractive product sliders.
7 image transition effect.
Supports all browsers.
Fast, light and powerful.
Customized widget slider skin style and layout.
Touch swipe slider for mobile.
Dynamic style option.
Product category.
Image size changing option.
Fully responsive.
Transition speed changing option and many more.
WooCommerce Products Carousel all in one

This carousel helps you to add as many products as possible to the product rollercoaster. The rollercoaster will show all the products based on the newest, bestseller and recommended products. Features are:
It uses WooCommerce, OWL carousel 2 and Font-Awesome, 100% responsive, dedicated widgets, 4 default templates, can build customized template, mobile friendly, dedicated code generator, and much more.
WPB WooCommerce Product Slider

WPB Slider is one of the best and undoubtedly the popular plugins out there. It is very responsive and simple. You can use more than one slider and also can use the slider on the sidebar by the widget. Features are:
Featured product slider.
Responsive, flat and well-designed.
Shortcode system.
Widget ready.
Advance setting panel.
Supports all browser.
Lightweight and easy to use.
Product slider for different categories.
Video documentation.
RTL support and many more.
Woocommerce Product Gallery Slider

When you have more than enough product images in your gallery, this slider plugin will add a carousel to the product gallery. Let's see all the features:
Slider AutoPlay Options.
Navigation support.
Gallery Layout.
Working with Most of the Premium themes.
On/Off LightBox Setting for Thumbnails images and much more.
WooCommerce Product Carousel PRO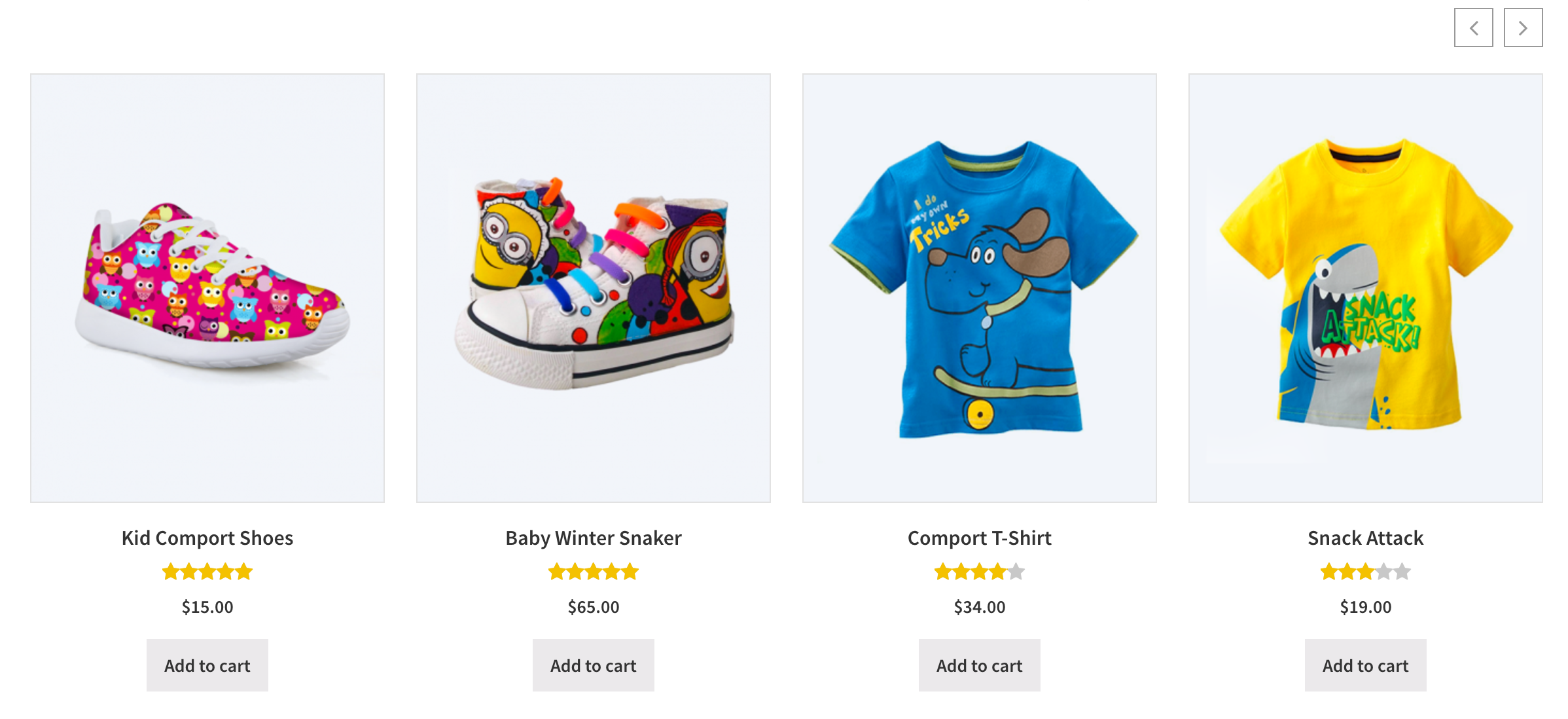 WooCommerce Product Carousel PRO is a simple and fully Responsive Carousel plugin developed for WordPress which comes with lots of useful stunning features. It allows you to create unlimited Product Carousel on your website anywhere you like easily via shortcode and easy admin setting. By using WooCommerce Product Carousel, you can display more products at the same time and let them scroll or navigate automatically so that your visitors can see them all and increase sales of your shop:
30+ Pre-defined Theme Styles (Unlimited Styles through Theme Customizer)
Advanced Shortcode Generator
Show only a specific type of products (featured, on sale, latest, best selling or upsells, top rated, specific products by ID or SKU, Most Viewed, Recently Viewed etc & much more)
Display Product Carousel from the specific Categories & Tags (or Exclude products categories & tags)
Automatically select related products based on Categories & Tags
Display products with Carousel, Slider & Filter
Product carousel from selected products (also ability to re-order the products)
Show the standard product contents(Title, price, discount or delete price, star rating or review, add to cart, sale text, excerpt, read more, category etc.)
Show/hide option for the product (Title, price, category, star rating or review, add to cart button)
Change default color with the picker for (Title, price, discount or delete price, star rating or review, add to cart, view cart, view cart button background, sale text, excerpt, read more text, category name etc.)
Add to cart button border color, background color & hover color, font color and font upper-case, normal change options
Unique settings for each slider
Set number product per slide
8+ different navigation position and much more.
Final Words
The reviews are purely based on random research. There is no intention to promote these plugins. After all, we are here to help you choose the best plugin for your business. However, there are more plugins are also available. It's totally up to you which plugin you choose.