Do you own a commercial website or a personal blog? Is it WordPress-based? Well, you must be looking for an absolute theme or plugins right? There're tons of themes and plugins available on the internet. We'll be talking about WordPress accordion plugins in this article. Before we start, let's have a brief explanation about WordPress accordion. So, what is WordPress accordion? The accordion plugin allows you to toggle down the list of posts on your website. So this is how it works.
If you're looking for a perfect accordion plugin for your WordPress site, this article is going to help you in the long run. After going through the article, you'll be able to choose the right and suitable plugin for website or blog.
So, here we start now,

Easy Accordion is the very first plugin of this list you should definitely try. The plugin has been developed by ShapedPlugin developer team. It comes with plenty of amazing features as follows: It's fully responsive, 100% Mobile device friendly, mobile & tablet touch supported, very lightweight & minimalist, easy to Customize, developer friendly, it has unlimited accordions & colors, it doesn't create any PHP error, it has amazing accordion styles, advanced shortcodes and much more. You're going to love this plugin for sure. Click the link below and get this plugin right now! You can also take a live demo tour in the demo link. Full Documentation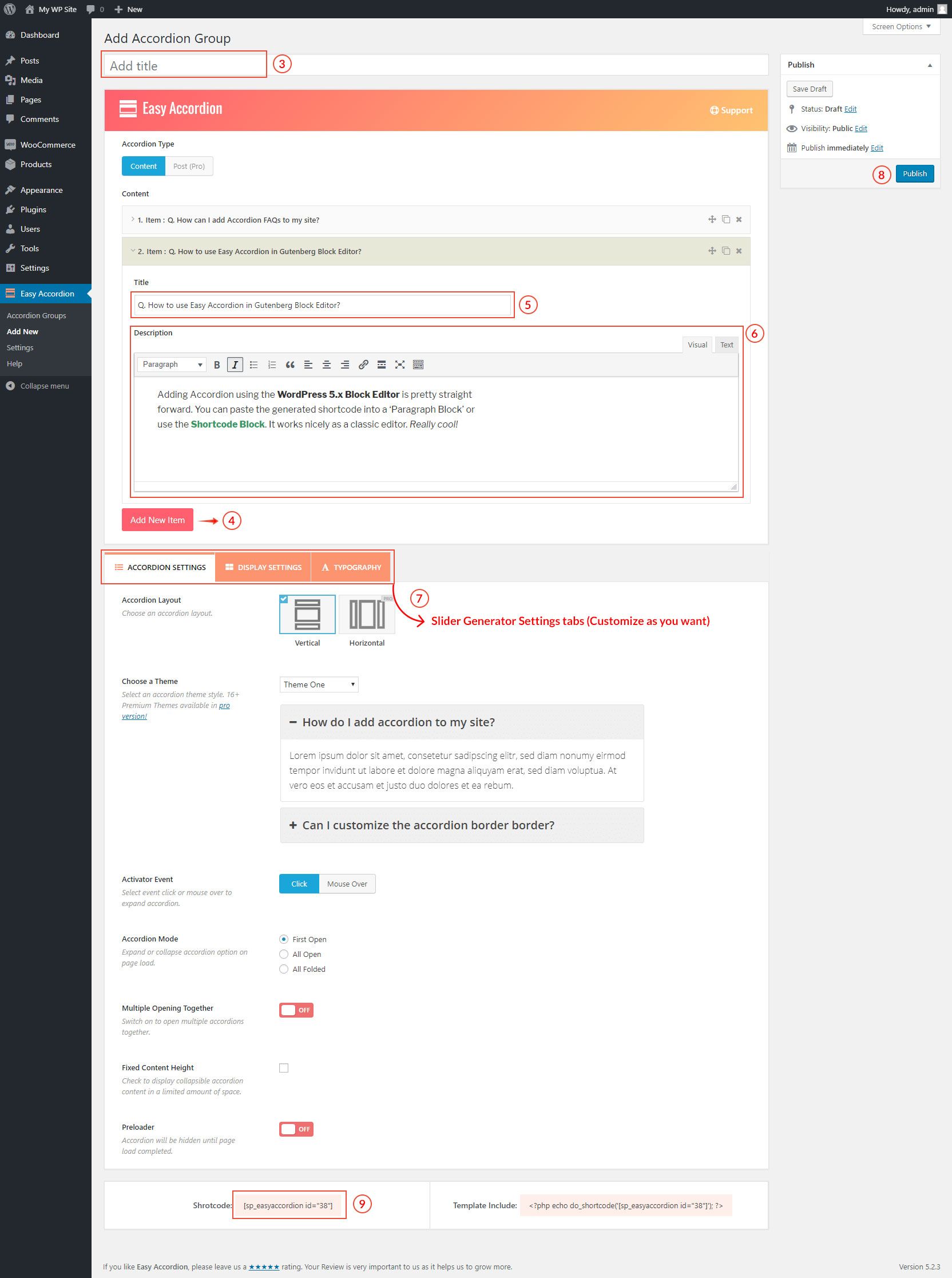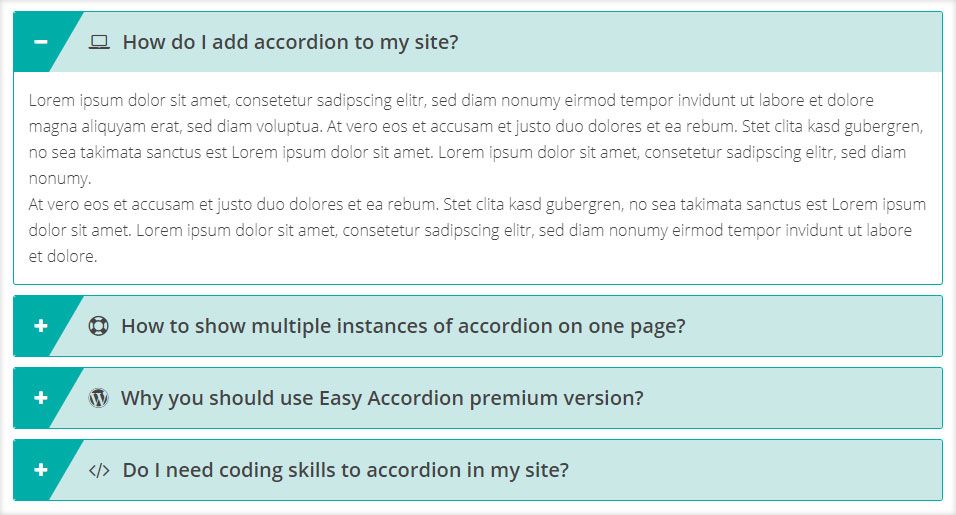 If you're looking for a simple and very stylish accordion plugin, Easy Accordion Pro can be one of the best options. This plugin has plenty of user-friendly features that can make your web pages look awesome. So, let's have a quick look at its features: it's very lightweight, 100% responsive, it has easy settings options, shortcode system, TinyMCE button added for generating Shortcode, image support in accordion, YouTube video support, Vimeo video support, Audio, Shortcode, font-awesome icon support for the accordion item, 16+ Pre-designed Themes, Nested Acccordions and much more. You can download this plugin now.
Easy Accordion Pro – Getting Started
Key Features
2 Unique Layout Presets, Horizontal and Vertical.
16+ Beautiful Themes.
Multi-level or Nested Accordion.
Drag & drop Accordion item sorting.
Supports Video (Any type), Shortcode, Images, Gallery, Sider, Audio, etc.
Accordion from Posts, Pages, and Custom Taxonomy.
25+ Smooth Animation Effects.
AutoPlay Accordion.
950+ Google Fonts.
Lifetime Free Updates
24/6 Friendly Support.
And many more…
Buy Now Live Demo Documentation
Helpie FAQ – Accordion plugin

Helpie FAQ – Accordion plugin is a quick and easy way to create and embed accordions in your WordPress website. It is great for creating FAQ pages, where questions and answers are in accordions. But you can use it to create any type of accordion content. It can be integrated with Elementor page builder, WooCommerce and Gutenberg editor. It also has a User FAQ submission feature to allow users to submit their questions directly from the FAQ page. It also has advanced Insights and Accordion sorting features for increasing user engagement.
Ultimate Blocks

Ultimate Blocks is a Gutenberg blocks plugin that comes with an accordion (Content Toggle) block. It lets you add accordions in the Gutenberg editor. The best part is that it offers nested block. That means you can insert other blocks inside the accordion block. You can change the color of the container and the title. You can also choose the collapsed option for the initial state. Other than the accordion, this plugin also offers blocks like tabbed content, table of contents, styled box, testimonial, etc.
Download Demo
You might also read these following articles
Accordion Short Codes

It's a very simple and yet very classic plugin you can ever have. Accordion Shortcodes add a few shortcodes for adding accordion drop-downs to your website. You can also add your own customized shortcodes that will change the style of the accordion. The plugin has included so many amazing features such as It adds two shortcodes for adding accordions to your site, supports multiple accordions with individual settings on a single page, it has two buttons in the TinyMCE editor, has no default CSS added, fully responsive and much more. You can download this plugin from the link below.
jQuery Accordion Slideshow

jQuery Accordion is another slideshow plugin for your WordPress site with accordion effect using famous JQuery JavaScript. You can create a horizontal accordion slideshow by using this WordPress plugin. Let's see what features it has to offer: it's responsive, you can create various accordion styles, multiple colors, has the option to set timeout between slide, pause on hover, option to set width and height and much more. You can download the plugin from here.
Squelch Tabs and Accordions Short Codes

This plugin can be one of the finest WordPress accordion plugins easily. It's simple, lightweight and yet very versatile WordPress plugin for you. It comes with 100% responsiveness, lightweight, collapsible accordions, and tabs, you can add vertical and horizontal accordion with this plugin, it has a clean shortcode generator and much more. Download this plugin now.
Accordion FAQ Plugin

This plugin will allow your website to your FAQ's section as accordion. Let's have a look inside. It has unlimited FAQs and Taxonomy/category, taxonomy/Categorized display of FAQS, truly responsive, compatible with WordPress standard themes, unlimited Support for comments and queries and much more. Download this plugin from here.
Collapse-O-Matic

Collapse-O-Matic is one fine plugin that allows you to show your FAQ section in an expandable and collapsible accordion manner. The plugin is very, clean, lightweight, user-friendly, fully responsive and compatible with other WordPress themes. Get this plugin today.

So, these are some of the best WordPress accordion plugins for you. You can choose anyone from the list above you may have your own choice to use any plugin from the internet. You can also share your own idea with us. Finally, was this article helpful enough? You can share and spread the message to your family and friends.

Published on