Are you interested in moving your business to the next level of success and enhancing your business reputation? As a business owner, you must expect to move to the next level of success and increase your business popularity.
Today I am going to share the way that I have experienced in my own business and got an outstanding result. Obviously, that was amazing, mind-blowing and impressive. WordPress Logo Showcase Plugin can satisfy your expectations. You will be impressed with its unimaginable success.
Why Logo Carousel is Needed?
A logo carousel is needed for your website to display your clients' logos on your website. Consequently, it will enhance your business trusty and reputation. As a result, new customers will be interested in your service.
The logo showcase represents the primary introduction of your current valuable customers in front of the new visitors. Consequently, the new customers will be impressed and confident to take service from you. As a result, it will be easy to move your business to the next level of success.
Best and Easiest Way to Create a Logo Showcase
I hope you are interested in showcasing your clients' logos on your website and willing to move forward. If you are thinking so, I can recommend you the best and easiest way to showcase your client logos on your website.
Using a WordPress Logo Showcase plugin is the best and easiest way to showcase your client logos. You will find a number of similar plugins available in the online market place. Even hundreds of free plugins. But all are not well-coded, optimized.
As a result, a poorly coded plugin may slow down your website, even it can break down your whole website. So, it is best to use a premium WordPress log showcase plugin.
Now, I want to share one of the best WordPress logo showcase plugins and that is Logo Carousel Pro. It is well-coded, optimized, and updated with the latest web technologies. I have impressed with its understanding features, eye-catching styles, unlimited customization, clean admin panel, and super-fast, friendly support.
Logo Carousel Pro: Best WordPress Logo Showcase Plugin
Logo Carousel Pro is a beautiful Multi-use Logo Showcase and Responsive Clients Logo Gallery Plugin for WordPress that allows you to showcase a group of logo images in a visually appealing way through an intuitive Shortcode Generator. It has the ability to display the logos in a Popup or External custom link with the required logo information like Logo, Title, Description, etc.
The plugin is aesthetically designed for everyone including designers & developers and perfect to display your clients, sponsors, partners, affiliates, supporters, brand logos in a simple and unique style. It is a highly customizable and flexible logo showcase builder plugin That's both Easy and Powerful.
Moreover, let me focus on the key features that impress me and you will also be able to understand why I am recommending you the plugin. Once you take an overview of all the features, I hope you will also be impressed and never miss it.
Slick, Light-weight and Super-fast
The Logo Carousel Pro is a light-weight, slick, and super-fast WordPress logo showcase plugin. It is well-coded and optimized for both SEO and Speed. As a result, it will never slow down or break down your website at all. Its libraries are compressed, consequently, it will never impact your website speed.
Fully Responsive
Responsiveness is a great feature for any website and it plays an important role in SEO. In this case, the Logo Carousel Pro offers the fully responsive logo carousels.
So all the logo carousels made with the Logo Carousel Pro are fully responsive and compatible with all modern devices. For this reason, you don't need to be worried about the responsive feature.
Advanced Shortcode Generator
The Logo Carousel Pro includes the advanced shortcode generator. Once you create a logo carousel, it generates a shortcode automatically for that carousel. So, you can create an unlimited logo carousel, consequently, unlimited shortcodes will be generated dynamically.
As you can create the unlimited logo carousel, you can display different clients' logos with different shortcodes on different positions of your website. It is a really interesting and important feature I have seen ever.
150+ Possible Styles
150+ possible theme styles are available in the Logo Carousel Pro. It will time and energy. You don't need to write any CSS for styling. You can easily customize any style setting options and make your own theme as per your needs.
There is the great flexibility of unlimited customizations and building an unlimited stylish and eye-catching carousel theme for your client logo. 40+ Demo Examples are shown on the official site. One of the best, the stylish and eye-catching theme is as follow.
5 Logo Layouts
Different layouts add a different look and feel to the logo showcase. It also enhances the beauty of the carousel and draws the attention of the customers. 5+ logo showcase layouts are available in the Logo Carousel Pro. These are Carousel, Grid, Filter, List, Inline.
Carousel Layout
It is a basic layout that helps display the logos simply in a smart way. If you select this layout for your clients' logos, it will automatically create a carousel of the logos. Besides, there is a complete list of different controls are available for this layout type. The following carousel is one the result of this layout.


There is a flexibility of adding unlimited rows of logos. As a result, you can create multiple rows of logo carousel. The following multi-rows carousel is one of the examples.
Grid Layout
If you don't like a carousel and just want to showcase your clients' logo statically with a short introduction, the plugin also offers the facility. In this case, you have to change the layout and select the Grid layout. One ideal example of the grid layout is as follows.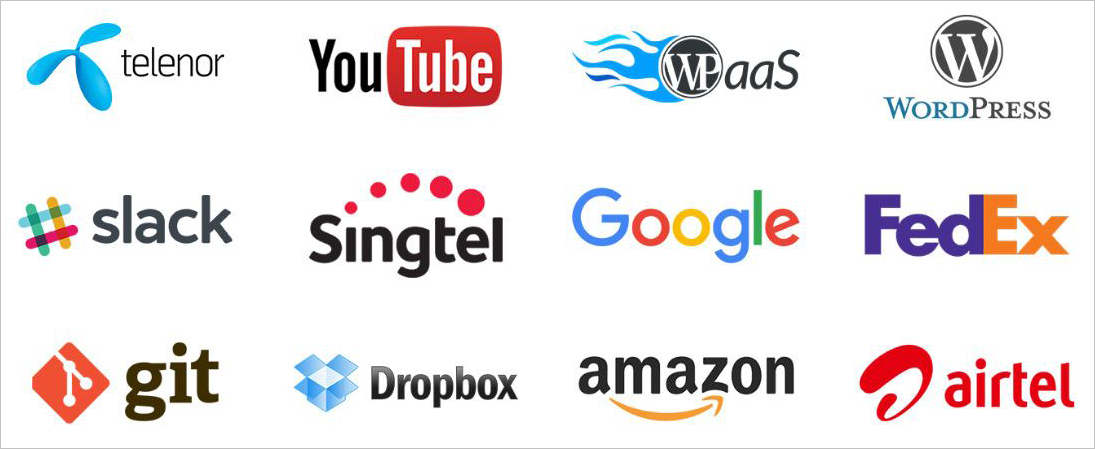 Isotope Layout
If you have different categories of customers' logos and want to showcase them with categories so that the customer can filter the logos category wise, the plugin also satisfies this query with the filter layout. You can set the categories as the filter menu and showcase the logos. The customers can easily filter and see specific logos.

List Layout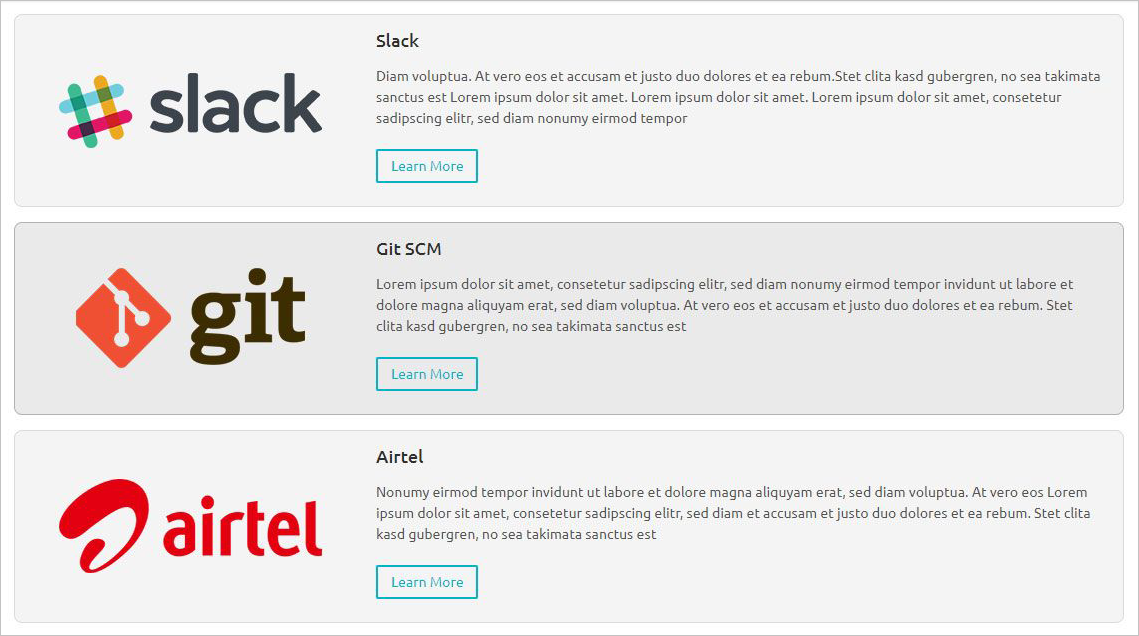 Inline Layout
One of my favorite layouts is the inline layout. You can showcase smartly all logos at a time with this inline layout. The following example can be easily made using the inline layout.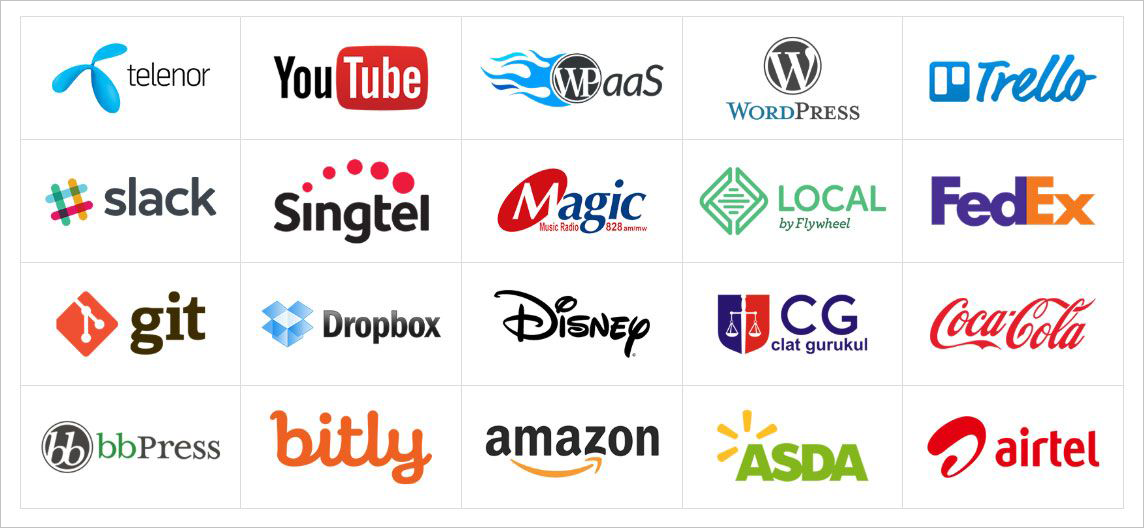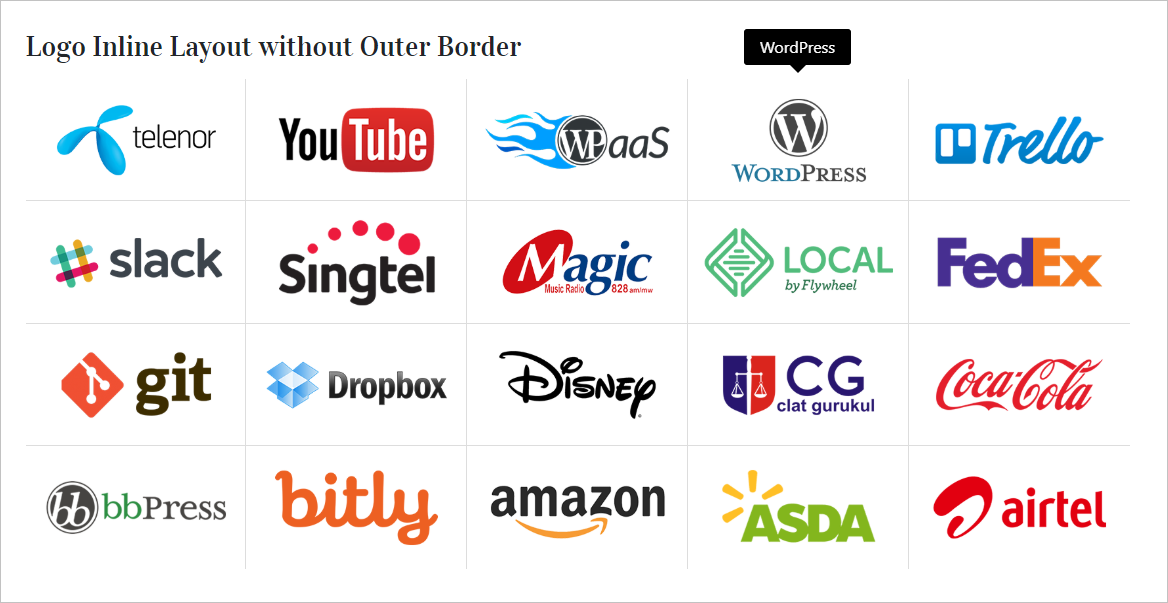 Advanced Typography
Typography enhances the beauty of the presentation. The advanced typography with multiple options is available in the Logo Carousel Pro. It includes 840+ Google Fonts with all available variations like font weight, font style, etc. You can set different font sizes, font style, font family, etc for different elements of each logo carousel.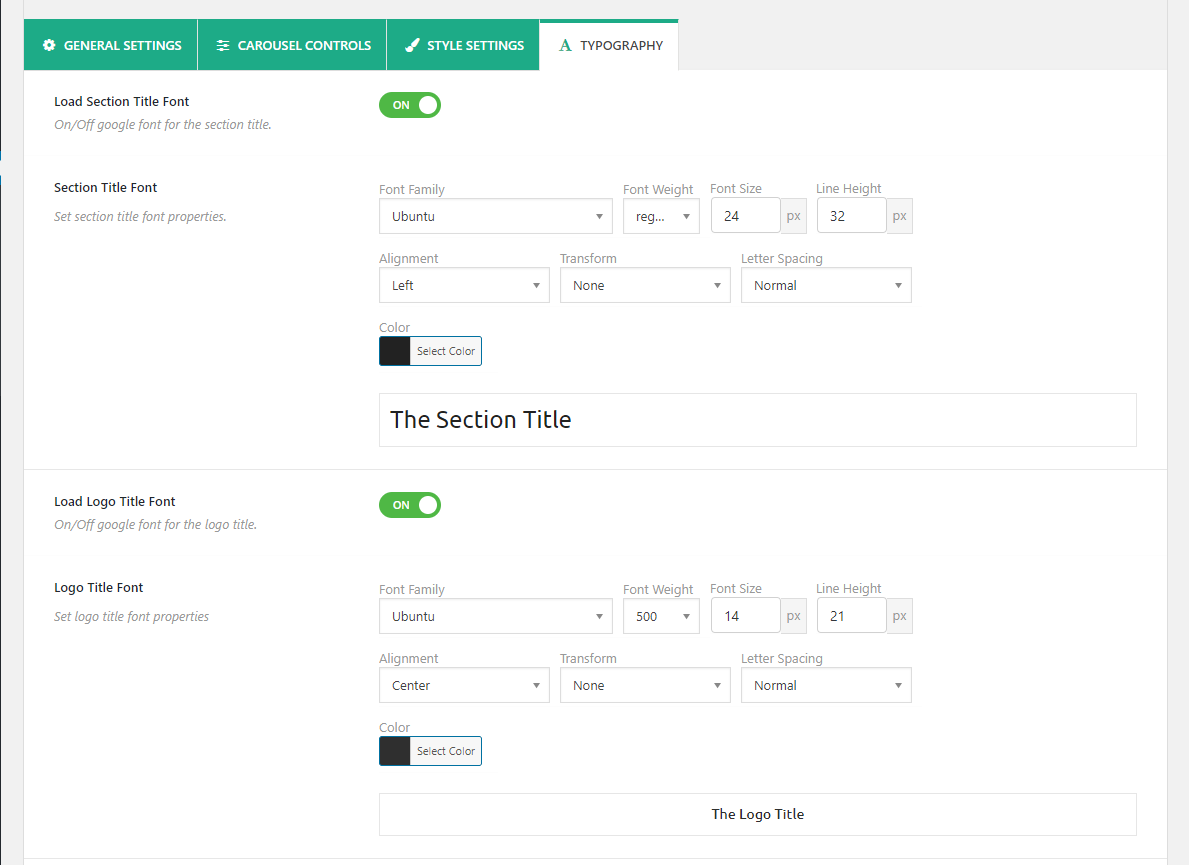 200+ Advanced Styling and Layout Customization Options
I am so much impressed with the Logo Carousel Pro because of its high customization. The Logo Carousel Pro is a highly customizable WordPress logo showcase plugin. You can customize everything, every element that you want.
It includes 200+ advanced styling and layout customization options. Consequently, you can customize any component that you want without writing a line of code. In addition, there is great flexibility of unlimited colors and styling. In short, the Logo Carousel Pro is a completely flexible plugin.
Specific Logo Showcase
You may have different categories of logos and if you want to showcase some specific categories logos only, the Logo Carousel Pro offers the facility of showcasing a specific category logo. It helps you create different category groups of logos.
Internal and External Logo links
It is a common and essential feature for increasing the trusty of your customers. You can link the logo both internally and externally. As a result, new visitors can check out your customer's details just clicking the logo. In addition, sometimes you may need to disable a specific logo link. You can also disable the link for a particular logo.

Effects on Hover
Effects and animations always draw the attention of the visitors. A number of logo effects on hover such as GrayScale, Zoom In, Zoom out, Blur, Opacity, etc are available in the Logo Carousel Pro.

Carousel Mode
If you choose the carousel layout for the showcase of your clients' logos, you may be worried about a fixed mode of the carousel. Since you may be annoyed with a fixed mode of the carousel, there are three different carousel modes like Standard, Ticker, and Center are available in the Logo Carousel Pro. As a result, you will be able to display the carousels in different looks and feel.

Carousel Direction
If you are annoyed with the carousel horizontal direction only, in this case, the Logo Carousel Pro can remove the annoyance. Because it offers both horizontal and vertical directions for the carousel.
Logo Components
Different components are available. You can showcase the logos with Tooltips, Title, Description and CTA button (Read more). There also have a number of controls for these components. You can hide or show the title and read more or CTA buttons.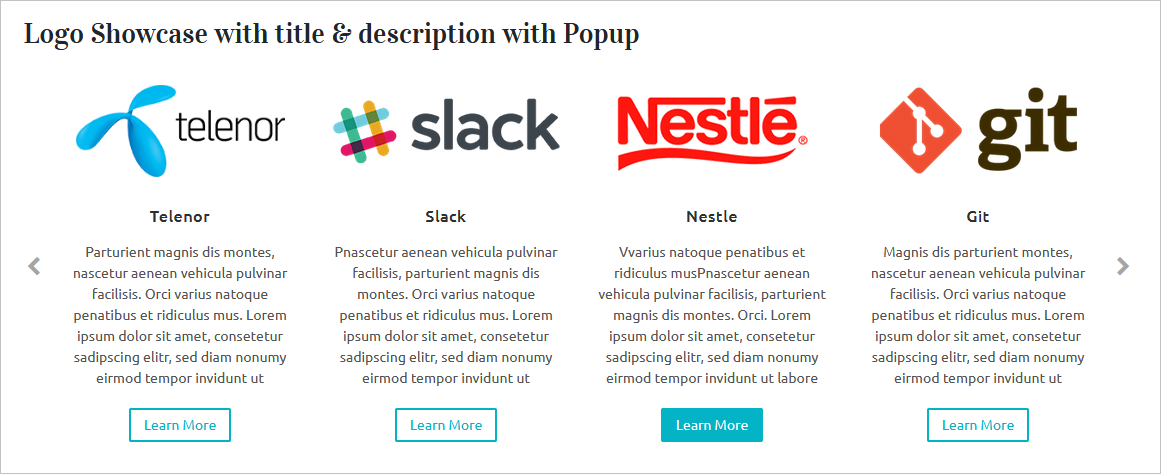 In addition, multiple positions like Top, Bottom, Middle, On hover, etc are also available. You can also customize the read more or CTA button, even you can set the limitation of the description words. Besides, tooltips multiple settings like On/Off, Position, Width, Effects, Background, etc are available.
Logo Detail Popup/Lightbox
If you choose internal linking for the logos, you can show the details of the logos in a popup view. It is really outstanding and eye-catching.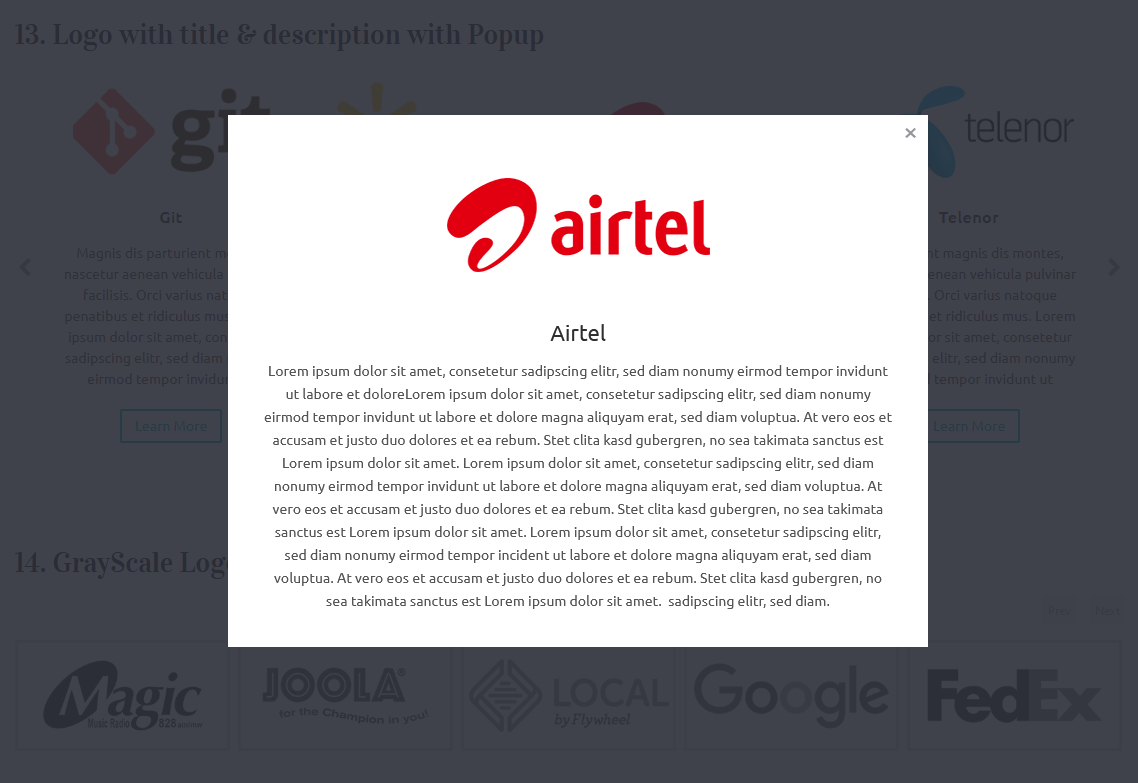 Logo Customization
Multiple settings for customization of the logos are available in the Logo Carousel Pro. You can set Logo Background, Hover, Border, Radius, BoxShadow Highlight, etc.

In addition, margin, padding and logo different vertical alignments like Top, middle, and bottom are also available. You can resize a logo and give a custom size.
Navigation
It includes 9 different navigation positions. There are 6 different modern arrow icons that can be used as navigation. You can also hide and show the navigation as you wish.
Carousel Controls
The Logo Carousel Pro includes a complete list of controls. Different essential controls like an infinite loop, autoplay, autoplay speed, scroll speed, slider speed, stop on hover, etc are available to customize the carousel as per your needs.
Multi-site Supported
The Logo Carousel Pro is Multi-site Supported.
Page Builders Ready
The Logo Carousel Pro is fully compatible with all popular page builders like Gutenberg, WPBakery, Elementor, Divi Builders, BeaverBuilder, SiteOrgin, Themify Builder, Fusion Builder, Genesis Framework, etc.
Multilingual Support
The Logo Carousel Pro supports multi-languages with WPML, Polylang, qTranslate-x, GTranslate, Google Language Translator, WPGlobus.
Countless Compatibility
The logo carousel pro is compatible with any themes and plugins. In addition, it is also compatible with all modern browsers.
Full Documentation and Tutorials
The plugin contains well documentation and a complete series of Video Tutorials are also available. So, you can get any direction and guidelines easily.
Fast and Friendly Support
A dedicated support team is available in 24 hours to assist you with any queries. They are so friendly to assist you.
Conclusion
I have shared my experience with the Logo Carousel Pro that helps me to move my business to the next level of success and enhance the popularity. Besides, I have tried to focus on the key features of the plugin that impressed me to use it. So, I recommend to use it for your business. You can check out it. Don't worry about your investment in this. I hope you won't consider it a loss once you see its power.