WordCamp Sylhet 2023 took place on the 19th and 20th of May, 2023, in Sylhet, Bangladesh. It was an incredible experience to catch up with awesome WordPressers from South Asia and beyond. Insightful sessions, delicious foods, inclusive swags, sharing ideas, making huge fun, and everything made this grand WordPress event unforgettable.
We can't wait to share highlights of the WordCamp Sylhet 2023. So let's jump into it.
Highlights of WordCamp Sylhet 2023
Venue: Central Auditorium of Shahjalal University (SUST), Sylhet, Bangladesh.
Date: 19th and 20th of May, 2023
Registered: 901
Attended: 882
Organizers: 32
Volunteers: 62
Speakers: 25
Contributor day: 11 teams
Budget: $ 27,590.00
1st round tickets sold out in 4:48 minutes
2nd round tickets sold out in 2:26 minutes
See all sessions below.
Welcome dinner party
WordCamp Sylhet's enthusiastic and hospitable organizers arranged a welcome dinner party for volunteers, sponsors, speakers, and organizers the night before the conference day. They warmly welcomed us and offered a rich buffet dinner with a plethora of delicious local dishes. They were extraordinarily appetizing and yummy. We enjoyed it a lot and became full.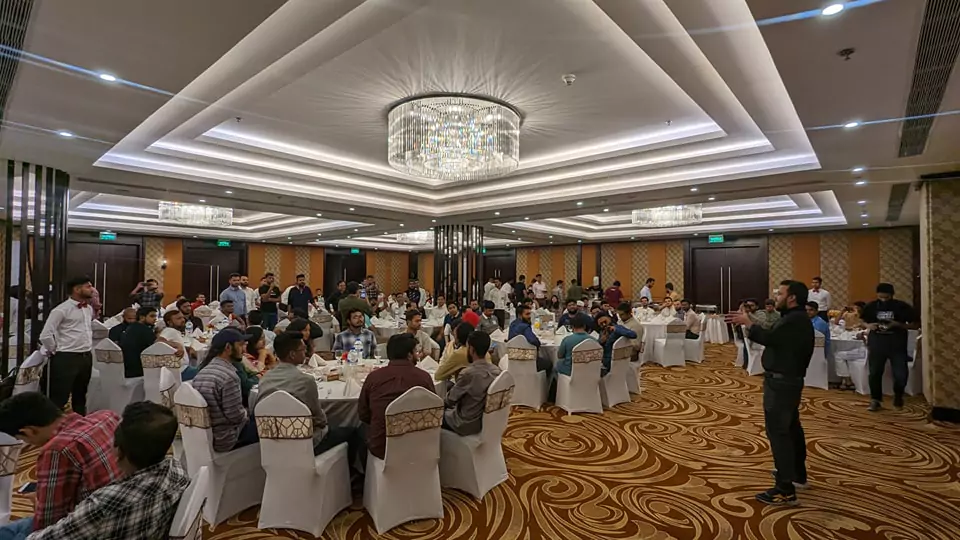 Most importantly, we met many friends after a long time. We made some new friends there as well. With all these foods and friends, our mouths were extremely busy either with flavorful items or insightful discussions all about WordPress and ourselves.
ShapedPlugin and WordCamp Sylhet 2023
We, ShapedPlugin, were a proud platinum sponsor at WordCam Sylhet 2023.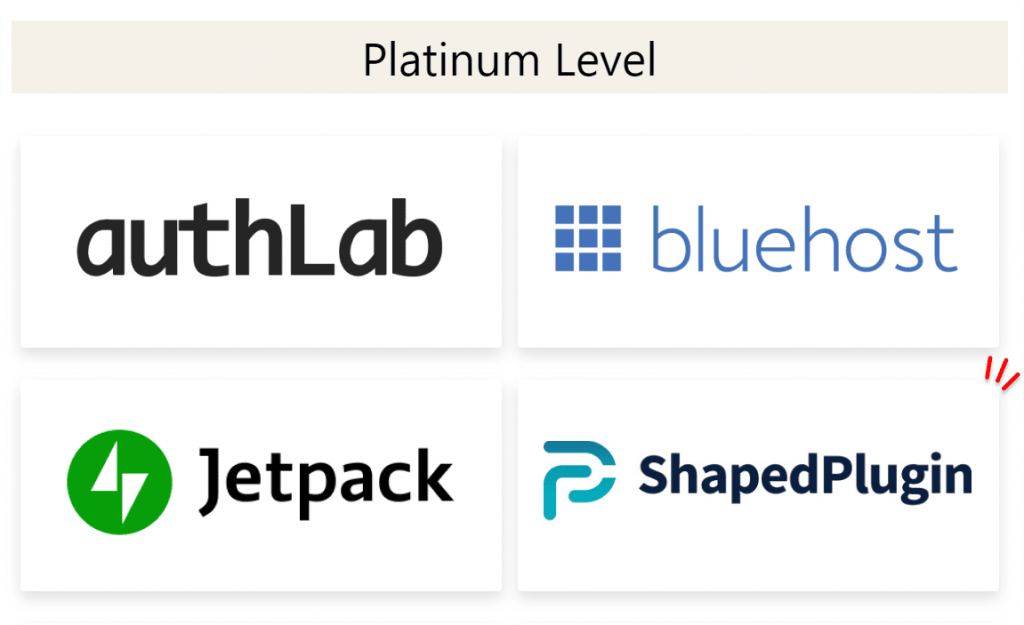 ShapedPlugin is a WordPress plugin company. With thoughtful user experience and cutting-edge technologies. Our plugins are powering up 267,100+ WordPress websites worldwide, including Stanford University, NASA, ITU-United Nations, University of Cambridge, Nipro Asia, Harvard University, University of Oxford, and more.
It was our great pleasure to support organizers in arranging an amazing WordCamp in Bangladesh. We, ShapedPlugin, always love contributing to shaping the WordPress community's joy.
Plus, the ShapedPlugin team, but our co-founder and CTO Rubel Miah, attended WordCamp Sylhet. Our honorable CTO was on tour to UK and Turkey then. We all missed him a lot.
We arrived in Sylhet at 1:00 pm (GMT +6) on May 18, 2023. After having our lunch, some of our team members went to set up and decorate our ShapedPlugin booth.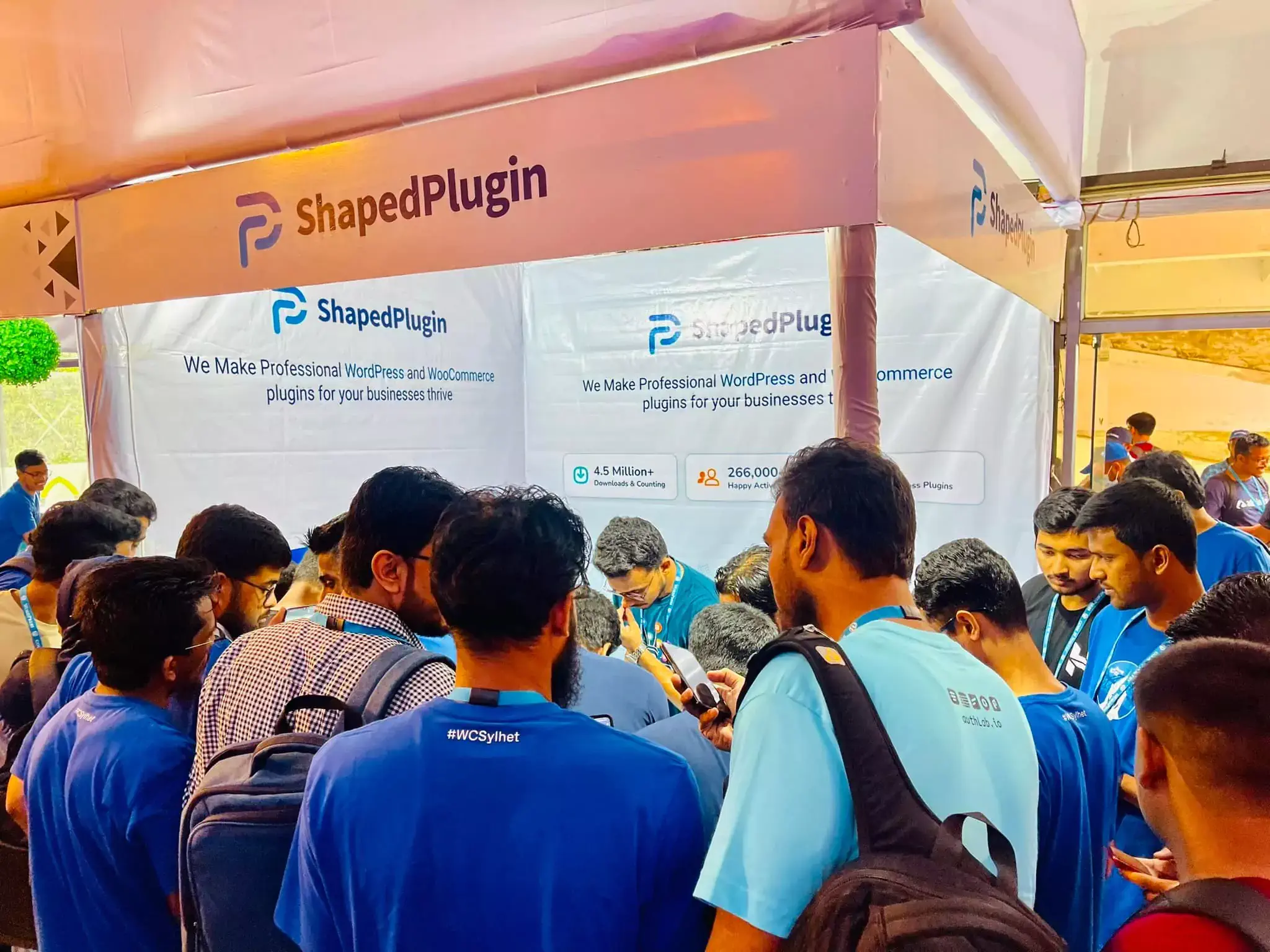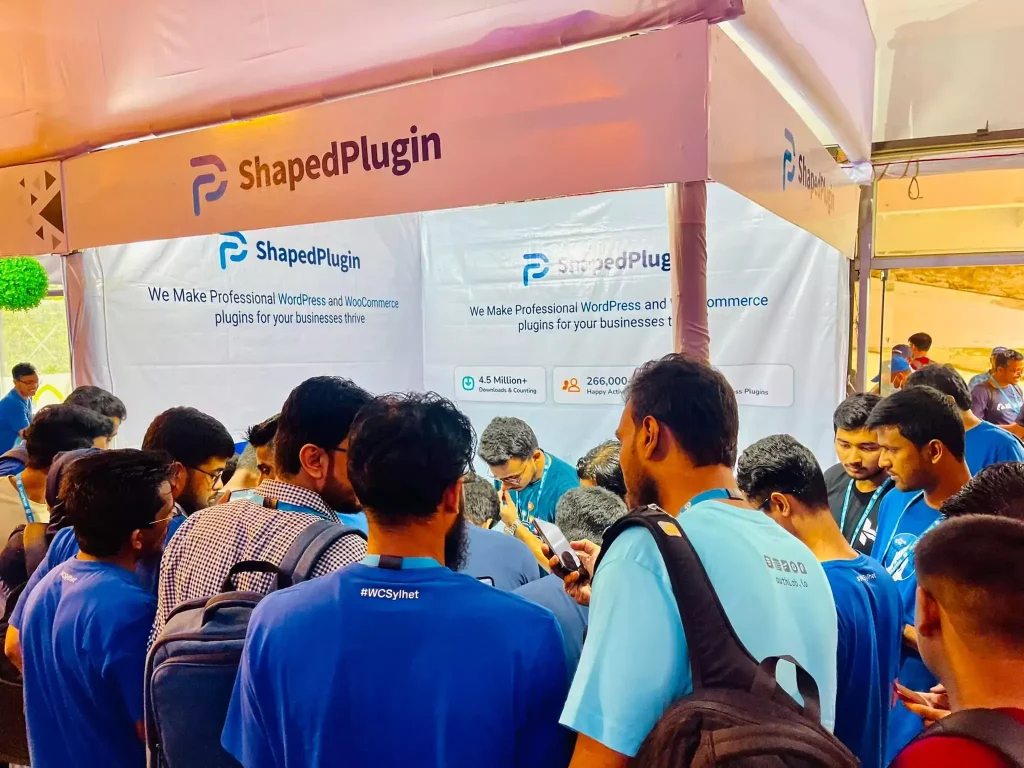 We were delighted to have so many WordPress enthusiasts in front of our booth and give them exclusive swags the next day. Of course, we always love to hear "Hurrah!" from WordPressers.
1st day of WordCamp Sylhet (5/19/2023)
We were at the WordCamp venue very early in the morning on the first day. The first day got off the ground with taking some group and individual pictures standing in the backside of #WC SYLHET and other spots.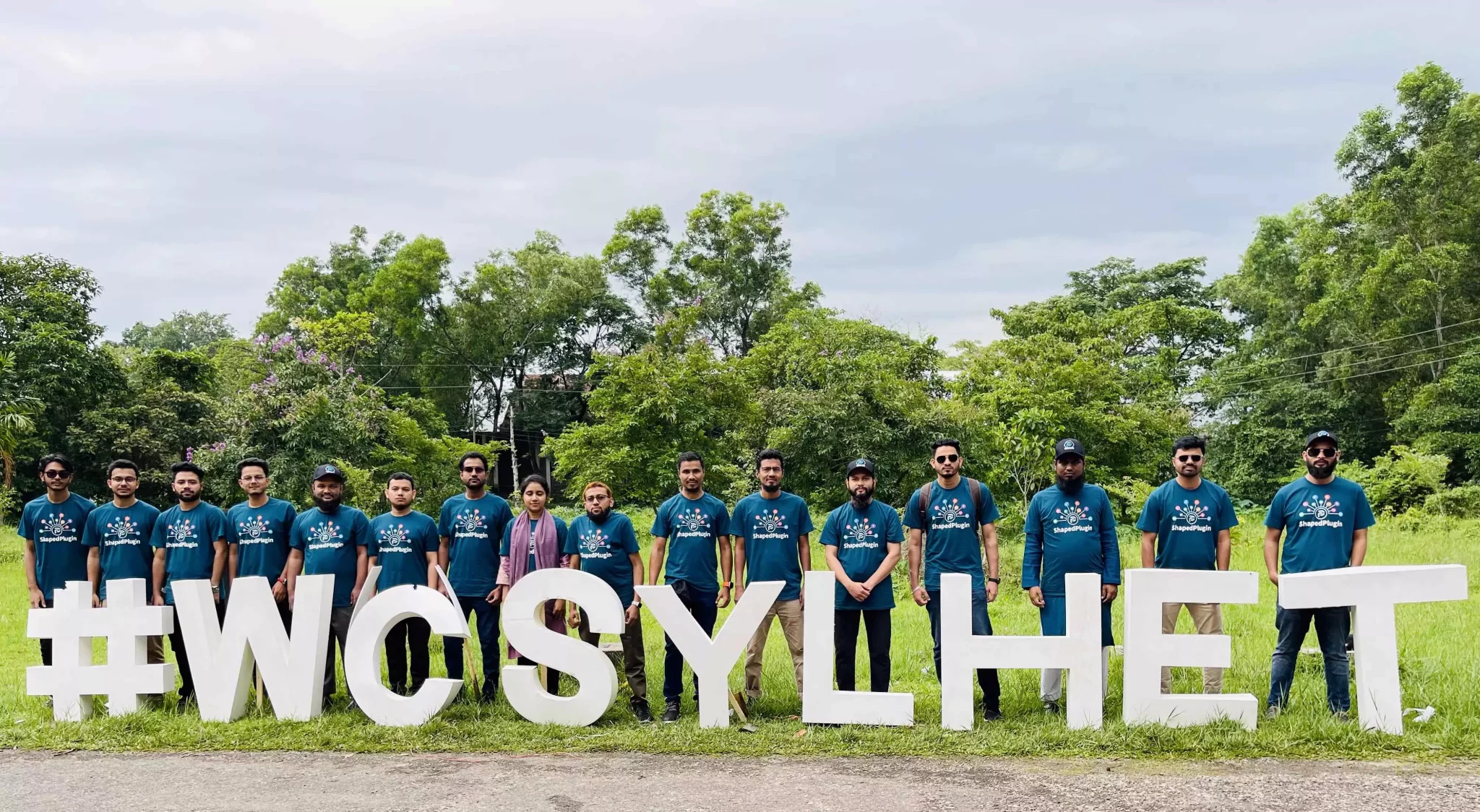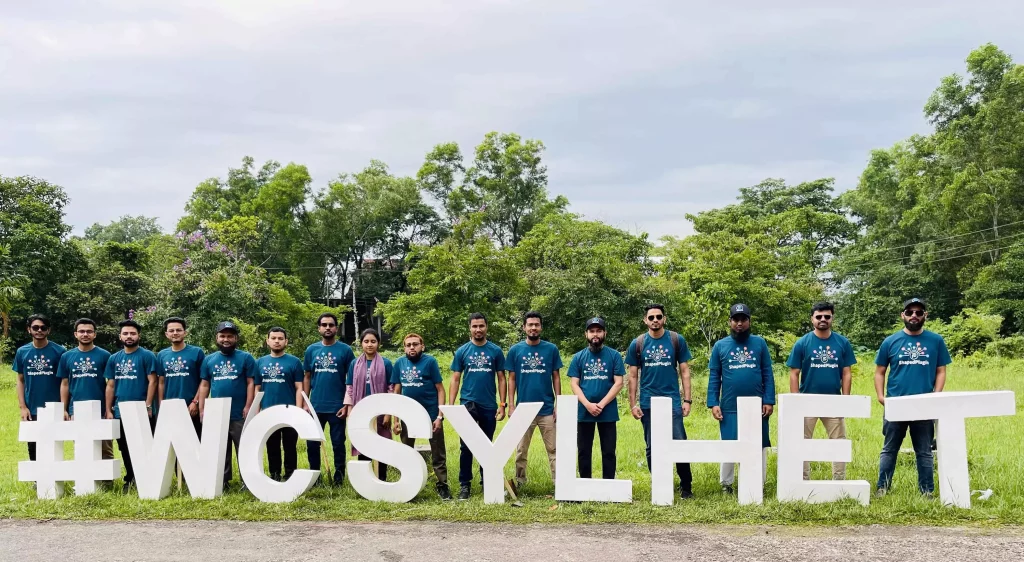 After completing registration, we entered the auditorium taking a cup of tea and breakfast packet served by awesome volunteers. The auditorium became houseful with lovely WordPressers within a couple of minutes. The sessions kicked off around 8:00 am.
Sessions at WordCamp Sylhet 2023
The sessions were on a variety of topics – design, development, content, marketing, entrepreneurship, and more. Every session was informative, insightful, and fun. All the attendees and we enjoyed them a lot. If you missed any session, there is nothing to be worried about. We've taken all the sessions here for you. Please enjoy them below.
Swags, Swags, and Swags
Besides sessions, WordCamp attendees love joining fun activities and collecting exclusive swags. So, the generous sponsors, including ShapedPlugin LLC, brought a huge number of exclusive swags. The attendees were super excited to go to booths, explore many WordPress products, join fun games, and collect amazing swags – notebooks, t-shirts, water pots, airPods, iPads, and more.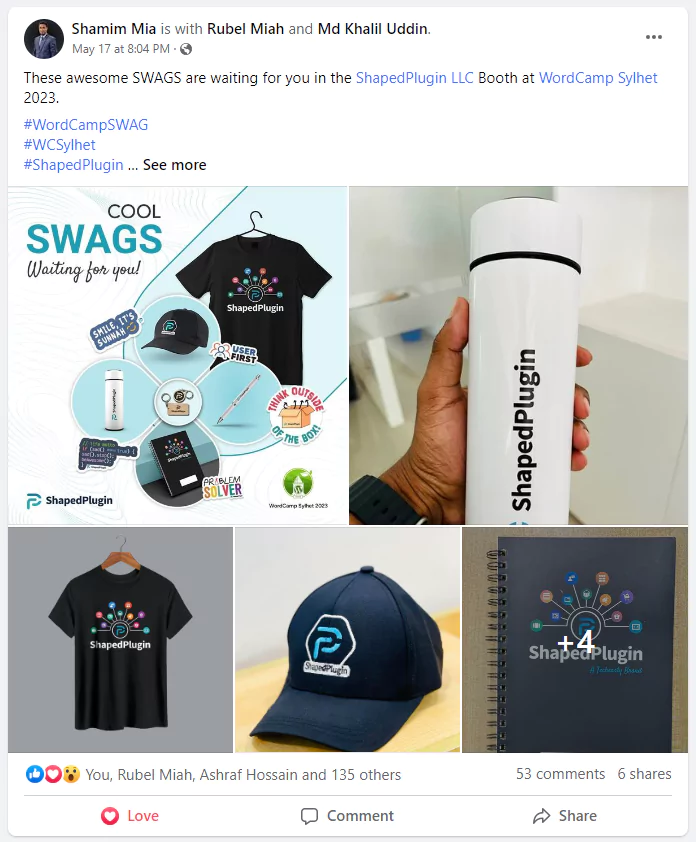 2nd day of WordCamp Sylhet
The last day of WordCamp Sylhet, May 20, 2023, was Contributor Day. The Contributor Day is a day for all who love WordPress to come together and contribute to the open-source WordPress project. The day is a day-long fun event, allowing attendees to participate in activities such as translating, writing documentation, bug fixing, testing, and so much more! So it's open to everyone- from new users to core developers. As a result, WordPress has been what it is today (powering over 43% of the web) with the help of these self-hosted contributors.
Usually, the Contributor Day is scheduled on the day before the main conference day of WordCamps. But at WordCamp Sylhet 2023, the Contributor Day was held on the last day. However, It was a fantastic day with sharing ideas, fixing bugs, improving documentation, learning new things, having new WordPress friends, making fun, and much more.
Our experience at WordCamp Sylhet 2023
On the Conference Day, May 19, 2023, we were at the venue very early in the morning. The venue was the Central Auditorium of SUST (Shahjalal University of Science and Technology), located on the outskirt of Sylhet town. SUST has a large and evergreen campus of 320 acres area. So, undoubtedly, it was an ideal venue for the WordCamp Sylhet 2023.
After registration, we entered the auditorium and caught up with many current and new WordPress friends, shared ideas, discussed business strategies, gave and collected many swags, enjoyed sessions on various topics, and made fun.
Our leaders' words about WC Sylhet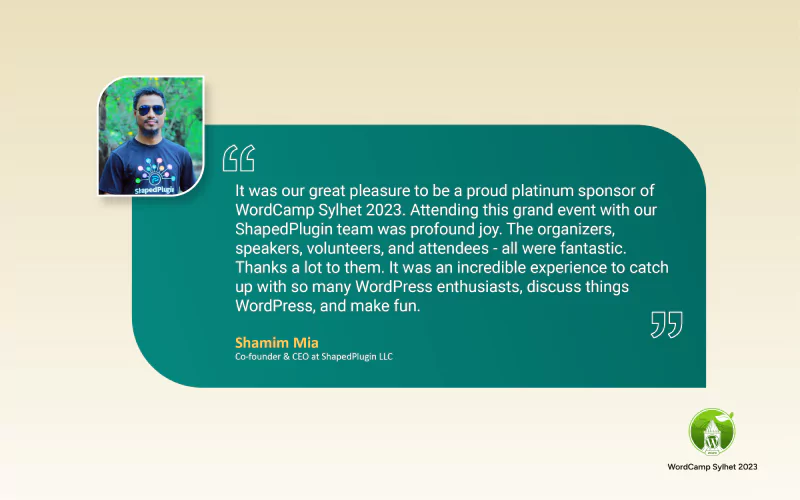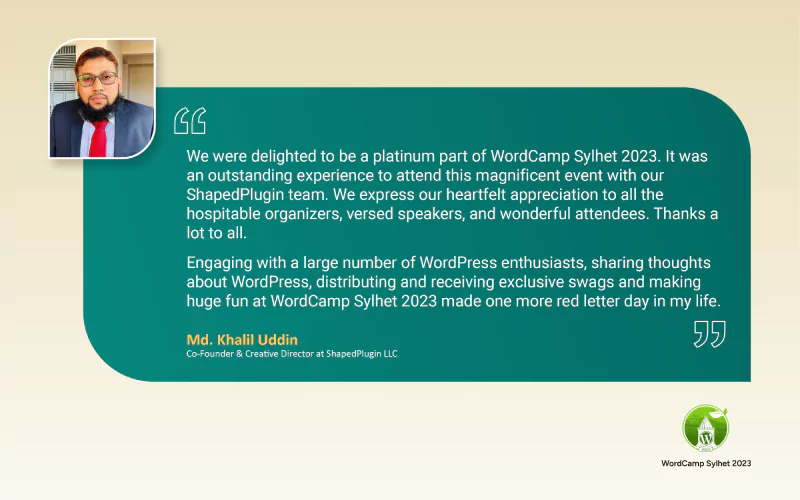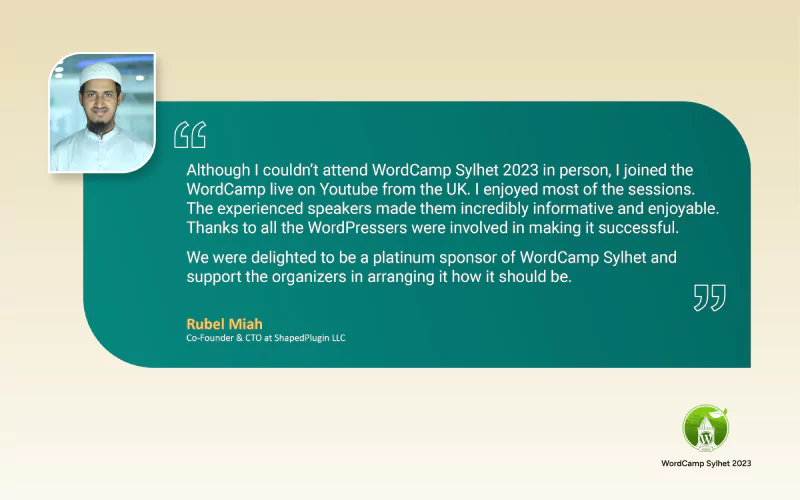 Overall, it was huge fun and a great experience to sponsor and join WordCamp Sylhet 2023 with the ShapedPlugin team.
I forgot to share very interesting things with you that, before leaving Sylhet, we, the ShapedPlugin team, spent an entire day visiting the famous tourist spots – Malnicherra Tea Estate: the waves of green, Ratargul swamp forest: the way of water, and Bholaganj Shada Pathor: the heaven of white stones and transparent water flow.
We all CHILLED a lot all day.
Some rollicking moments
Here are some chilling moments at WordCamp Sylhet 2023.