Your testimonials are your most powerful tools to get more clients and customers. They promote your products and services louder and far better than anything and anyone. You might have heard several times, 'example is better than precept.' As a product or service businessman, you repeatedly claim on your online platforms that your services or products are the best. People love them very much. They are so happy with your products and so on. However, how much can your words impact? Maybe not how much you expect. Because all these are like precepts, on the other hand, the testimonials are examples. They are really better. Let them tell your new visitors about your products and services and build trust. That's all about this blog. In this blog, I'll show you how you can create captivating testimonial showcases in various testimonial layouts. So, please keep reading.
Why you should display testimonials on your website
Customers trust customers more than business people, influencers, and celebrities. That's why testimonials are so crucial for your business. There are many practical reasons why you should display testimonials on your website.
True marketing for free: Testimonials are true marketing by real influencers indeed. Moreover, you don't have to pay for that. But they contribute to conversion most.
They show you Care: You have designed wonderful testimonial showcases in aesthetic testimonial layouts on your site. It doesn't only mean that you are showing social proof but also means you care about what your clients say.
They demonstrate the key features: Your clients and customers describe which specific aspects and features of your service and products meet their needs, and they love most.
Provide strong social proof: Testimonials provide solid social proof that ensures quality.
Increase trust and credibility: Testimonials increase trust and credibility. As a result, buyers don't hesitate to purchase.
Promote your products and services: Testimonials describe your products and services. These neutral descriptions promote your products and services more than your advertising words do.
Turn visitors into customers: Testimonials increase your conversion rate to 60%. Your clients' testimonials work best to turn visitors into customers.
Boost sales: A case study shows that 90% of people see online reviews, and 84% trust them. Testimonials promote your products and boost sales on a large scale.
Build brand loyalty: Testimonials, ultimately, grow trust and increase reiterative clients. Consequently, they build your brand loyalty for a long.
4 easy steps to create testimonial showcases in stunning testimonial layouts
Only four easy steps you have to follow to create beautiful testimonial showcases in various testimonial layouts without a single line of code.
Step 1: Install and activate Real Testimonials
Real Testimonial is a popular and easy-to-use WordPress testimonial plugin. 40,000+ WordPress developers are using this beginner-friendly plugin to create outstanding testimonial showcases in different testimonial layouts. Furthermore, its wide range of robust features allows you to create your testimonial showcases exactly how you want.
However, its free version offers all the basic features, including the slider and the grid layout. And its pro version provides you with more layouts and advanced features to create outstanding professional testimonial showcases.
It's simple to install and activate this plugin. Please click Real Testimonials Pro to proceed. If you need detailed guidance, please see the documentation or watch the following tutorial.
Contact the support team for more assistance.
Step 2: Add testimonials
After you install and activate Real Testimonials successfully, it must be on your WordPress admin sidebar.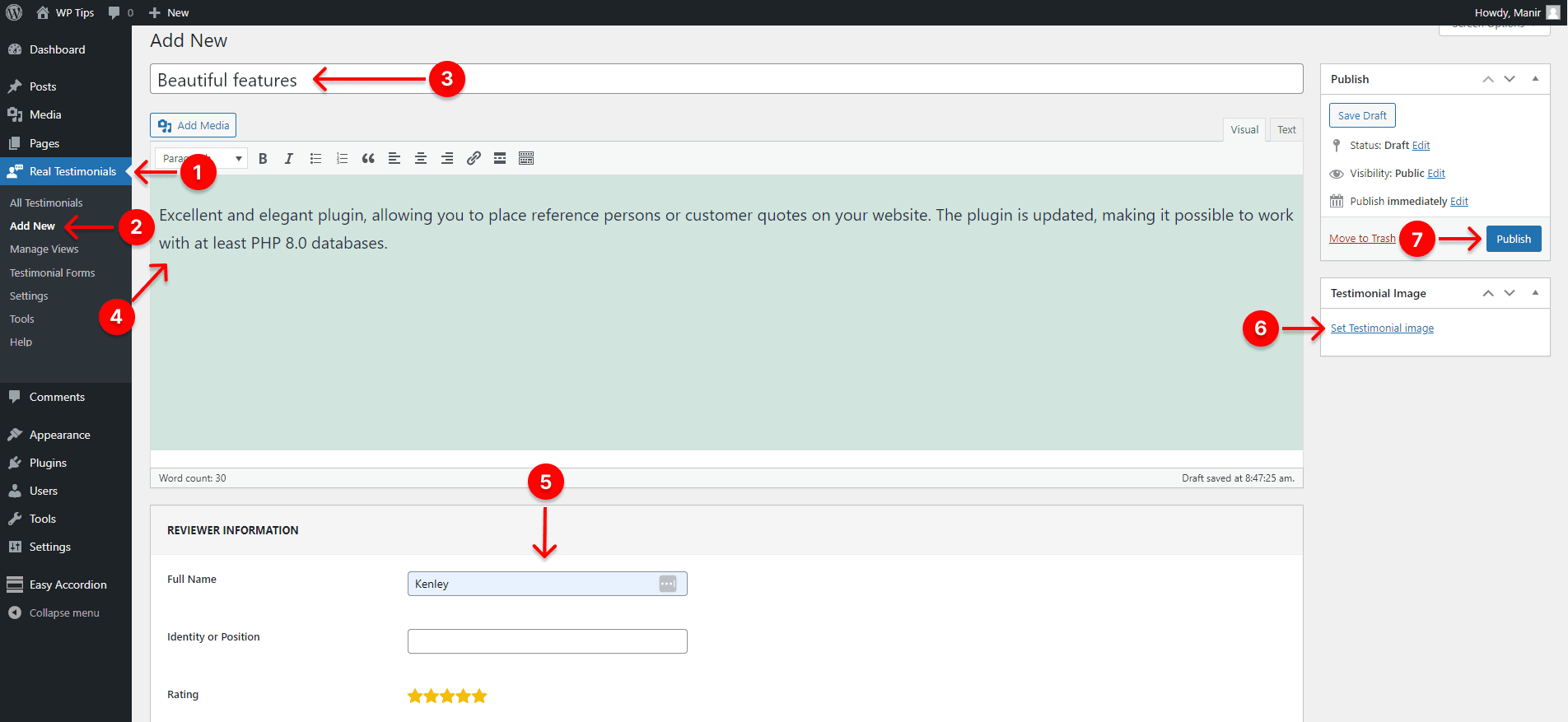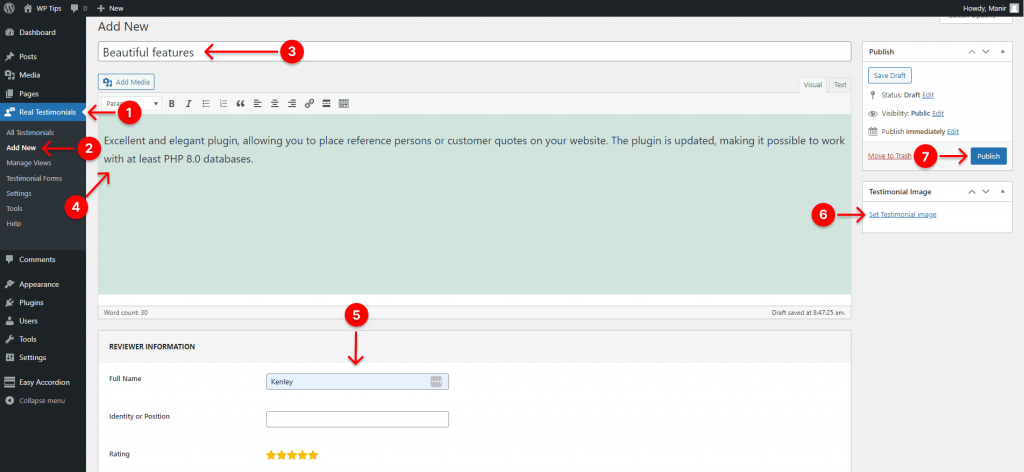 First, click Real Testimonials.
Click Add New of Real Testimonial.
Paste the title of your client's review in the title field. For example, I have pasted 'Beautiful features.' I copied it and its relevant information from the Real Testimonials' reviews on the WordPress plugin repository. You can collect from where your product reviews are available. If you don't have any testimonials, you can collect them with Real Testimonials. Watch this video tutorial to collect reviews from your customers.
Paste the content of your client's review in the text field. Let me paste the body: "Excellent and elegant plugin, allowing you to place reference persons or customer quotes on your website. The plugin is updated, making it possible to work with at least PHP 8.0 databases."
Fill out the required fields with accurate information.
Set the reviewer's photo.
Finally, hit the Publish/Update button.
Thus, you can add as many testimonials as you want.
However, if you don't have any testimonials from the clients you worked for, you can show their logos under a simple headline like 'We Worked With' or 'Our Happy Clients.' Even if you have, you can do it. It will work like a great marketing tool.
Sometimes it may require permission. So, please have a look at the NDA you signed. Then, if there is no restriction or condition, go ahead.
To create a clients logo carousel, please read How To Create a WordPress Logo Slider
Step 3: Try various testimonial layouts and design your showcase
Real Testimonial Pro offers you five aesthetic testimonial layouts and ten mesmerizing themes. With the combination of them, you can create incredible testimonial showcases.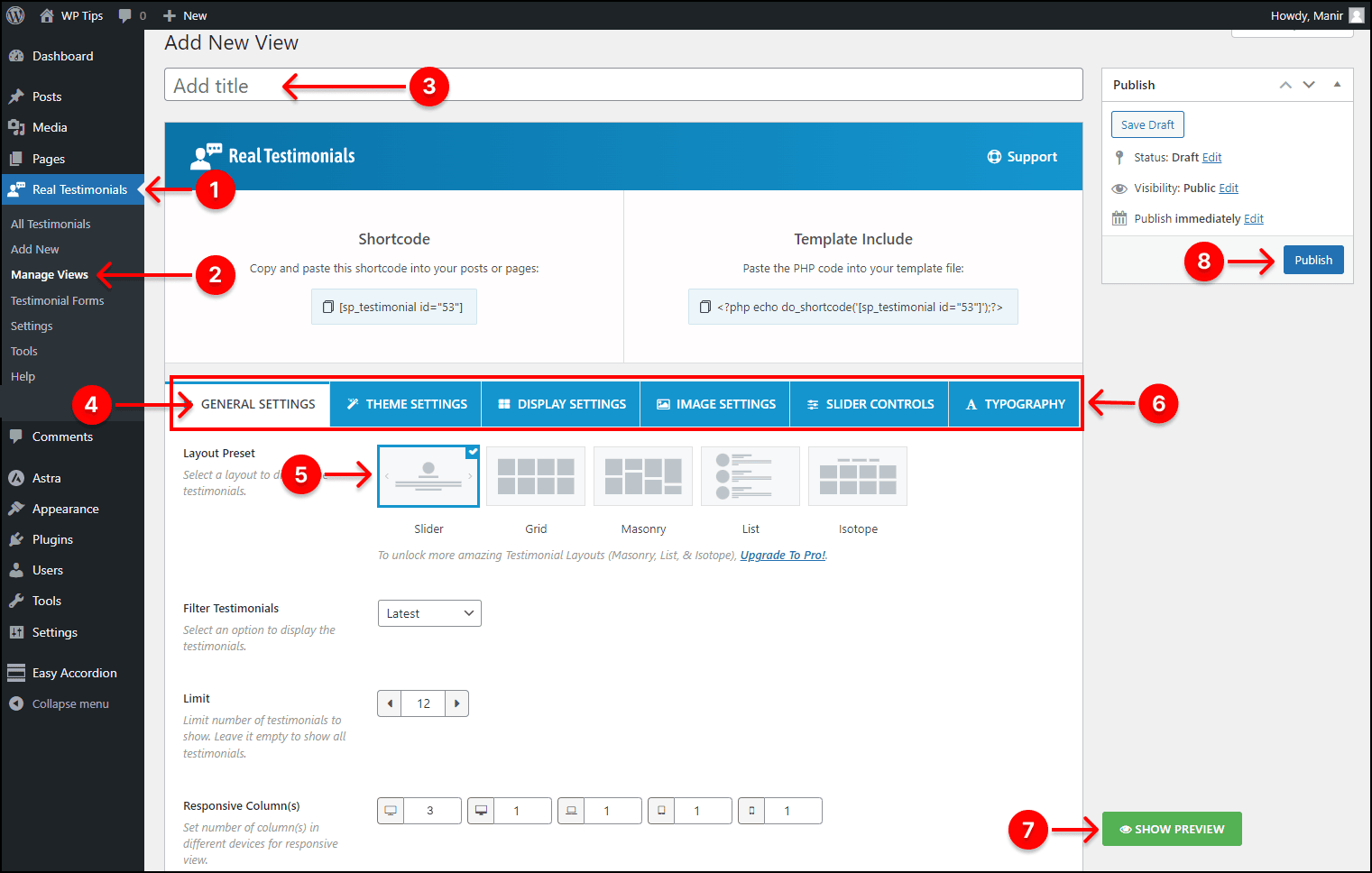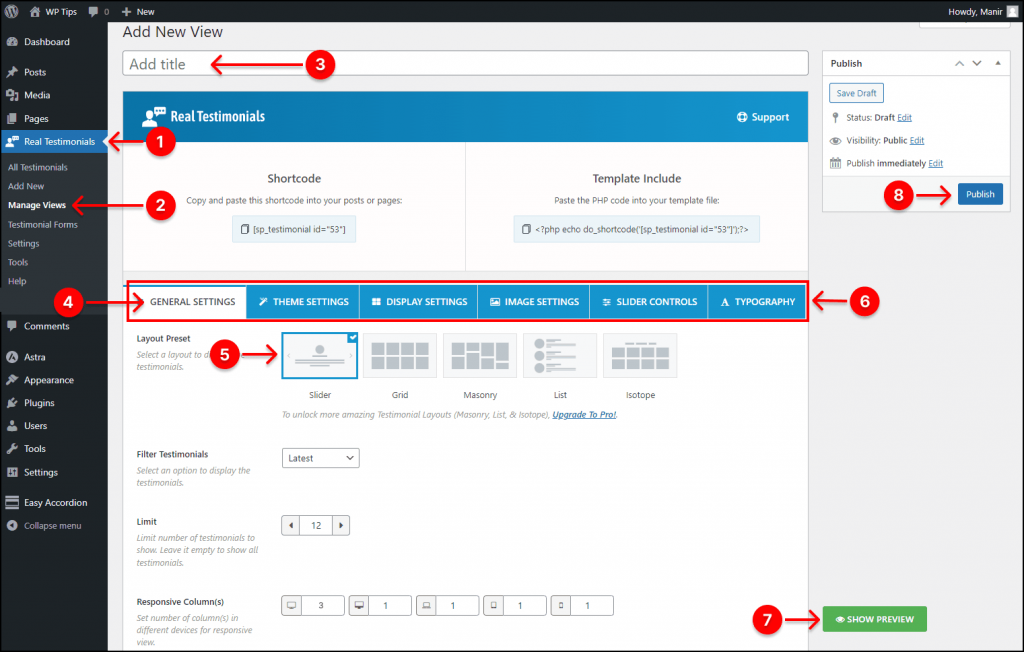 First, click Real Testimonials.
Then click Manage Views.
Give your testimonial showcase a title.
Click GENERAL SETTINGS.
Select a layout.
Look at these six tabs and their features. Each has many features to design your WordPress testimonial showcase exactly how you want. Explore all the features individually and apply what you need to make your testimonial showcases more attractive.
Click the SHOW PREVIEW button to see how it looks. If everything sounds perfect, let's go to publish.
Finally, hit the Publish/Update button.
Click GENERAL SETTINGS to find at least five testimonial layouts:
Slider / Carousel
Grid
Masonry
list
Isotope
Click THEME SETTINGS to find at least ten testimonial themes: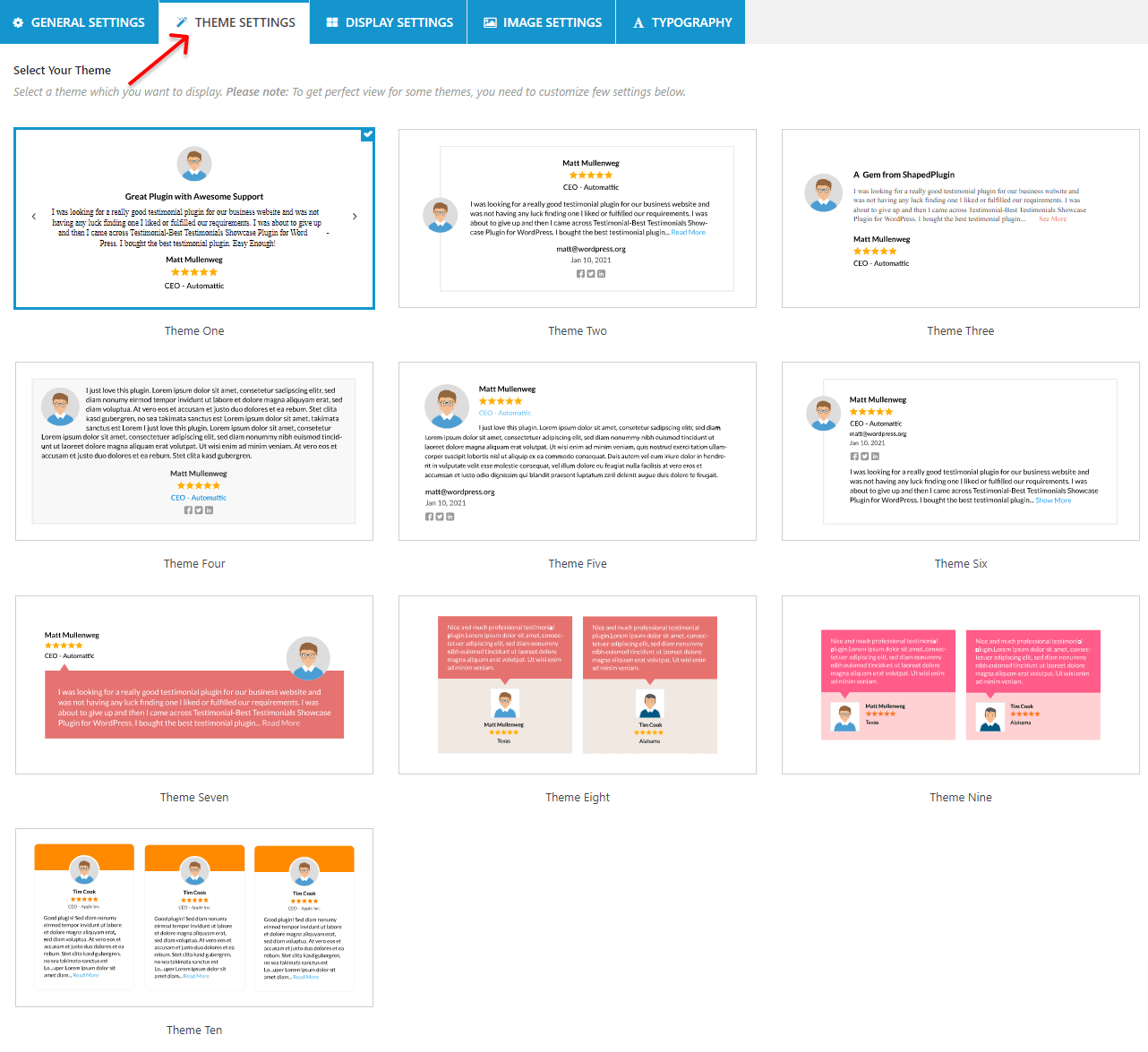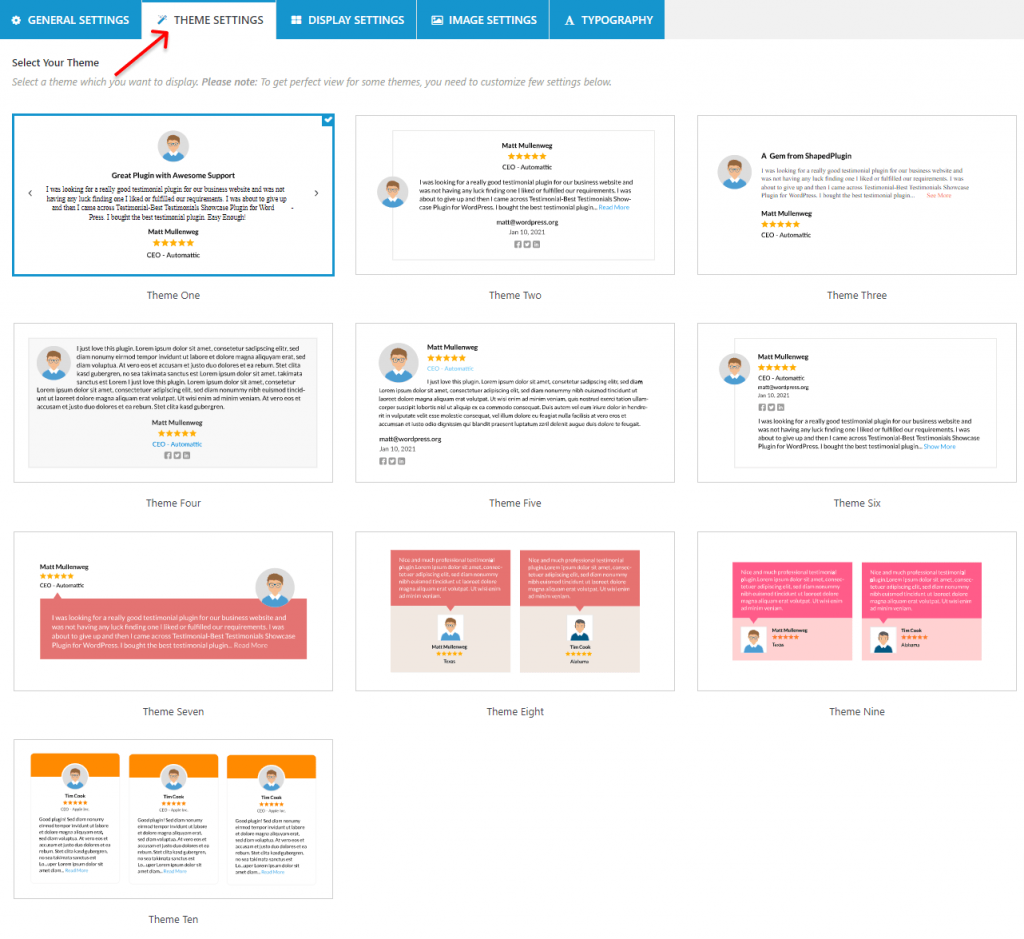 To have some stunning testimonial examples and inspirations, see some live demos we have created with Real Testimonial Pro.
Step 4: Publish your testimonial showcase
If everything looks ok, it's time to publish it. First, go to the page or post you want to display your testimonial showcase. Also, you can add a dedicated testimonial page by clicking Add New under Pages from your WordPress admin sidebar.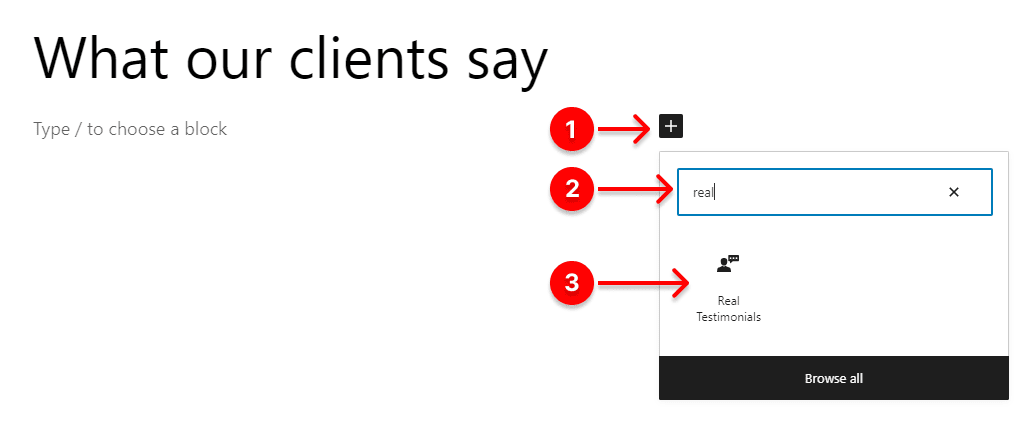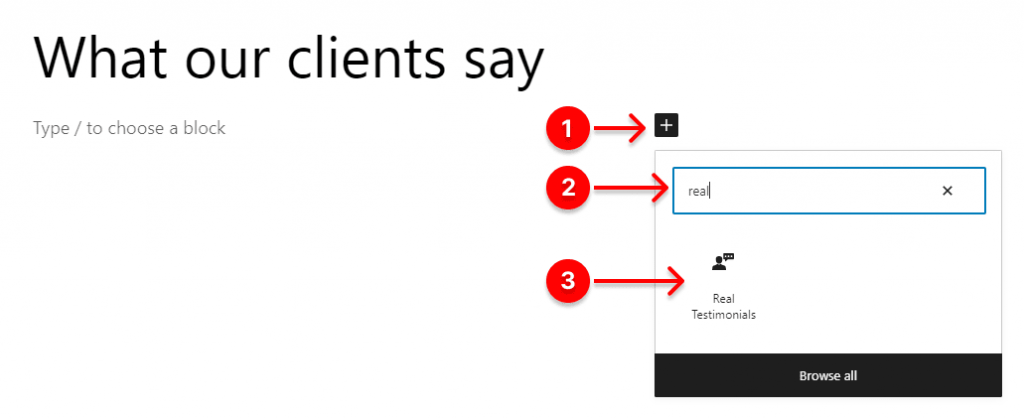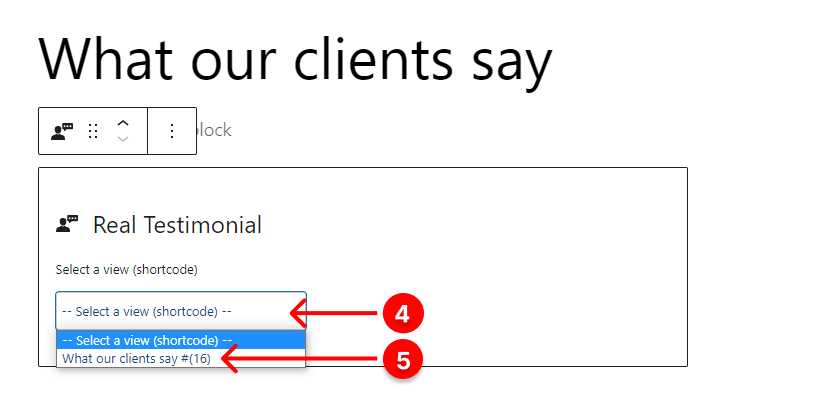 Click the plus icon.
Type Real Testimonials in the search field.
Click Real Testimonials.
Click the dropdown. It will display the list of WordPress testimonial showcases' titles (shortcodes) you've created.
Find the title or shortcode you want to publish and click it.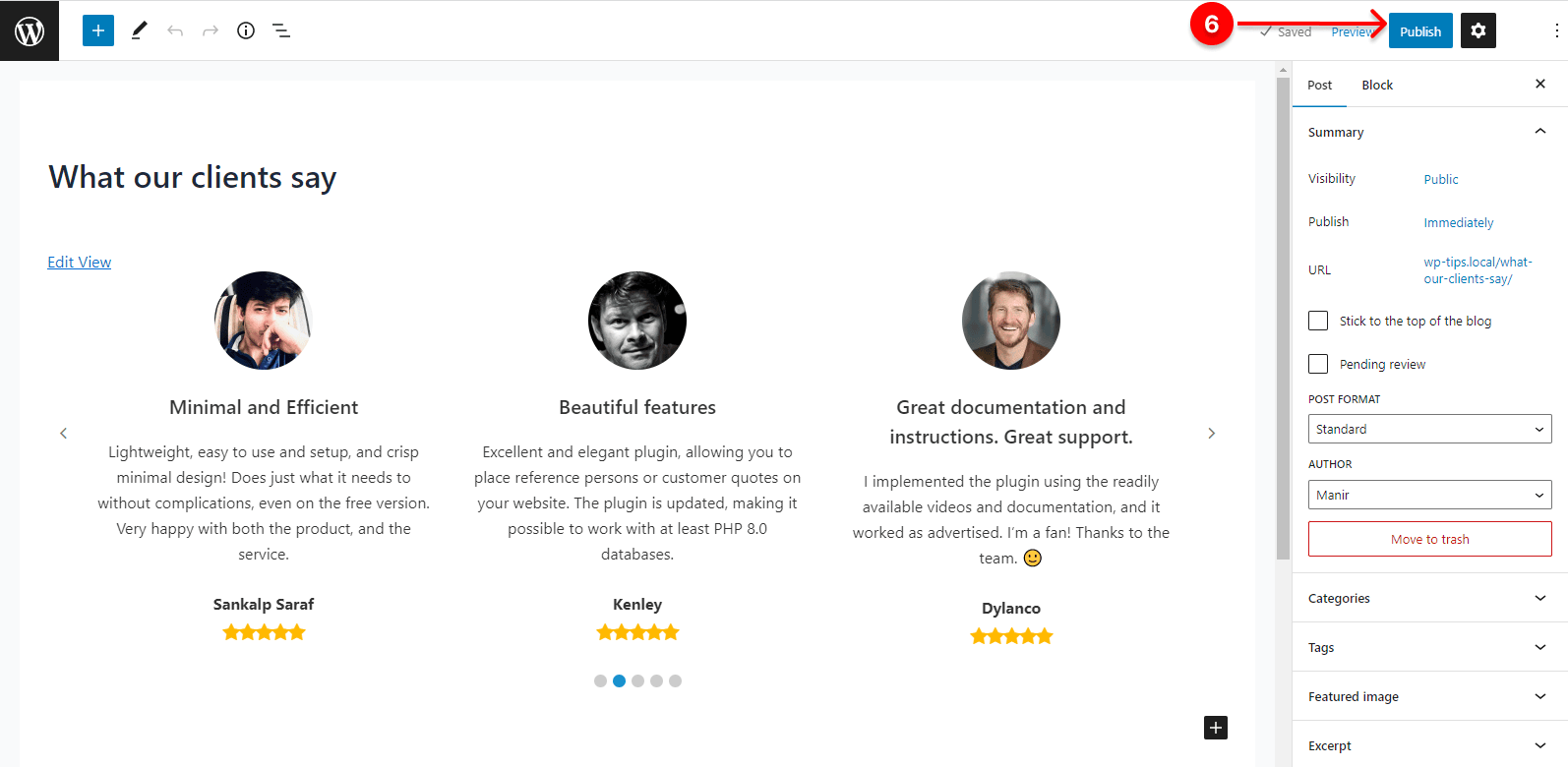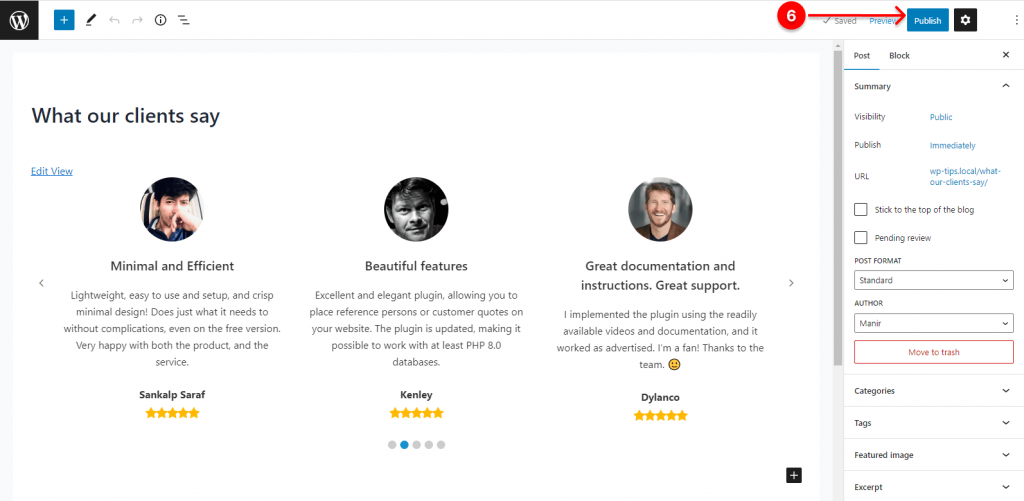 6. Finally, if everything looks perfect, click the Publish/Update button at the top right corner.
Please see some live demos we have created with Real Testimonial Pro. They will provide you with some wonderful testimonial examples and effective ideas to design outstanding testimonial showcases.
Take away
More than 84% of visitors trust online reviews and make purchases based on them. Moreover, testimonial showcases are highly beneficial in many aspects. To get all these advantages and benefits, you have to follow only 4 easy steps. Most importantly, Real Testimonial Pro helps you create super-converting testimonial showcases in various testimonial layouts with no code. So, let's create your testimonial slider, carousel, and gallery today.
Thanks for reading. Please feel free to leave your comments below. We'd love to read and reply.