Mixed Content means the combination of different content types like Image, Text, Video, Audio, etc. Sometimes, you may need a mix-content carousel in your WordPress site, by default, it is tough to find a better solution to satisfy your need. But I can share with you the best and easiest way to create a mix-content carousel so that you can create your own without having any coding knowledge.
To create a mix-content carousel in WordPress, I recommend the WordPress Carousel Pro plugin that comes with a lot of features and customization options. As a result, you will be able to create an amazing mix-content carousel easily with a few steps.
4 Steps to Create a Mix-Content Carousel
Four easy steps to create a beautiful mix-content carousel. Follow them to create ones in minutes with no code. Most importantly it will grab attention of your site visitors to increase conversion rate even more than your expectations.
Step-1: Select Mix Content Carousel Type
Once you finish the installation and activation of the WordPress Carousel Pro plugin, you will find a new Admin Menu called WP Carousel Pro that allows you to create a carousel. To create a new carousel simply click on the Add New sub-menu. Consequently, it opens an interface with all necessary settings. Now, simply select the Mix Content type carousel from the Carousel Type selection area. As a result, it allows you to add mixed content to your carousel.

Step 2: Add Different Type of Content
Click on the Add content button to add content for your carousel. Once you click on that button, an interface becomes visible with several settings. You can select four different content types like Image, Content (Just Text), Video, and Audio. So, select a type and input the necessary content. Suppose, we want to add Image type content first, so we have to select Image type content, consequently, it allows us to upload images and corresponding contents.
Similarly, add more content types by pressing the Add content button. You can add unlimited content types as per your need. In addition, you can sort the content containers and rearrange them.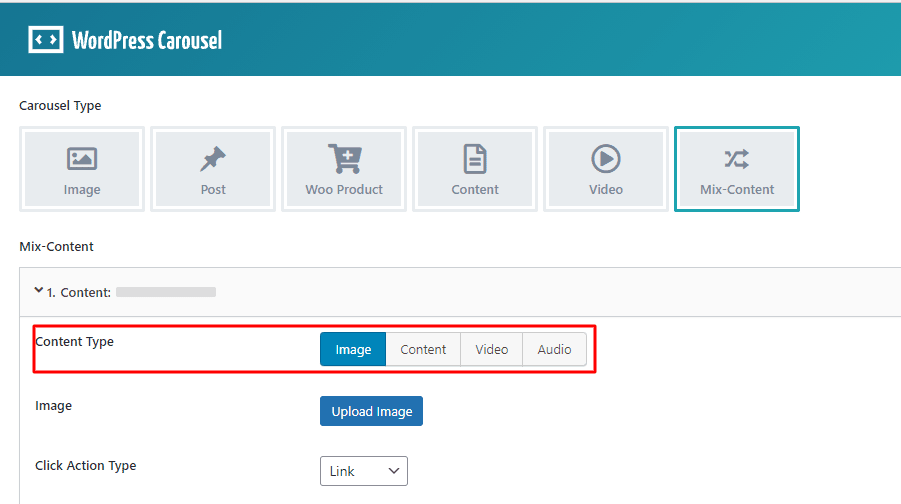 Step 3: Customize Your Content Carousel 
You can customize your mixed content carousel as per your wishes by using the customization tabs. Four different types are available to customize the carousel settings and style the carousel content. In addition, you can control the carousel items' view on different devices.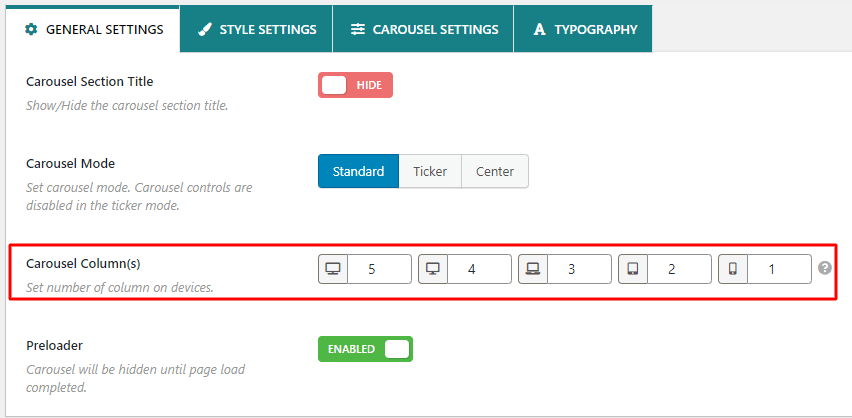 Step 4: Publish and Display the Carousel
Once you finish adding content and customization of your mix-content carousel, then simply publish the carousel. Now, it is time to display the carousel at your expected location. The plugin provides two ways to display the carousel. You can either use the shortcode or PHP template tag. The easiest way is to use the shortcode. So, simply copy the shortcode for the carousel and paste it where you want to show the mix-content carousel.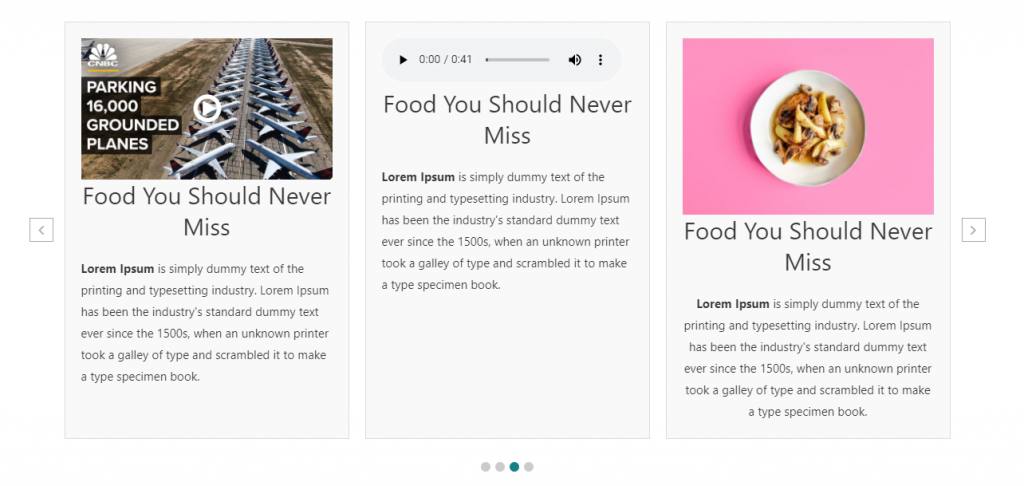 Definitely, you can run further editing and customization of your carousel as per your needs. I hope you have got the process of creating your expected WordPress mixed content carousel for your theme.