You need to create a WooCommerce Product Slider on your website to boost sales, but, you don't know how to create it. As a result, you are in tension and you are searching for a guide to creating a complete WooCommerce Product Slider step by step. 
If you are thinking so, don't worry, this tutorial can satisfy your needs. I have explained step by step complete guidelines in this article, so that, anyone can easily create a Product Slider without having any coding knowledge. 
However, this procedure will help you create an awesome product slider in the easiest way. So, let's get started right now for a better product slider. 
Article outlines in short
I have divided the whole article into a number of sections. You can take an overview from the following list- 
Preliminary steps 

Choosing the best plugin

WooCommerce Product Slider plugin installation and activation 

Create your first Product Slider 

Customization of Product Slider 

Publishing the Product Slider 

How to Get Unlimited Customization Options
Preliminary Steps
As we are discussing WooCommerce product slider, so before going ahead in detail, just check out one thing is that the WooCommerce plugin is installed and activated in your WordPress theme. 
It is a simple precaution to go ahead. Hopefully, the WooCommerce plugin is installed and activated in your WordPress theme. 
Choosing the Best Plugin
I hope, you will always like and try to find out the easiest way to create a WooCommerce Product slider on your website. So, the best and easiest way is to find out a better plugin that allows you to create an awesome product slider.
There are a number of plugins available but all are not well-coded and updated. So, it is difficult to figure out the best one for you. But, don't worry, I have done this part and found one of the best WooCommerce Product Slider plugins. It is super-fast, cool and handy. 
Product Slider for WooCommerce is the best-selected plugin as open-source that allows you to create an awesome and eye-catching product slider for your e-commerce website. 
WooCommerce Product Slider Installation and Activation
As we have found our expected and best plugin, now we have to install and active it.
Want to learn more about the installation process? You can check out this documentation on how to install Product Slider for WooCommerce in WordPress.
Finally, I hope, you have successfully installed and activated WooCommerce Product Slider in your WordPress dashboard. 
Create Your First WooCommerce Product Slider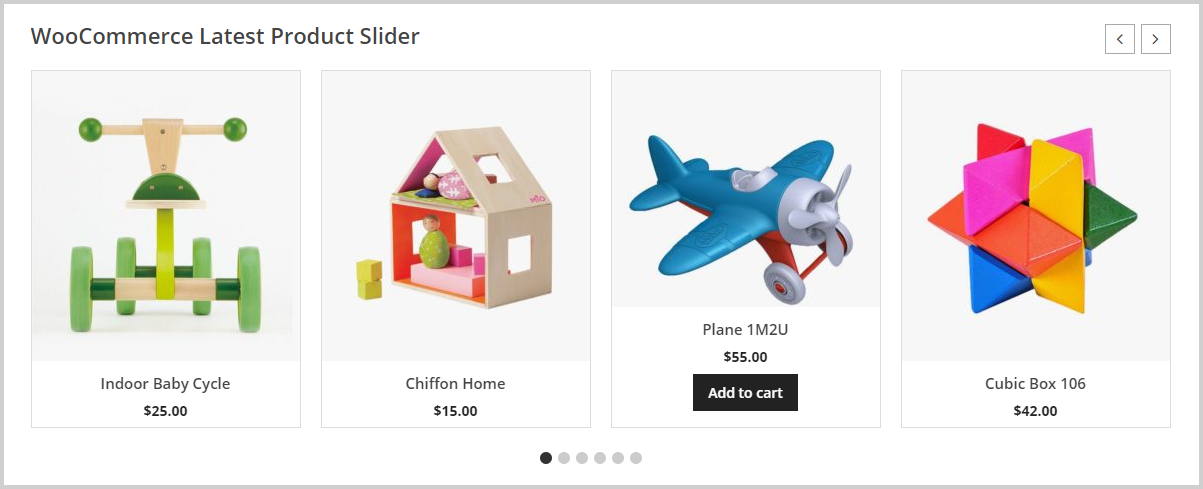 Finally, you are completely ready to create your first WooCommerce Product Slider. It is super easy and fast. It can be done within a few minutes. I will explain all the steps one by one. So, you just need to follow my instructions. Let's do it right now.  
Step-1: Generate Product Slider Shortcode 
First, you need to create a new product slider. As soon as you create a new product slider, a shortcode will be generated automatically. So, follow the following steps to create a new product slider.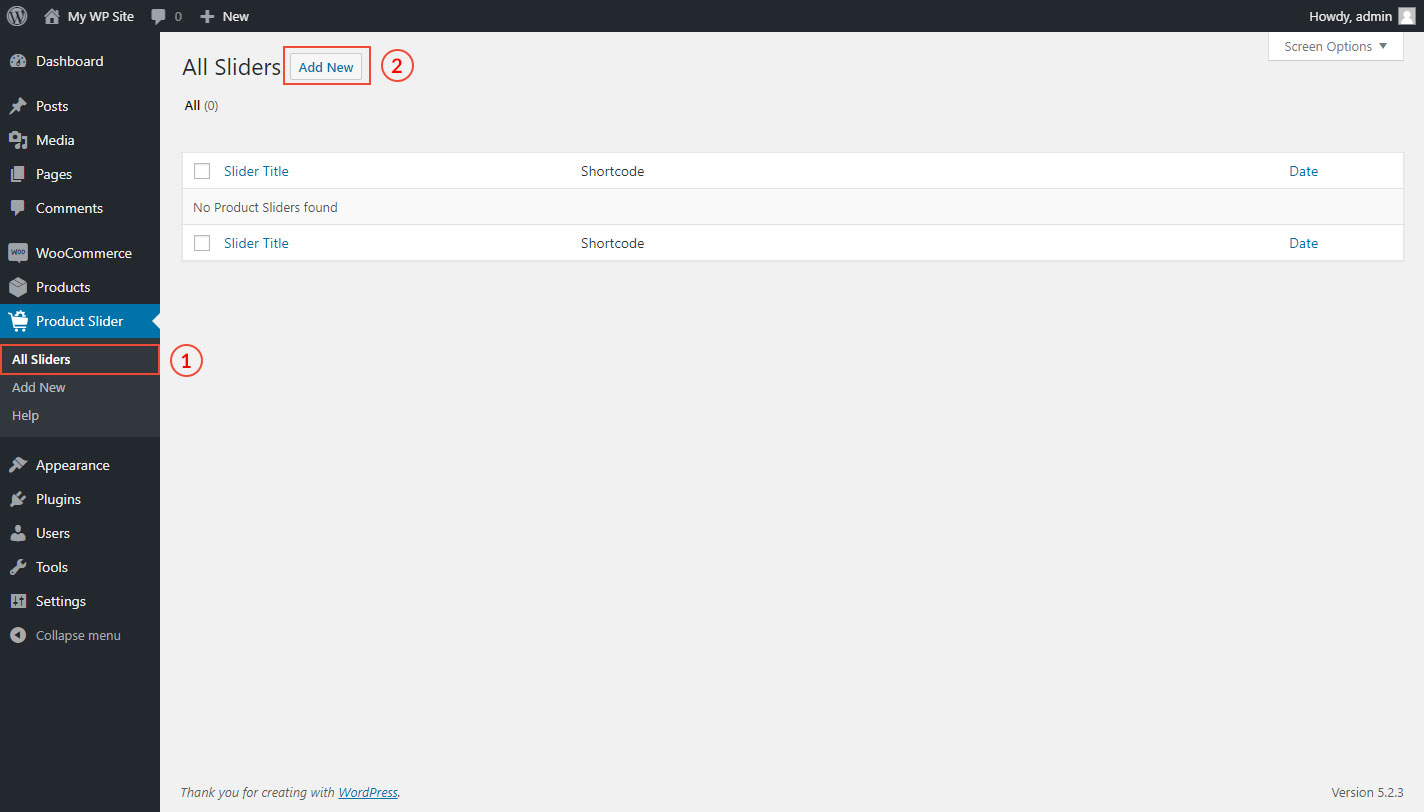 Click on the

All Sliders

menu.

Click on the

Add New Slider

button.
Step-2: Product Slider Settings
Once you click on the Add New Slider button, you will see all setting options for a single product slider. So, it is high time to customize your product slider as per your needs. Now, just follow my instructions one by one.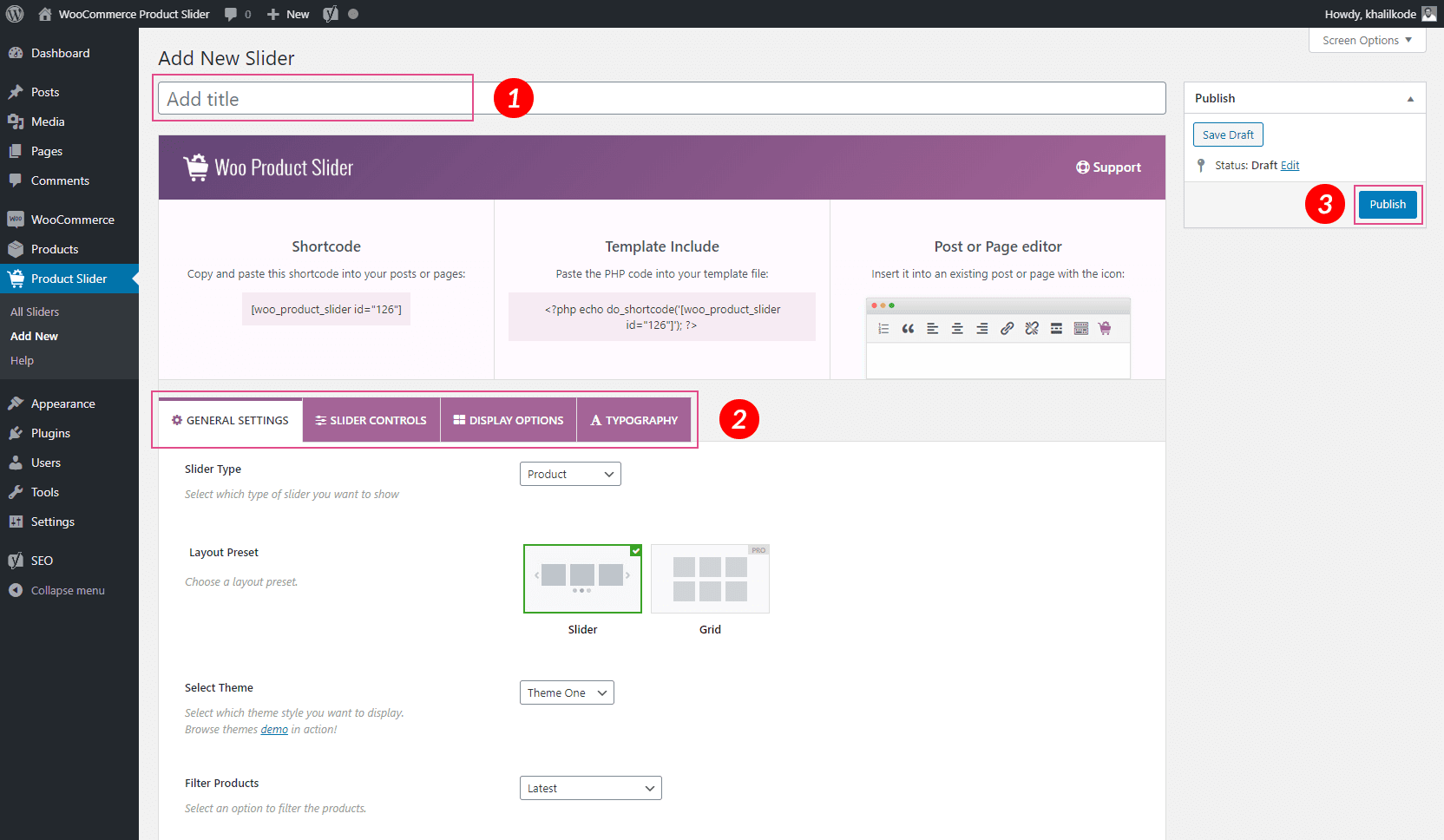 Type a

Shortcode Title

used as

Section Title

for your product slider or grid (optional).

Customize any setting fields as per your needs. 

Finally, click on the

Publish

button on the right side. 
When you will publish your product slider, you will find that there is a shortcode at the top area. Now, you just need to follow the last step to display your product slider.
Step-3: Display Product Slider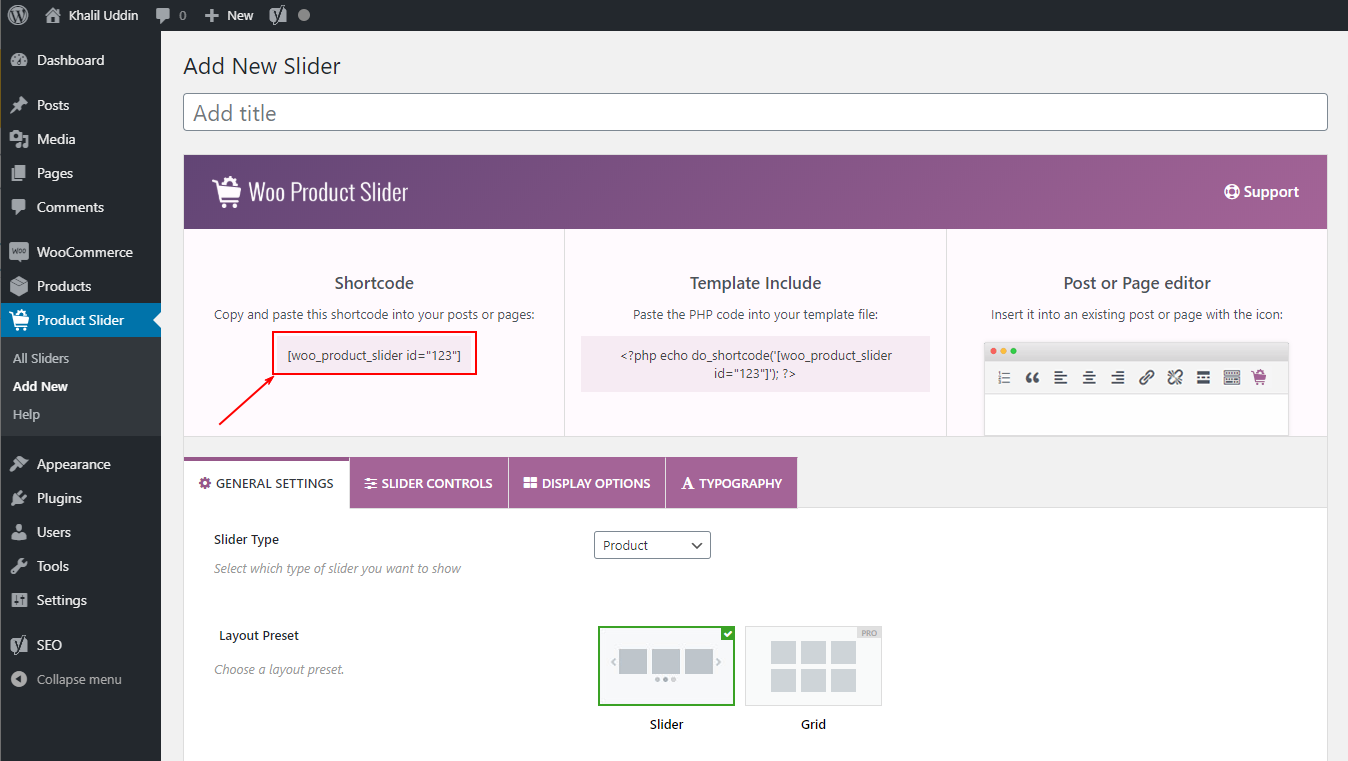 Finally, you are completely ready to display your product slider. Simply copy the shortcode and paste it in your desired position like post, page or anywhere you want. 
Get Unlimited Customization Options
I hope, you have already found that the WooCommerce Product Slider plugin has some limitations in the case of customization. Many features are not available in this freemium version of this plugin. 
You may feel the necessity of more features and unlimited customization options for your product slider. Don't worry, WooCommerce Product Slider plugin also offers a premium version that can eliminate these limitations and you will get unlimited options for customization. 
Its Premium Version includes the following interesting and awesome features- 
Slider and Grid Layout: You can display your products in 2 different unique layouts like Slider and Grid.
30+ Pre-designed Themes: 30+ professionally pre-designed themes are included that provide you more flexibility. 
Advanced Typography: 840+ Google Fonts with different options are included. 
Filtering Products in the Slider and Grid: You can filter the list of products based on any feature like Featured, Categories, Tags, Specific Products, On Sale!, Latest or Recent, Best Selling or Popular, Upsells, Cross-sells, Related Products, Top Rated, Most Viewed, Recently Viewed, Free Products, By Product ID or SKU, Products from Attribute, Exclude Categories & Tags, etc.
Products Filtering by Types: You can also filter the products by different product types, such as Simple Product, Grouped Product, External/Affiliate Product, Variable product.
Category and Subcategory Slider: You can easily display the category and subcategory slider or grid anywhere you want.
Exclusive Hide and Show Options: Simply show hidden products easily. In addition, you can hide Out of Stock and free Products.
Duplicate Product Slider: This feature will reduce your time and energy. Now you can easily duplicate or clone any product slider. 
WPML Ready: Multiple languages are supported. You can easily support any language. 
Product Name Word Limitation: Word limitation options help you to limit words for product name or title
Multiple Row Product Slider: With the Slider layout, you can display multiple row product slider. 
Multisite Supported: The multisite feature is also supported. 
Ajax Pagination for Product Grid: Different Ajax pagination types are included. These are – Ajax number pagination, Load more button (ajax), Load more or infinite on scroll (ajax), No ajax (normal pagination).
Slider Control Options: Different slider options like AutoPlay on/off, Slide speed control, the Custom margin for each product, Stop on hover, and many more options are included.
Product Image Flip and Lightbox: The Product Image Flip option is also included. As a result, you can set flip behavior for product images.
Countless Colors and Styling Option: Unlimited colors and styling are available in this pro version. You can do what you imagine. 
Responsiveness: It provides fully responsive product sliders which are compatible with any modern devices. 
Super Fast and SEO Friendly: It is super-fast, light-weight, SEO friendly and optimized for improving the website ranking.
Lifetime Free Support and Update: Fast and Friendly Dedicated Support for any query. Besides, Extensive Online docs and Tutorials are also available.
Finally, I just want to say that I have listed some key features but actually, the pro version contains a huge number of features. You can call it a complete master plugin for creating the WooCommerce Product Slider.
So, break down the limitations and get all features for WooCommerce Product Slider, just checking out WooCommerce Product Slider Pro.