The customer testimonial enhances the popularity and faith of your business and helps to move to the next level of success. It is the best way to represent your business reputation in front of your new customers. So, undoubtedly, customer testimonial is an important and essential component for your WordPress website.
If you are thinking and interested in adding customer testimonial on your WordPress and you are looking for a complete guideline with step by step proper instructions, you have landed in the right place. Today, I am going to share step by step complete instructions on adding customer testimonial on the WordPress websites.
We will follow the best and easiest way where you don't need to have any coding skills and previous experience. We will start it from scratch and finish it step by step. Definitely you will enjoy this whole process. Now let's start it right now. 
5 Steps to Add Customer Testimonial in Your WordPress Site
Only 5 simple steps to add customer testimonials in your WordPress website. Follow them properly to add testimonials in minutes with no code.
Step-1: Choosing the Best WordPress Testimonial Plugin
As I have already mentioned that we will follow the best and easiest way so that we can easily create customer testimonial without any coding skills, for this reason, we have to find out one of the best WordPress testimonial plugins.
The right plugin selection from a huge number of similar plugins is a difficult and complex task ever. Because all plugins available in the markets are not quality full, well-coded and optimized. As a result, if you choose a poorly coded plugin for your website, it may slow down your website, even it may break down your whole website. So, the best plugin selection is the most important task.
In this case, I have researched a number of similar plugins available in the market place and found the best one for you. The Testimonial is one of the best testimonial plugins for WordPress. Definitely, the Testimonial is well-coded, updated with the latest web technologies and completely optimized for SEO. So, you can choose it as the best and complete solution for customer testimonial creation.
The testimonial is the Best Testimonials Showcase Plugin for WordPress built to display testimonials, reviews or quotes in multiple ways on any page or widget. The plugin comes with the easiest Shortcode Generator settings panel that can help you build awesome and unique testimonials showcase with responsive layouts and customizable styles on your website.
Step-2: Installation and Activation of Testimonial plugin
We have successfully done the selection of the best testimonial plugin for our website. As we have done the selection, it is time to install and activate the testimonial plugin. I hope you are familiar with the installation and activation of a WordPress plugin. These installation and activation processes are the same as all. So, I hope you can easily install and activate the Testimonial plugin on your WordPress directory.
However, if you are not familiar with the installation and activation, don't be worried. You can check out this article about the Installation and Activation of the Testimonial Pro. You can simply follow this same process for you.
Once you have successfully installed and activated the Testimonial plugin, you will see Testimonial at the admin menu bar. It will look like the following screen.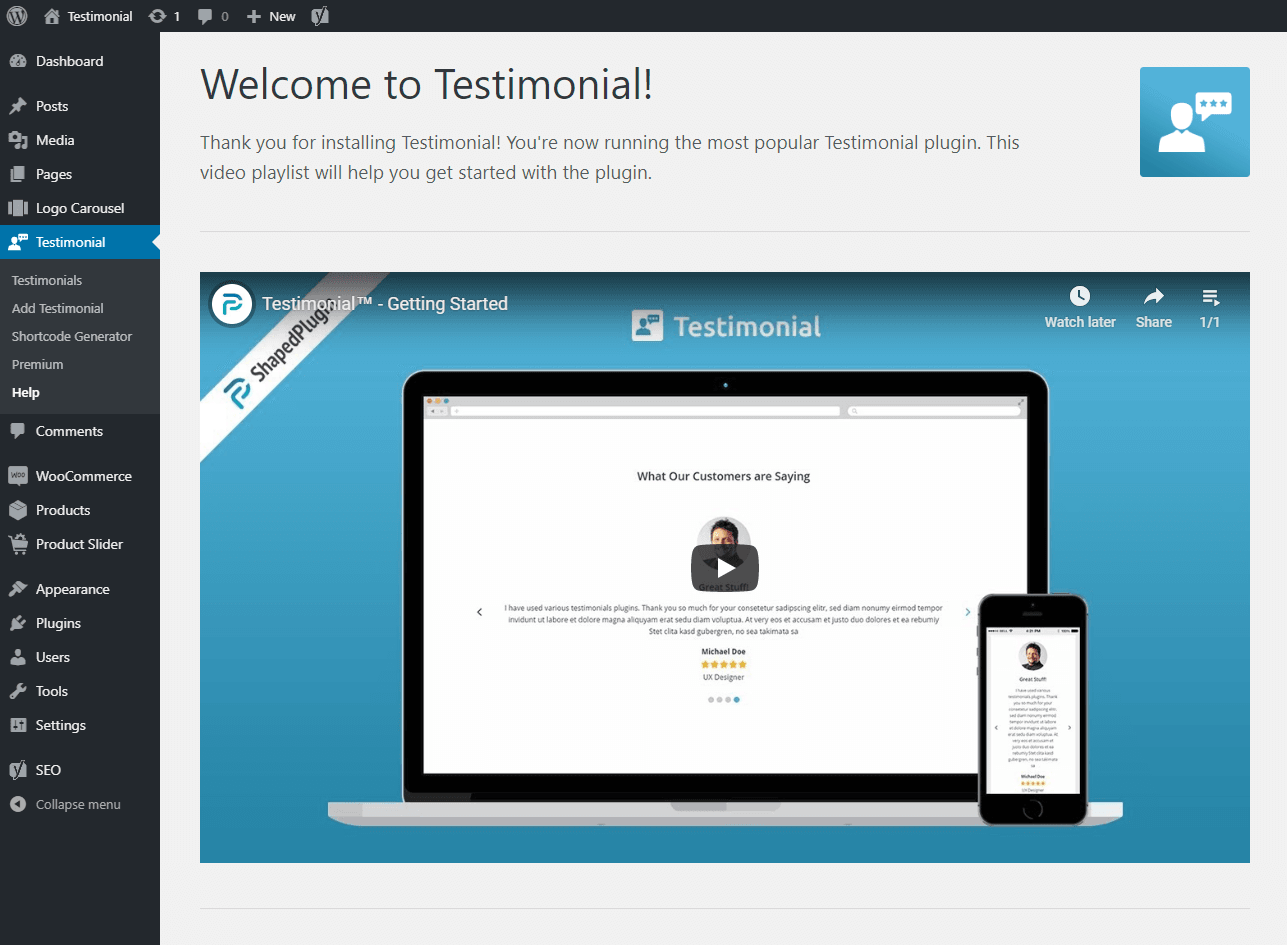 Step-3: Add New Testimonial
I hope you have installed and activated the Testimonial plugin successfully. As we have finished our installation and activation step, now it is time to add a testimonial. For this reason, click on the Add Testimonial menu. Once you click on this button, you will see the following interface with a number of input fields.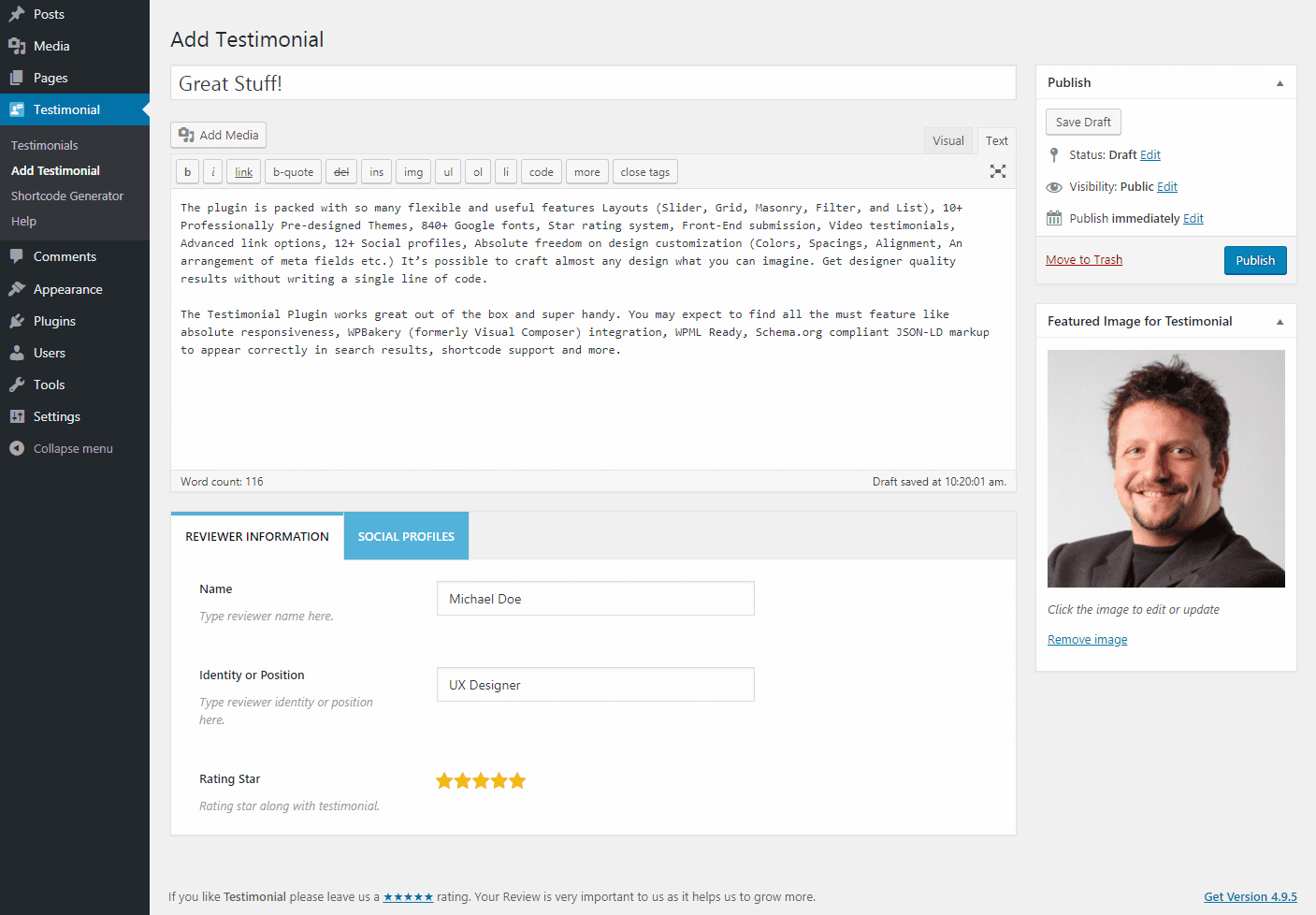 Step-4: Add A Testimonial Slider
We have successfully added all the testimonials that we have needed. Now the most important step to follow. It is high time to add a testimonial slider. To add a testimonial slider, you have click on the Shortcode Generator menu. Once you click on the menu, you will find the following interface with a number of setting options.
Now you need to put a title for the shortcode so that you can identify it when you will more shortcodes. You will find 4 different setting options tabs. These are General Settings, Slider Settings, Stylization, and Typography.
You can customize any setting options and set your own value as per your needs. Once you finish your customization, you need to publish it. Finally, click on the publish button to publish the testimonial slider. 
Step-5: Displaying the Testimonial Slider on the WordPress website
If you follow all steps one by one, I hope you have successfully added all the testimonials and also added a testimonial slider. Now it is time to display the testimonial slider.
Once you publish the testimonial slider, you will find a shortcode at the top of the Shortcode Generator page. Now you need to copy the shortcode and paste anywhere you want like the page, post, widget or anywhere you wish.
I have also followed all the steps one by one and finally copied and pasted the generated shortcode on a page. Consequently, I have found the testimonial slider on my WordPress website. 
Exploring More Features and Theme Styles
We have successfully made a testimonial slider with the best and easiest way. This whole job is done with the freemium version of the Testimonial WordPress plugin that contains a number of limitations.
Are you annoyed with these limitations and willing to break down all the limitations? Are you interested in getting all features with unlimited customizations and stylings? If you are thinking so, don't worry, there is an opportunity for you to break down all the limitations. For this reason, you have to check out the Testimonial Pro.
The Testimonial Pro contains a number of mind-blowing and impressive features and unlimited stylings. Besides, there is the great flexibility of customization of any component as per your wish. Now, I want to focus all the cool features that may impress you and you may not miss these features at all.
Light-weight, Slick and Superfast
The testimonial pro a light-weight, slick and super-fast WordPress testimonial plugin. It is completely optimized for SEO. As it is optimized and well-coded, it will never slow down and break down your website at all. Besides, it has a clean admin panel.
Responsive and Easy to Use
All the testimonials created by the Testimonial Pro are fully responsive. You can use them easily with a simple shortcode. You don't need to have any coding knowledge at all to create and display the testimonial sliders.
5+ Testimonial Layouts
Different testimonial layouts provide a different look and feel to different testimonials. 5+ testimonial layouts like Slider, Grid, Masonry, Filter, List, etc are available in the Testimonial Pro. As a result, you display different testimonials in different styles that may attract your customers.
10+ Designed Themes
Pre-designed themes save time and energy. 10+ fully customizable and professionally designed themes are available in the Testimonial Pro. As a result, you can easily change the look and feel of the testimonial slider. These pre-designed themes are really eye-catching and cool ever. You can check out some demos.
Advanced Typography
Advanced typography is also available in the Testimonial Pro. You have complete access to the full features of typography. The Testimonial Pro contains about 840+ Google Fonts with all variations.
100+ Advanced Styling and Customization Options
The Testimonial Pro is a highly customizable WordPress testimonial plugin. It contains 100+ advanced styling and layout customization options. You have the right to unlimited customization as per your needs.
Group Testimonials
Group testimonial is one of the best and important features. It has added an extra dimension to the testimonial slider. You can select testimonial from a specific category and create a testimonial slider with them. Finally, you can easily display some specific category testimonials.
Video Testimonials
Sometimes your customer can share video feedback about your business. You need to display the video as a testimonial. The Testimonial Pro has the scope of using video testimonials.
Front-end Submission Form
A front-end submission form is a great way to collect feedback from your customers. You can easily do this with the help of the Testimonial Pro plugin. It contains a front-end submission form to collect testimonials.
Testimonial Pending in Dashboard
Sometimes it may be an important and necessary feature. With this feature, testimonials will remain pending in the dashboard for approval by Admin.
Google reCAPTCHA
It includes Google reCAPTCHA. This feature is needed for testimonial form spam protection. It plays an important role in the security field.
Watch How It Works
12+ Social Profiles
You can easily display different social profiles of your customers with 12+ social profile icons available in the Testimonial Pro.
3 Testimonial Thumbnail Styles
3 different testimonial thumbnail mean image styles are available. You can display the thumbnail with the 3 different styles like Square, Round, Circle.
Testimonial Detail Page
The plugin includes the testimonial detail page. When someone clicks on the thumbnail or read more link, he will able to see the testimonial details page that may contain the detail information about the customer.
8+ Different Navigation Positions
In any slider, navigation is an important component. It adds extra beauty. The Testimonial Pro includes 8+ different navigation positions. As a result, you can show navigation in different positions.
Besides, there are 15+ modern navigation and pagination styles. Consequently, you can show the navigation and pagination with a different look and feel. In addition, 6 different navigation arrows are also available to make it more attractive and professional.
Slider Controls
Different controls of a slider help to customize the slider. All possible controls like autoplay, infinite looping, auto height, etc are included in the Testimonial Pro so that you can customize the testimonial slider as per your needs.
Ready for Translation
Ready for translation with WPML, Polylang, qTranslate-x, GTranslate, Google Language Translator, WPGlobus.
Countless Compatibility
The Testimonial Pro is compatible with any theme and plugins. Besides, it is compatible with any page builder like WPBakery, Elementor, Divi builder, Gutenberg, etc. It is also compatible with all modern browsers as well.
Fast and Friendly Support
Dedicated support is always ready to assist you with any query. The support system is fast and friendly and open for 24 hours. 
Conclusion
Finally, we are at the end of this article and I hope you are impressed with unlimited mind-blowing features and styles with the Testimonial Pro. So, just break down all limitations by checking out the Testimonial Pro.