You need to showcase your employers or team members on your WordPress website in a smart way, but you don't know the best and easiest way to do it. If you are thinking so, you have landed on the right page. A WordPress team showcase plugin can satisfy you and in this article, the best free WordPress Team Showcase Plugins are shown up.
These are awesome, cool, and more effective WordPress team showcase plugins that help you to showcase your team members in different styles and formats. These are completely free of cost, although some of them also offer premium versions for more customization and flexibility.
Hence, it is time to figure out the best WordPress Team Showcase Plugin.
WP Team – Best Team Members Plugin for WordPress


The most Powerful and easy-to-use team plugin is WP Team. It is the best and most versatile industry-leading WordPress team showcase plugin built to create and manage team members showcases with excellent design, multiple layouts, and unlimited options.
Key Features
Slick, elegant, fast, and SEO friendly.

Add members as many as you want.

Create unlimited teams with 3 different layouts (Carousel, Grid, and List).

Highly customizable with colors and stylings.

Different team member input fields like name, position, photo, short bio, social links, etc.

Control columns in different devices.

Multiple image size options.

Image zoom In and Out effect

10+ Carousel controls

Cross-browser supported.

Multi-site supported

WPML ready

And many more options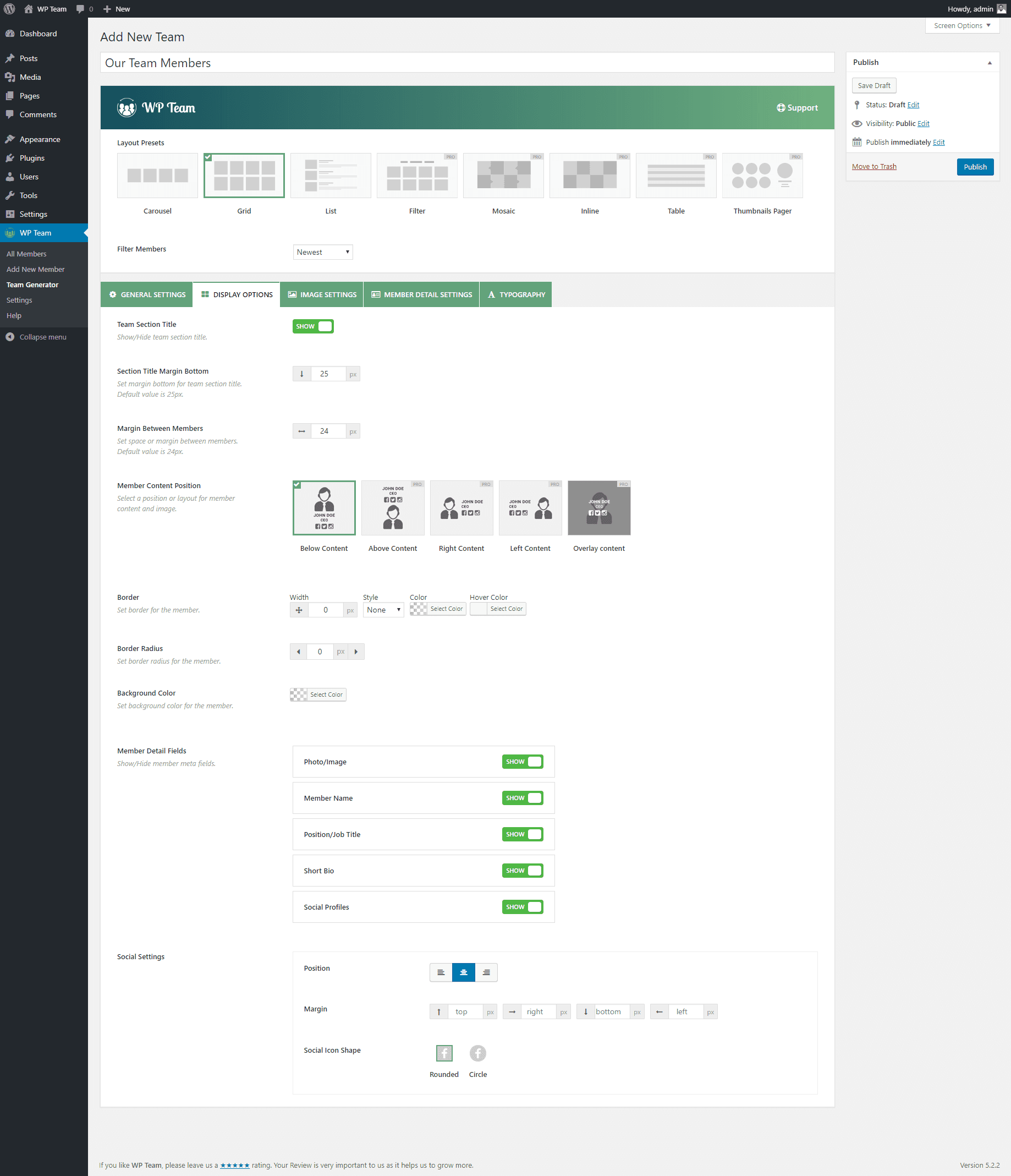 Watch how it works
If you think that these options and customizations are limited and you need more flexibility and unlimited options and customizations, WP Team offers its premium version which can satisfy your needs breaking down all limitations. So, you can check out the best WP Team Pro plugin.
Team Members

The Team Members is another WordPress Team Showcase Plugin that allows you to create a light-weight awesome team members showcase on your WordPress website. It offers different input fields for each member to showcase the team quickly.
Features: Easy to use, clean and simple admin panel, different input fields for each team member, color customization, simple shortcode for display the team anywhere.
Cherry Team Members
This WordPress team showcase plugin contains a full set of options and tools that help you to display information about your team members easily. It is completely integrated with Elementor Page Builder.
Features: Easy to use, simple and light-weight, accordance with the skills and the position of the members, image sizing options, team member listing page, easy shortcode and so on.
WordPress Team Manager

This Team Manager plugin generates a simple shortcode to showcase team members anywhere on your WordPress website. It is fully customizable, light-weight, and easy to use. In addition, it provides a clean admin panel where you can easily generate a shortcode for you. It also offers different layouts and color customization options.
Features: Grid view of team members, details page for a single team member, different image shapes and sizes, shortcode generator, different controlling options for member display, and many more options.
Team

The team is another highly customizable WordPress team showcase plugin. It allows showcasing your team members and their post or pages easily. In addition, it is very simple just drag and drops. It is fully responsive with multiple customization options.
Features: Fully responsive, clean and light-weight, easy shortcode system, 4 different themes, the unlimited team with custom design, post, page and widget supported, easy option page, unlimited color options.
Team Members Showcase

In this list, Team Members Showcase is one of the WordPress team showcase plugin with 2 different preset design templates. It also contains the latest pure CSS animation. Its slick frontend and backend UI are really awesome.
Features: Fully responsive, slick and light-weight, easy shortcode generator, unlimited team, highly customizable with huge options, draggable box items for easy sorting, 2 preset design templates, a bootstrap framework based, unlimited color schema and many more options.
Employee Spotlight – Team Members Staff Showcase Plugin

Team Members Staff Showcase Plugin offers very easy to use yet powerful employee profile management system with enterprise-level features. It contains a number of customization options.
Features: Employee circle grid, easy to use, powerful and highly customizable, employee circle panel grid, stacked view, profile view, recent members, and many more options.
Team Builder

This Team Builder is another good choice as one of the clean, simple, light-weight WordPress team showcase plugin. It offers multiple preset design templates to display your team professionally within a short time.
Features: 6 different pure CSS based design presets, fully responsible, multiple teams and multiple shortcodes, neat and clean admin panel, unlimited colors, and many more options.
Final Thought
At the end of this article, I recommend using the WP Team plugin. Because it is one of the best WordPress team showcase plugins including unlimited customization options and settings. You can also check out its premium version to break down all the limitations of the freemium version.