If you are running a company then you must have an active team that is helping you take it forward. So, in other words, your team is the soul of the enterprise that you are proudly running and they are the reason you are making money out of your business. So wouldn't you want to showcase these important members of your company like your teammates, partners or employees in a little more dignified way on your website? Well, to do so there is probably no better way other than using the WordPress Team Member plugins that quickly help present your teammates or employees in various attractive styles and formation.
These are generally Best WordPress Team Member Plugins and nicely suited to be used on webpages and in the page tab Our Team Members where you want to introduce your team members to the site visitors.
Why showcasing a team with this plugin important?
First, let me tell you why showcasing team members are important. A company or oganization become successful because of the effort and dedication of the people investing in it. Visitors may want to know a bit about those persons who act as the core of your organization or company. This will definitely help you to build up a healthy relationship of trust between the business and the consumers.
And showcasing the team that you are working with is a great way to build connections between team members and potential clients by introducing them on the site behind the services or products. This motivates the team members due to the acknowledgment that they are receiving through the website.
And these team member plugins just simply take the team showcase design to another level with its cool designing tools and its proactive features. This boosts the company's credibility and eliminates any sign of the unknown existence. Hence the right usage of a WordPress team member plugin on your site is highly essential.
Now let's not waste any more time and introduce the best 14+ WordPress Team Member plugins of 2019.Best WordPress Team Member Plugins (Free & Paid)
WP Team Pro

This is one of the most unique and trending WordPress team showcase plugin mainly built to craft and handle the team member showcases with amazing designs and multiple choices available.Watch how it works:
This plugin contains 8 Unique Layout Presets and numerous styling features. It will take you only some moments to create a cool and good looking team members section on your WordPress sites. There you can show your whole team or staff members. In addition, you can also be a bit more creative and can insert text or images to make it look much more interesting. This is a perfect thing for displaying and managing your staff members, team or working force by also dividing them into different groups or categories.
Key Features:
Lightweight and super fast
8+ Unique layout presets
13 Memebers detail input fields
5 Member content position
Ajax pagination types
Multiple shortcodes of different teams on a single page.
Up to 900+ Google fonts available
300+ highly customizable options
3 Member image shape (square, rounded and circle)
Accessibility settings ( for blind people)
Detail page field control
4 Modal (popup) layouts
Filter by taxonomy, position, location, etc
Additional image gallery for the individual members
Filter by taxonomy, position, location, etc.
And many more options.
WP Team – Best Team Members Plugin for WordPress


WP Team the free version of WP Team Pro is also a very versatile and industry-leading WordPress team member showcase plugins. This WP Team is one Best WordPress Team Member Plugins. It comes with 3 unique layouts presets and has amazing styling features which will help you to create and manage teammates showcases with several options and designs. This plugin's main purpose is to showcase the team and the working force. Image, text can also be used in it to make it look more reliable and a bit creative.
Well, the consumers at times would like to know or have a view about your working team. Show your teammates to your approaching people to share and create a bond of trust with each other in the very first place.
It is the ideal plugin to manage and display your working force.
It has the following available Input Fields:
Name of the member
Position (Job title)
Short Bio
Image/photograph
Social media links
Key Features :
Carousel, Grid, and List are the 3 exclusive layouts
Unlimited teams and members can be created
Elegant, fast and smooth
Highly responsive and mobile-friendly
Photo/ Image border and background color can be added
Highly customizable
Multiple team shortcodes can be displayed on a single page
Multisite supported
WPML ready
Every detail of the member can be hidden and shown
Team Members

This comes with the 'Teams' section created in this plugin which will allow you to hold all the data and information of your employees/co-workers/staff on your website in a much simpler way. This is another Team Members is one Best WordPress Team Member Plugins.
New members can be added quickly to your group(s) and texts, images/picture, bios, position, social links, reorder them at any time and can be displayed anywhere using a short code. All of these are totally free of cost.
Key Attributes:
Member height equalizing
Full-width pictures
Additional infobox
Filters for pictures
Social links for each member
Picture on hover
WordPress Team Manager

This will help you to present your employees and staff with the help of a shortcode. Social links, V card, Images/ pictures of the team members can also be presented. The image size can be set, primary colors for layout can be selected, and page detail links can be shown and hidden.
Key Attributes:
  Different images, shapes & sizes
  Controls the member display order
  Selected team members are displayed
  Team members are displayed by list and grid view
   Shortcode generator
   Customs CSS option
   Layout editing option
   Excludes members from the list
Employee Spotlight

This plugin provides a very powerful yet simple employee profile management scheme, which will also have enterprise-level features in it
It can help you to display your co-workers/employees/staff/partners/founders/teammates and so on by showing their images/photos/bios making it much easier for you to get more information and details about our team members. You can choose the Emplyee Spotlight from the Best WordPress Team Member Plugins.
Employee Spotlight basically offers 5 amazing ways to check out your team member's profiles.
Key Attributes:
Employee Circle Grid: The photos and names of the staff members
Employee Circle Panel Grid: A brief bio, photos, profile/contact/social links, staff names on hover
Stacked View: Image, location and staff names and info
Recent and Featured team members, images, names, staff sidebar widgets everything linking up to the team member profile
Profile view: Holds the team member's names, photos, social and contact links, employee tags and locations as well
Team Showcase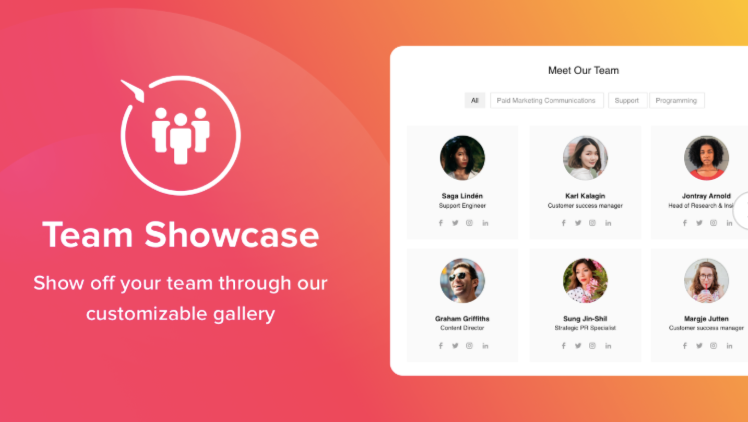 This is the ideal plugin for showing, categorizing or dividing your staff, team members or co-workers into groups. It also helps you to set and present a bunch of images and information in various layouts.
Why is it required?
The main motif of this plugin is to present the working force you have also it can be utilized for, other multiple purposes.
Key Attributes:
 The entries can be displayed in 4 individual ways-
1) Grid,
2) Grid with information on Hover,
3) Table,
4) Thumbnails Pager layout.
The layout can be customized and enhanced with several pre-built styles and multiple layout options:
Number of columns.
Image shapes and effects.
Composition.
Text align
 J Query category filter.
It can be filtered by categories
Drag and Drop Reordering
Widget ready
PHP function generator and Shortcode
Input fields for specific contents
Multiple usages
Creative Team Showcase
This Plugin helps you to give a touch upon introducing your team in a bit more creative manner. When it comes to presenting the skill of the teammates of your company in a more graceful way, this plugin simply helps its users do that more conveniently than ever.
Key Attributes:
It is available with 6 different layouts with multiple options
It is fully customizable (available in all colors, fonts, and sizes
Very responsive
No code required
Media queries included
Unlimited skills
Clean and optimized code
Detailed documentation
Modals included
Modern Team Showcase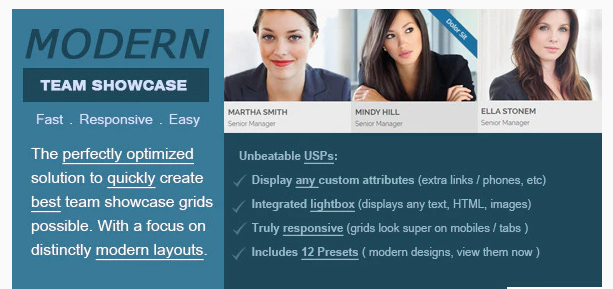 This plugin provides an output in a very quick amount of time. It helps you to gather the data of your team members and will help you to assemble and showcase them in the form of grids, tables, and columns. This plugin also got re-editing options, making your task much simpler. From the following list of Best WordPress Team Member Plugins, you can pick this Modern Team Showcase plugin.
It has got 13 very responsive presets. The preset builder allows you to take a quick move with all the choice of presets along with all the combos of elements and features you wish for.
Key Attributes:
10 responsive presets available
In-built tutorial facility
Automatic updates
Frontend showcase editor
Frontend password Forms
Editable LightBox structure
Meta Key logic system
Visual template editor
Media Queries input
My Team Showcase WP plugin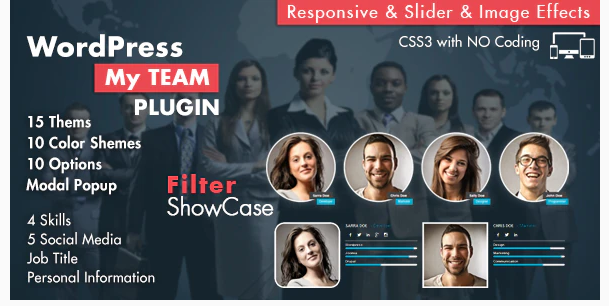 This plugin inputs very responsive, slider and great image effects. It is mainly represented as one of the most updated and well-built plugin for crafting unlimited teams with multiple designs and choices. You can easily choose from its wide range of special themes and color schemes to showcase your team. Not to forget its display options and slider features that enable anyone to have some really awesome team showcasing design that too without needing to write a single line of code
Key Attributes:
Has got a Slider Showcase
Modal Popup
Slider Popup
Skill Bars
Each member has got Custom Links
15 pre-defined Responsive themes available
Very Responsive
Multi Groups
Multiple ordering
Available in multiple languages
Filter Showcase
Social Icons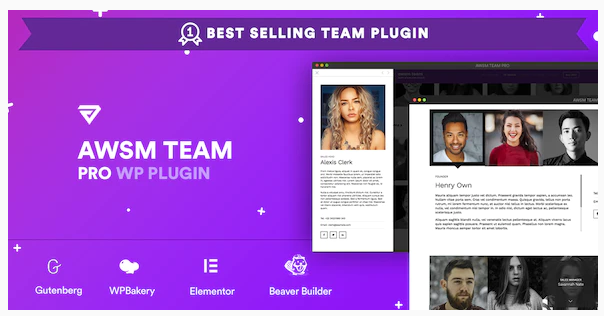 This is one of the most unique and versatile WordPress plugins which makes creating and arranging your group page among all.
AWSM Team Pro contains 8 cool presets and trendy styling features. It takes only a couple of minutes for you to create some amazing team section on the WordPress website with the help of this plugin.
Key Attributes:
Detailed Documentation
Various style options for individual presets
Page Builder Support available
Touch-enabled and very responsive
Icon font added
DV Team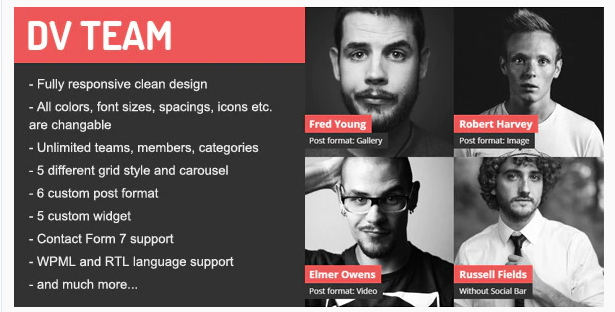 If you are looking for the finest yet most responsive plugin for team showcase for WordPress, then DV Team will be the ideal choice. It comes with the option of creating unlimited teams, new categories, and members. It is highly customizable as it comes with features like changing the colors and sizes of the font etc. This plugin can also help you with creating portfolios, galleries, logos/designs, products and many more.
Key Attributes:
 WPML plugin support
 5 different grid styles
 Unlimited capacity of holing teams, groups & categories
 Skill bars
 3-panel sides
 5 custom widgets
 Social icons bar
 Available in all colors, font, spacing, icons, and sizes
 Lightweight
 Well documented
Heroes Assemble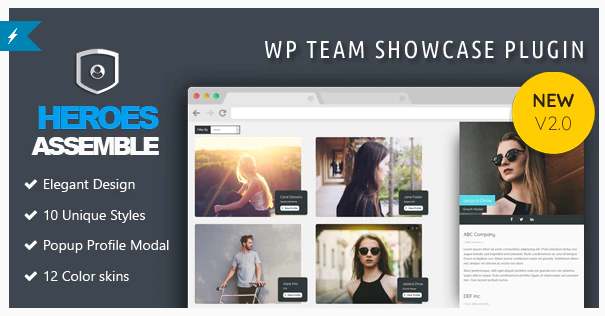 Heroes Assemble plugin will be the best and ideal choice for creating, organizing and editing your groups regarding your staff, team members or for making any sort of groups on your WordPress site.
Key Attributes:
Elegant designs
Amazing Popup Profile Modal
12 color skins
10 exclusive styles
Built-in social media icon
Cross-browser support
Highly responsive
Shortcode generator
Unlimited teams and members
Translation ready
 Elfsight Team Showcase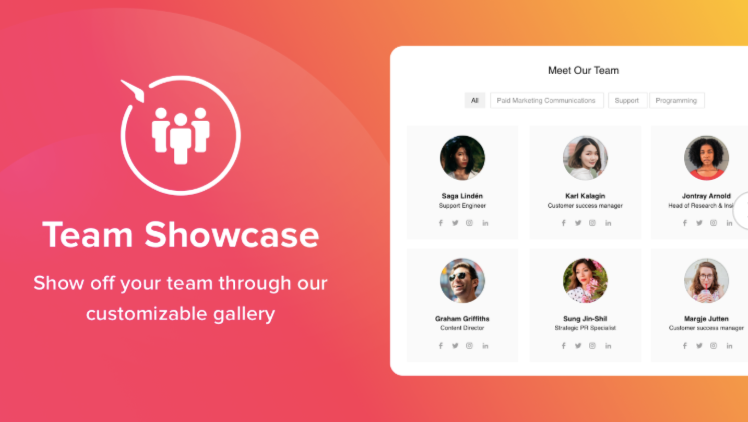 Elfsight Team Showcase helps to create an interaction making a strong and reliable bond between your group members and your customers/users.
You will be able to create different categories and put more details about your teammates, along with creating various categories, changing colors and picking trendy layouts. Visitors are just one click away from interacting and give feedback with social icons and active links available. Overall it helps to maintain transparency with your visitors.
This plugin is going to be the ultimate choice if you want to create a much easier source of connection among your clients and your team members if you want to increase trust in your business if you are looking for a solution at a reasonable price.
Key Attributes:
 Maximum details about your team members
 A choice of 4 layouts
 Structuring the group members and team
Automatic updates
The responsive size that helps to fit anywhere
Visual composer supported
WordPress shortcode
Customer-friendly development
Lifetime updates
Fixes the plugin bugs
Minimum requirements
 Team Builder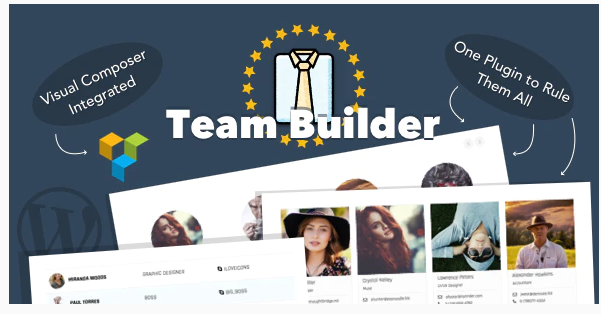 Team Builder is one of the most top and finest multi-purpose WordPress plugin. It holds the features like shaping an unusual team showcase on your website.
It is a very time consuming and super cool and entertaining team Builder. The best part is, that it can be also used for crafting wonderful logos or testimonials showcase too.
Key Attributes:
Visual composer support
Very responsive
Various layouts: sliders, widgets, grids, tables
Super flexible design
Profile sliding panels with 5 themes
Multiple teams, members and departments
 Easy to use shortcodes
Team filtering by departments or any tags
Stores employees as contacts
 Social icon bars with trendy styling options
Pick your WordPress Team Member Plugins wisely & don't forget to share your views
So far it has already been established that each of these plugins has its own set of advantages and features that would cater to the small companies to large enterprises with one or more teams in it. And therefore there is a mixture of both free and premium team member plugins that can be chosen based on your budget.
This list of team member plugins provide you with a buffet of choices for your WordPress site, so choose according to your requirement. I am pretty sure that you will get the best-suited one to manage your site making it much easier.
So hurry up! check out all the features of these plugins and pick the one that suits you to add up information/images/links etc about your team members building a strong bond with your clients.
My personal favorite among all of these is WP Team and WP Team Pro when it comes to having advanced functionalities as well as its ability to present a team or a group of teams in a more elegant way than ever. Also Team Members, and Team Showcase looks quite promising as well.
Lastly, please do share your reviews and thoughts about these plugins. And if you have already started using any of the plugins mentioned above then do share your experience.