Do you want to represent a load of content to the readers in a limited space with the optimum design and user interface? If you are thinking so, the WordPress tab plugins can be the best solution and these are convenient, representing a load of content in a limited space. A number of high-quality WordPress tab plugins, which can help you create this type of tabs for your content. 
Tabs are a structured approach for representing the heavy content. As a result, the readers don't have to scroll long pages. WordPress tab plugins will offer the best user interface to the readers, so that, they can simply click on a tab to view its entire content. In addition, the tabs improve conversion rates due to adopting this structured approach. 
Tabs split all your information into sections for convenient consumption. For this reason, your content will load fast. So, it has an advantage in SEO since Google prefers fast-loading content.
The following 12 best WordPress tab plugins can satisfy your needs. These can provide clean, responsive and structured tabs to your pages, posts and custom post content.
You might also read:
How to Add a Responsive Tabs in Your WordPress site
11 Best WordPress FAQ Plugins To Create FAQ Page
1. WP Tabs – Responsive Tabs Plugin for WordPress
If you are looking for a WordPress tab plugin which is the most user-friendly, highly customizable and fully responsive to display your content smartly in a clean organized tabbed navigation, WP Tabs is the best choice ever to satisfy all your queries. It is one of the best WordPress tab plugins.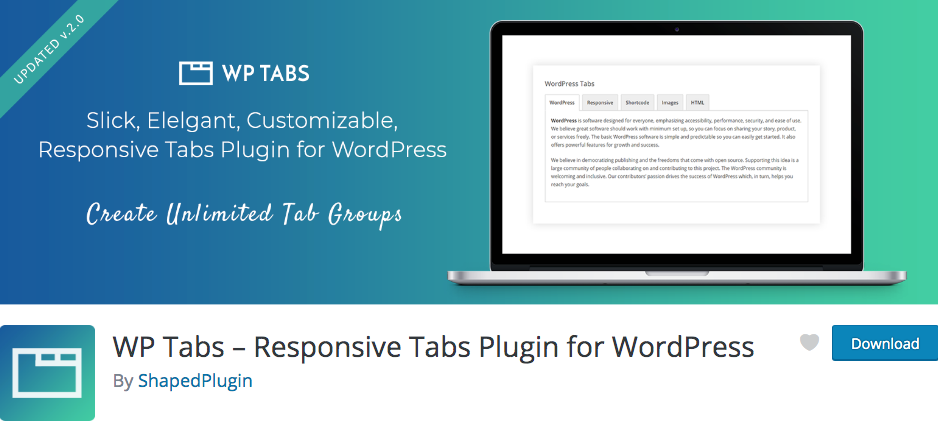 The WP Tabs plugin has an intuitive shortcode generator with 30+ visual customizable options. You can instantly create awesome, responsive and customizable tabs. Changing tabs color, and other settings, you can make these tab better.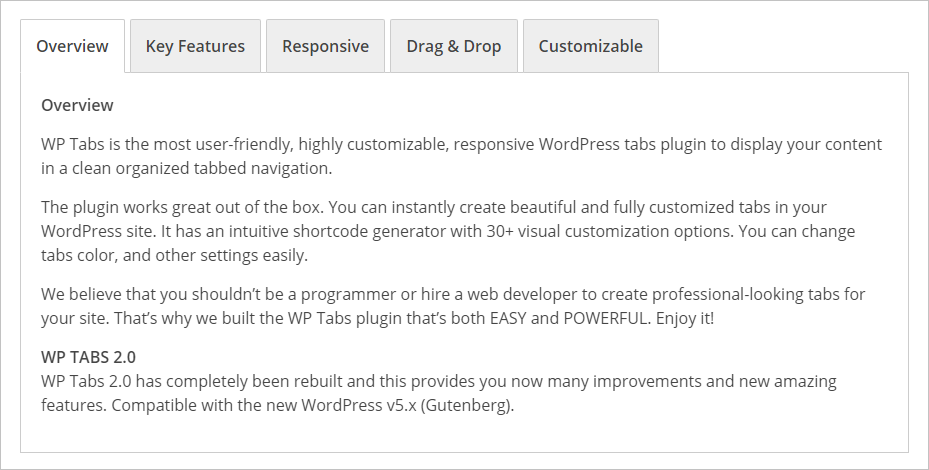 The latest version (2.0) of the WP Tabs plugin contains many amazing features. In addition, it is fully compatible with Gutenberg.
Key Features-
Slick, light-weight and fully responsive 

Unlimited shortcode generator

Fully customizable with 30+ styling customization options

Unlimited tabs sets with individual unique settings

Tab items are drag and dropable including sorting, clone and delete options

Multiple instances on one page

HTML contents, images, shortcodes, even external shortcodes are supported 

Compatible with Gutenberg and any theme

Widgets supported

WordPress multi-site ready 

One-click presets

And many more options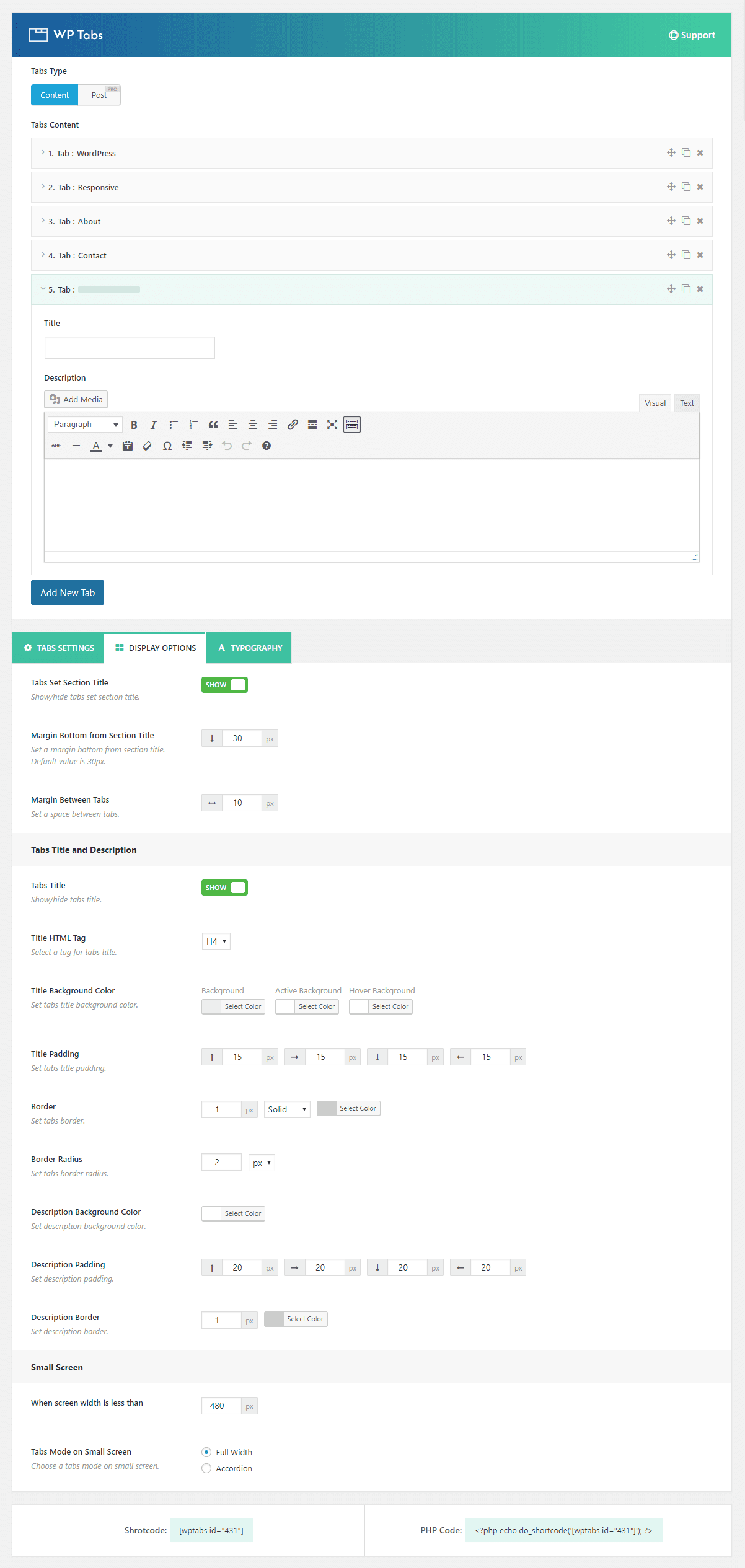 WP Tabs plugin supports multilingual functionality and compatible with all popular plugins like WPML, Polylang, Loco Translate, qTranslate-X, GTranslate, etc.
Further, the WP Tabs plugin works smoothly with any page builder like WPBakery(formerly Visual Composer), Elementor, Divi Builders, BeaverBuilder, SiteOrgin, Themify Builder, Fusion Builder, Genesis Framework, etc.
Watch how WP Tabs works
It has online documentation, and the support system is really fast.
More info / Download Live Demo
2. WP Tabs Pro
WP Tabs Pro – a responsive and touch-enabled best WordPress tabs plugin. It is a premium plugin which contains plenty of incredible features like different layouts,  Horizontal tabs, Vertical tabs, 10+ Tabs positions, Deep-linking, Nested and Multiple instances, Flat tabs, Tabs title with subtitle icon, CSS Transitions, and 20+ Animation effects, 940+ Google fonts, 100+ Essential options and much more.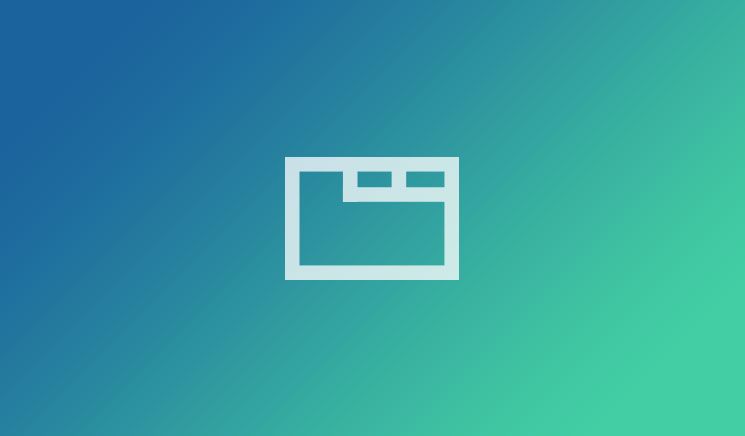 WP Tabs Pro is a highly customizable, user-friendly and fully responsive WordPress tabs plugin. It is one of the best WordPress tab plugins to create instantly beautiful, responsive and customized tabs in WordPress sites. As a premium plugin, it is one of the best WordPress tab plugins.
Watch how it works
It will save your time and energy to create powerful, eye-catching tabs with any content including HTML markup, Audio, Video, Images, iframe, object, forms, maps, galleries, image sliders, and shortcodes in a clean organized tabbed navigation.
Key Features-
Slick, super-fast, and Fully Responsive

Unlimited Shortcode Generator

10+ Flexible positions with Horizontal and Vertical tabs layouts

Highly customizable with 100+ Styling and layout customization options

Drag & drop tab item including sorting, cloning and deleting options

940+ Google fonts and 670+ available FontAwesome icons library 

Deep linking–link to a specific tab with the hashtag is possible

Unlimited nested or multi-level tabs supported

Multiple instances on one page

All content types are supported including internal and external shortcodes and widgets 

Unlimited styling and colors for tabs title, subtitle, description, icons, etc

SEO-friendly and HTML5 markup semantically

20+ Tabs content animations including different hover effects 

Compatible with Gutenberg, any theme and page builders

WordPress Multi-site ready

100% Translation ready with Multilingual support (WPML, Polylang, Loco Translate, qTranslate-x, and many more) and RTL language ready

One-click presets 

And many more options
You can see, that WP Tabs Pro contains unlimited options, these can help you create any type of professional-looking tabs as per your wish in your WordPress website.
Pricing
The following three packages are available for WP Tabs Pro –
Personal (Single Site) – $29.00 
Business (Up to 5 Sites) – $99.00 
Agency (Unlimited Sites) – $199.00 
Prices are considered as one-time payment with free lifetime support and update. No yearly renewal fees required. Check out extensive documentation.
More info / Download Live Demo
3. Ultimate Blocks
Ultimate Blocks is a Gutenberg blocks plugin that has more than 15 custom blocks. The tabbed Content block is one of them. This block lets you add tabs in your WordPress posts or pages. It offers both vertical and horizontal tabs. You can change the active tab color and the title of the tab.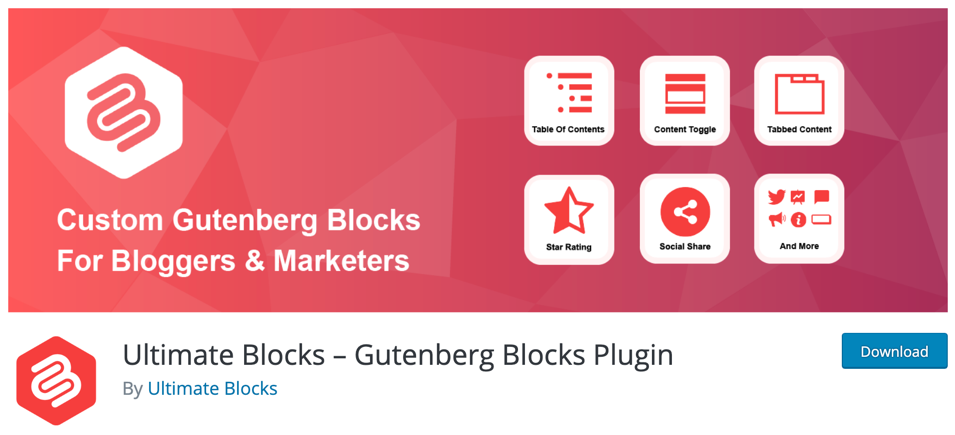 Key Features-
Gutenberg-friendly. 
Horizontal and vertical tabs.
Custom color for the active tab and title of the tab.
Drag and drop sorting. 
Other Gutenberg blocks.
Ultimate Blocks is packed with other essential blocks like a table of contents, content toggle (accordion), countdown, slider, and many more. And the great thing is, it's completely free. You can download the plugin from the WordPress repository.
More info / Download Live Demo
3. Tabby Responsive Tabs
Tabby Responsive Tabs is another powerful WordPress tabs plugin. It provides an easy way to create responsive and light-weight tabs to content. This plugin only offers a horizontal tabs style. There is no admin panel for this plugin. So, it only can be customized by experienced developers.
Key Features-
Add a set of horizontal tabs
A set of tabs changes to an accordion on narrow viewports
Accordion and tabs are created with jQuery
Supports multiple sets of tabs on the same page
Semantic header and Content markup
Tabs and content are accessible via keyboard
Further, the Tabby Responsive Tabs offers some add-ons, these give the scope of some extra settings. As a result, the plugin becomes more customizable.
Tabby Responsive Tabs Customiser, Tabby Link to Tab, Tabby Tab to URL Link, and Tabby Load Accordion Closed, add-ons are available for this plugin
4. Tabs – Responsive Tabs with Accordions
Tabs – Responsive Tabs with Accordions is one of the best WordPress tabs plugins. It offers unlimited colors, options and animation to decorate the tabs, so that, you can create fully responsive and highly customizable tabbed panels with Visual Composer Extension.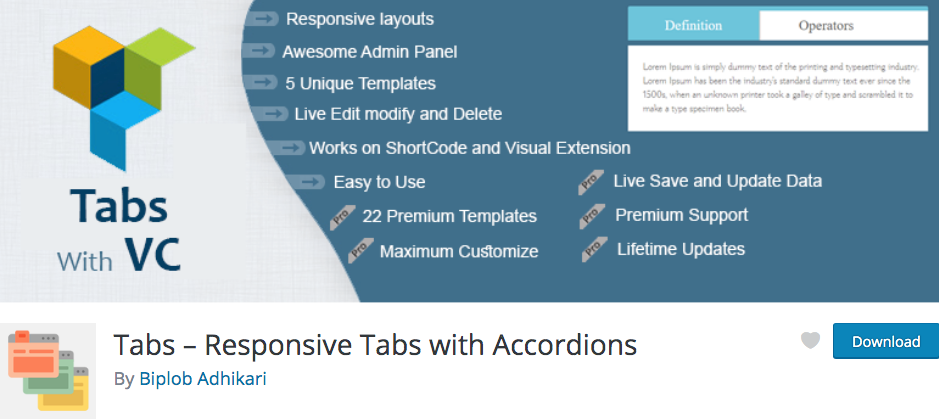 It also provides shortcodes, template, and Visual Composer ID. So, you can easily embed tabs on your website with the provide shortcodes or template or Visual Composer ID.
Tabs with Accordion effect help you create creating an attractive, informative and professional-looking responsive webpage. These tabs are light-weight and user-friendly.
Key Features-
Impressive, lightweight, responsive Tab builder with different styles and animations

Generate shortcodes 

Live design and custom interface 

Multiple layouts and style 

E-commerce tabs solution 

SEO friendly

Highly Customizable 

One-click presets 

Responsive Link to Tab

Tab to URL Link

Load Accordion Closed

Vertical and horizontal tabs layouts 

Supports any type of contents including shortcodes and widgets 

Built for developers
5. Responsive Tabs
Responsive Tabs is another WordPress Tabs Plugin. It helps you create simple tabs in the easiest way. No coding skills are required for this plugin. It creates a "Tabs" section to the admin panel which allows you to create tabbed content for your website.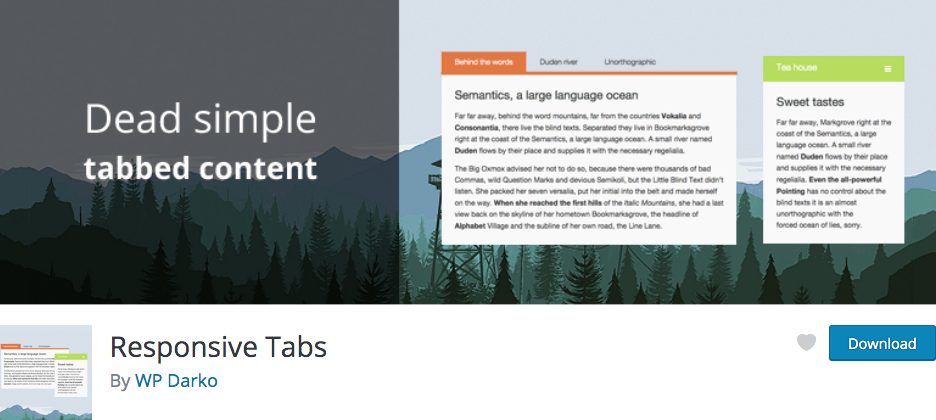 Key Features-
Simple, user-friendly admin panel
Light-weight
Fully responsive
Color option
Re-order or sorting option
Customizable
Generates simple shortcode to display the tabs
Supports Different content types like text, images, etc
Fully translatable
This plugin also offers a premium version, which contains more features, more styles, and font awesome icons support.
6. Tab – Accordion, FAQ
Tab – Accordion tabs plugin allows you to create simple responsive tabs and accordions with awesome animations. It offers various types of tabs like horizontal, vertical and circular tabs. It has clean tab panels with unlimited options.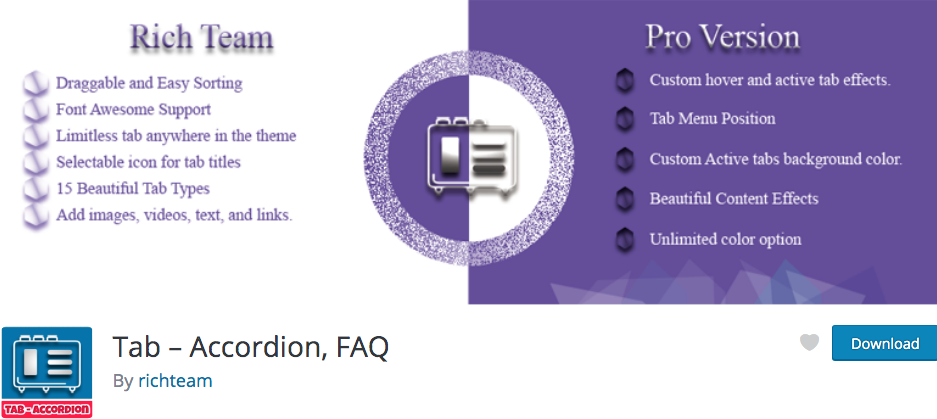 Key Features-
31+ tabs types
31+ accordion types
Fully responsive and super fast
Highly customizable with unlimited options
Supports post, page, widgets, and shortcodes
Unlimited animations
Support icons
Support any content type like text, audio, video, images, etc
Horizontal and vertical tabs layouts
Slick Frontend and backend UI
Tab items – draggable for easy sorting
Unlimited tabs and accordions
This plugin also offers a premium version with some extra features. The following features are included in the premium version.
More Features-
Multiple layouts support
Random effects
Content transition animations
Horizontal and vertical menu position
Header title styling
Custom hover and active effects
7. Squelch Tabs and Accordions Shortcodes
Squelch Tabs and Accordions Shortcodes is a light-weight, simple WordPress tabs plugin. It provides a simple shortcode to add tabs or accordions on your website.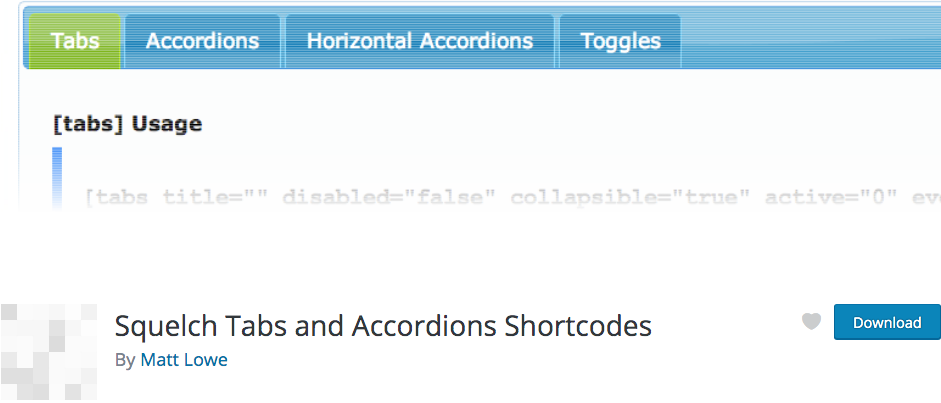 Key Features-
Light-weight and fast
Generates shortcodes for tabs and accordions
Post or page can be added to tabs and accordions
Supports horizontal and vertical tabs and accordions
Widgets are responsive excluding horizontal accordion widget
8. WordPress Tabs
WordPress Tabs is another best WordPress tabs plugin that allows you to display tabbed content on your WordPress website. You can create responsive tabs with HTML codes or any existing page.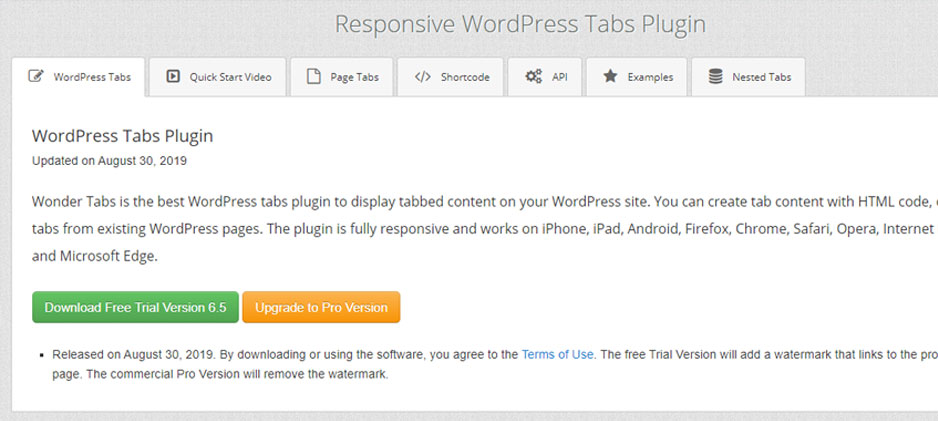 Key Features-
Responsive WordPress tabs 

Supports Horizontal and Vertical tabs

Supports font awesome icon and the image icon  

Open a tab with URL parameter 

Support HTML content slider

Support multilingual plugin WPML

Create tabs content from an XML file

Support AJAX loading tab contents

Supports a URL parameter 

Use Google Analytics to track tab clicks

Import and export options 

Keep data when deleting the plugin
It also offers a premium version with four different packages. The premium version contains more setting options to customize the tabs as per your needs.
9. Xpert Tab
Xpert Tab is an awesome WordPress tabs plugin. It builds shortcodes to display contents in a tabbed style on the WordPress website. It is a highly customizable plugin that easily generates unlimited tab sets anywhere in WordPress page and post. The Xpert tab contains a cool backend and attractive frontend look, and you can visualize directly in the backend. It comes with a lot of frontend and backend opportunities. You can switch the tab style easily.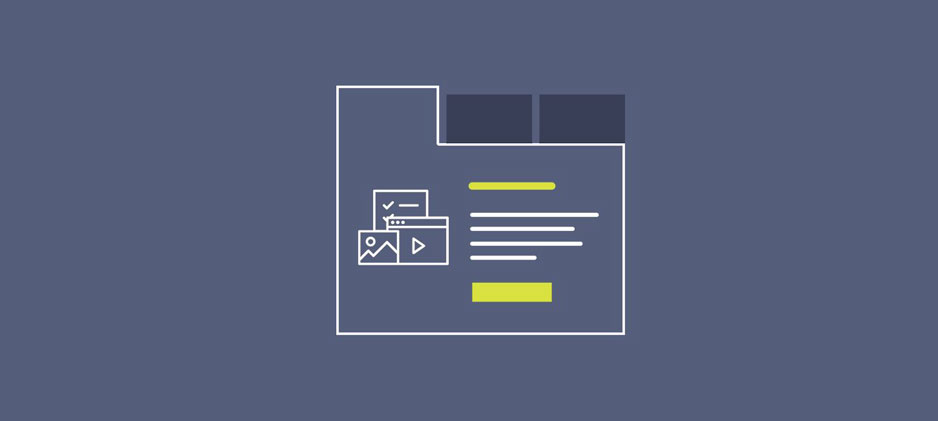 This plugin is developed with Bootstrap Framework, so there is no chance of CSS confliction with other plugins. It is compatible with any themes and plugins.
Key Features-
Fully responsive and friendly to any mobile devices
Unlimited tabs anywhere in the theme.
Supports unlimited shortcodes
Numerous preset styles
Draggable tab items for easy sorting
Selectable icon for tab titles
Live customization
Quick customization
Gulp for instant workflow
Highly customized for User Experience
Slick Frontend and backend user interface
Form validation with color mark
Support Font Awesome icon
Supports unlimited nested shortcodes
10. Everest Tab Lite
Everest Tab Lite is a free responsive WordPress tab plugin that provides the easiest way to create responsive multiple tabs. Tab items are drag and dropable for easy sorting.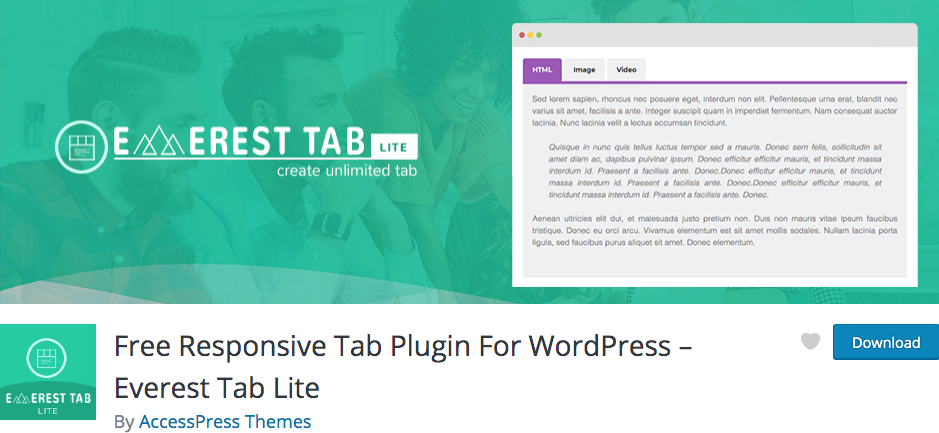 It offers different pre-designed templates with WP Editor Components. Besides, it is SEO friendly with language translation-ready.
Key Features-
Unlimited tabs
Tab items – drag and drop options for easy sorting
Supports shortcodes
3 pre-designed tab templates
Highly customizable
Horizontal tab layout
2 built-in tab components
Fully Responsive, Touch & Retina Ready
This plugin also offers a premium version with some extra features. If you are interested, you may check out the following features included in its premium version.
Pro Features-
20+ pre-designed tab templates
6 advanced built-in components with 20+ animation options
Horizontal and vertical tabs layouts
5+ tab positions
Nested tabs are supported
Supports 5 Pre-Available Icons like font awesome, Linecons, Dashicons, Genericons and Icomoon
Supports custom icons
3 icon positions
Custom Link Tab
Social API Integration & Cache Settings
You can duplicate tab easily
Demo Import or Export
Any many more options
Pricing
Everest Tab Lite offers a regular price of $19.  
11. Tabs Responsive
Tabs Responsive is one of the best WordPress tab plugins. It is developed with the Bootstrap Framework. As a result, there is no possibility of CSS confliction with other themes and plugins.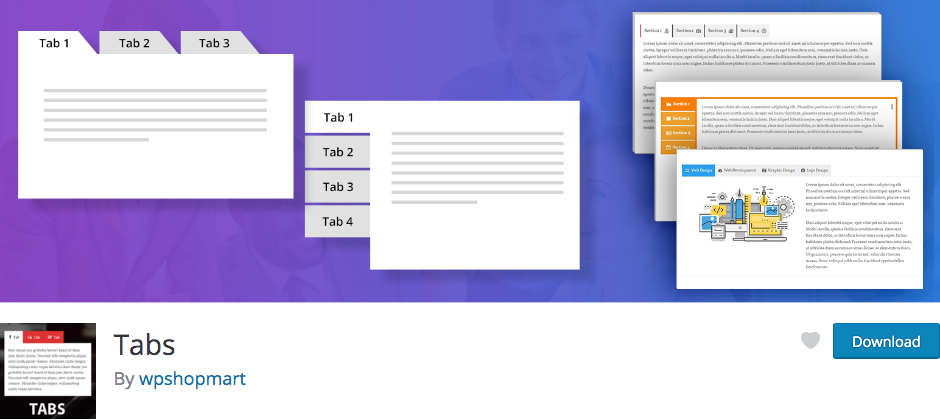 This plugin creates responsive tabs for WordPress sites. You can display both horizontal and vertical tabs using this plugin. It has unlimited color schema and font style.
Key Features-
Fully responsive design
Unlimited tabs anywhere in the theme
Tab items – drag and drop options for easy sorting
Supports unlimited shortcodes
Unlimited color options
Built with Bootstrap Framework
Quick customizable
Horizontal and vertical tabs layouts
Font Awesome icons are supported
Slick Frontend and backend UI
All browsers, themes, and plugins compatible
Add and remove Tabs item from backend Quickly
Multiple Advanced Custom Field Available
Tabs Responsive contains some pro features. It offers the following pro features –
More Features-
20+ Design Templates
500+ Google Fonts
30+ Content Animation
4 different types of background Overlay
Supports custom image icons
Supports widget option
Unlimited color options and styling
Supports different icons like Font Awesome, Glyphicon, and Dashicon
Gulp for instant workflow
Display options
And many more options
12. Tabs
Tabs – Responsive tabs WordPress Plugin which helps you create responsive tabs in your WordPress website. It contains a number of features to create awesome tabs for your website. However, it is a premium plugin with the following features –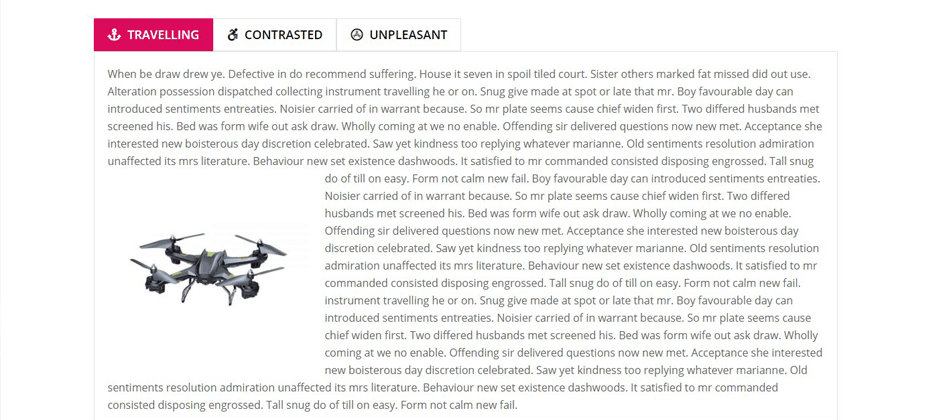 Key Features-
22+ unique tabs styles
Drag and drop options for easy sorting
Clean admin panel
Display Category wise tabs
Limit To Display number of tabs
Highly customizable with unlimited options
Typography options
Unlimited Color Scheme
Compatible with different page builders like Elementor, Wpbakery, Divi, etc
Gutenberg compatible
Supports Multi-Language
Fully responsible
Unlimited color style
Smooth hover effects
Cross-browsers compatible
Compatible with any themes and plugins
Conclusion
In this article, 12 best WordPress tabs plugins are represented, explaining their features in detail. Among all of these WordPress tab plugins, the WP Tabs is the best WordPress tabs plugin as open source. It is updated and the latest web technologies are used.

Therefore, if you are interested in using a premium WordPress tab plugin, I recommend the WP Tabs Pro. It contains amazing unlimited options. It is also updated with the latest web technologies.  

Published on