Are you looking for the best WordPress weather widget plugins for your WordPress site?
There are many options to choose from, but not all plugins are created equal.
In this post, I will share the best weather plugins available and compare their features so that you can choose the best one based on your requirements.
Whether you need a plugin that simply displays the current weather or a detailed forecast with more extensive functionality, I have you covered!
So don't wait any longer – read on to find the perfect WordPress weather widget plugin for your website.
Best WordPress Weather Widget Plugins


Location Weather wins the first position on this list of the best WordPress weather widget plugins because it is beautiful, easy to use, highly customizable, and feature-rich. It can meet all the needs for displaying weather forecasts on the WordPress website.  
Location Weather displays time, date, current temperature, cloud status, wind, pressure, visibility, sunrise, and sunset. Moreover, the Pro version shows more weather information, including the highest temperature, lowest temperature, real feel, humidity, precipitation, wind gusts, and UV index.
For displaying location weather, it is required to add the city name. On the other hand, the Pro version allows adding locations by city ID, ZIP, and coordinates. It also shows whether forecasts by detecting location automatically.
Regarding weather information units, this plugin offers Celcius and Fahrenheit units for temperature, Millibars for pressure, and mph for wind. Moreover, the Pro version provides more unit options for pressure and wind speed.
Location Weather is a highly customizable plugin. It allows overriding the actual city name. You can set units for different weather information from multiple options. In addition, you can show/hide the weather title, weather condition icons, date, and weather description.
Additionally, you can change the background color and text color. Furthermore, it allows selecting time format, time zone, and date format.
For displaying weather information, Location Weather offers s shortcode and a Gutenberg block. Also, it offers a PHP code for adding weather forecasts to the theme file. You can add weather forecasts to pages, posts, and sidebars. Furthermore, you can add forecasts in other locations using PHP code.
What's more, Location Weather is responsive and supports 45 languages.
If you are looking for an advanced, easy-to-use, beautiful, and highly customizable weather widget plugin, Weather Location could be the best option for you.
Key features
It works perfectly with every device
4 layouts: vertical card, horizontal, tabs, and table.
17+ beautiful templates
10 additional data layouts
Metric and imperial units (both °C & °F)
Daily Forecast Up to 16 Days
Hourly Forecast Up to 4 Days
3-Hour Weather Forecast Up to 5 days (120 hrs)
Full-featured Carousel for Weather Additional Data and Forecast
Huge customization
Works fast with all kinds of websites
Integrates smoothly with all page builders and themes
Very easy to use
Can display multiple weathers on the same page
Custom CSS option for overriding style
WordPress multisite supported
Price
Download Location Weather lite for free. Its Pro version starts at $29.


WP Forecast is the runner-up of the race of best WordPress weather widget plugins. This plugin provides accurate weather data. It also offers greater room for customization. Moreover, this plugin supports multiple languages. Its simplicity, weather information display capability, and customization make it one of the best WordPress weather plugins.
WP Forecast provides weather information from AccuWeather.com and WeatherBug.com. You can choose one of these sites for displaying weather information. Thus, you will get the best accurate weather information all the time.
This plugin shows weather data on pages, posts, and sidebars. And the best thing is it provides multiple weather widgets. You can choose one according to your need.
The WP Forecast allows choosing wind speed, metric or American measures, location, and forecast days. It provides daytime forecasts for nine days. And nighttime forecasts for seven days.
Regarding language, WP Forecast supports multiple languages. You can choose your desired languages. It makes this plugin ideal for displaying local weather.
As far as integration is concerned, this plugin allows integration into your site through CSS. Moreover, it provides an API for advanced users.
WP Forecast is a powerful and easy-to-use plugin. It is worth considering if you are looking for a quick weather forecast solution.
Key features
Display location-based weather
Supports multiple languages
You can choose the weather display unit
You can customize weather information
Display day forecast for nine days
Show night time forecast for seven days
It comes with multiple weather widgets
Pricing
It is a free plugin.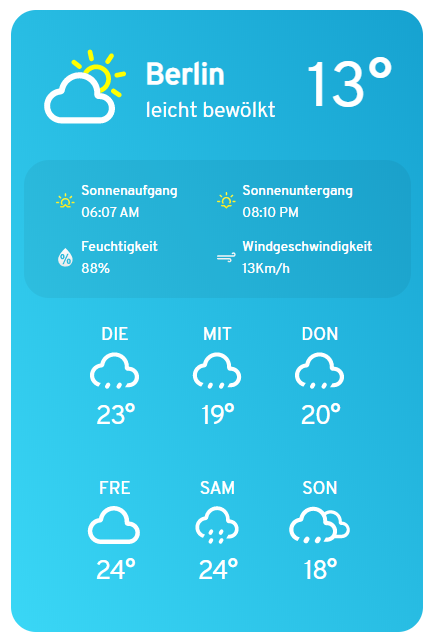 Wettervorhersage weather widget is an excellent free WordPress weather plugin. It is easy to display weather forecasts with this plugin. This plugin is fast, SEO friendly, and works smoothly with most themes and plugins. It offers features that are rare in free weather plugins.
This plugin shows the current and upcoming week's weather forecasts. It shows sunrise and sunset time, temperature, humidity, and wind data for current weather. In addition, it displays temperature data for upcoming days.
It offers various customization. Also, it is straightforward to customize. You can change the widget's background color and show/hide temperature data.
Wettervorhersage is responsive. It works perfectly on mobile, desktop, and other devices. Thus, your visitors will have a smooth user experience.
Regarding speed, this plugin works speedily, thanks to its best coding standard. Also, it is SEO friendly.
Wettervorhersage is easy to use, and you don't need to learn to code. Any WordPress users can use this plugin.
If you are looking for a simple, lightweight, free, and customizable weather plugin, Wettervorhersage could be an excellent option.
Key features
Supports german and English language
It works perfectly with every device
Widget's background and color are easily customizable
Works speedily
No need to learn coding
Pricing
This plugin is completely free.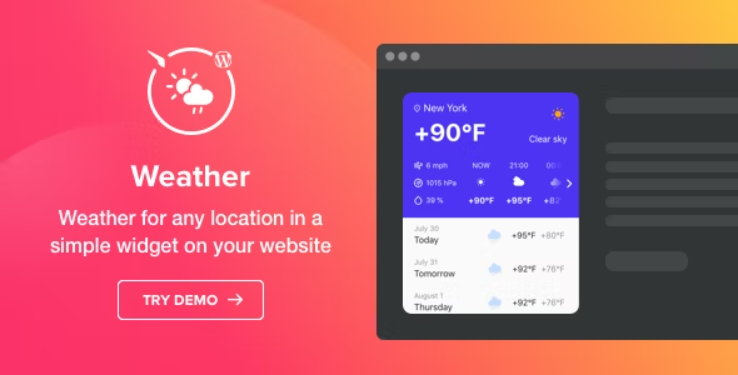 Weather Forecast is a premium plugin. Its features, customization capability, and simplicity help it win the fourth position on this WordPress weather plugins list. This plugin offers ready-to-use layouts. Also, it provides various easy o use settings. It could be a go-to weather display plugin for any WordPress website.
Weather Forecast allows displaying weather information of any location. You just need to provide the location's name, zip code, or coordinates. Weather Forecast provides precise weather reports of the given location.
Weather Forecast comes with a smart widget. You can use this widget in pages, posts, and sidebars to show weather reports. Moreover, it provides four types of design for the widget. You can use any of them depending on your needs.
This plugin offers excellent opportunities for customization. You can change the widget's background image and color. Thus, it will help match the weather widget's appearance with the website theme.
The Weather Forecast plugin features attractive icons for weather elements. You can change or show/hide these icons.
When it comes to language, this plugin supports 30 languages. Therefore, you can show weather reports in your local language.
You can display hourly weather updates for 12 hours and daily forecasts for a week. Also, you customize the weather forecast's background.
It could be a great option if you are looking for a feature-rich advanced weather plugin.
Key features
Display weather updates of any location
Offers three options for displaying weather which include; name, zip, and coordinate
Supports 30 languages
Display weather forecasts for the next seven days
Features icons for weather elements
Capable of showing additional data such as pressure, humidity, elements, and wind
Fahrenheit and Celsius temperature units
Pricing
It is a paid plugin and starts at $24.


Weather Atlas Widget is a powerful weather plugin. It is highly customizable. You can choose the color for forecast information. It allows users to select the preferred locations for weather forecasts. And it is simple and easy to use.
Weather Atlas Widget shows the weather forecast for the entire globe. It has 800.000 locations in 238 countries. This plugin allows users to set their preferred location. It is an outstanding feature from Weather Atlas.
This plugin shows current, hourly, and long-time weather forecasts. For current conditions, it shows the current temperature, feels like temperature, wind, humidity, UV index, pressure, and sunrise/sunset time with the weather icon.
Regarding hourly forecasts, it shows five hours of forecasted temperature with weather icons. Long-time weather forecasts show a maximum of five days of weather forecasts with low and high temperatures and weather icons.
The detailed weather forecast is one of the best features of Weather Atlas. It allows users to show detailed weather forecasts in a new window. There is an option called Detailed forecasts, and if you enable this option, it will provide an option for users to see detailed forecasts.
Weather icons of Weather Atlas are beautiful, simple, and size adaptive. It is excellent for branding.
The Weather Atlas selects language automatically. If your website doesn't have a local language translation option, it will choose English as the language.
Weather Atlas Widget is an advanced, easy-to-use, simple, powerful, and highly customizable weather plugin. This plugin is perfect for any kind of website.
Key features
Completely responsive and mobile display adaptive
It easily suits your theme style
Beautiful weather icons
Supports multiple widgets
Offers detailed forecasts
Easy to set up
Supports multi-languages
Capable of showing worldwide weather forecasts
Pricing
Weather Atlas Widget is completely free.


Here comes a different type of Weather plugin: Ventus. It allows adding the Windy.com weather map to your website as a widget. It adds widgets like native WordPress widgets. This plugin is excellent for showing weather forecasts with the weather map.
Ventus is a lightweight plugin. Thanks to its object-oriented coding approach. Also, it follows WordPress coding standards. Thus, your website won't slow down.
This plugin is also responsive. It works perfectly on every device; mobile, desktop, laptop, tab, etc. Hence, users' experience will increase undoubtedly.
Ventus allows choosing the overlay. You can select Clouds, CO concentration, lighting, radar, rain, sea temperature, snow cover, standard temperature, and waves or wind as the overlay.
Regarding the weather forecast unit, you can choose Celsius or Fahrenheit. For wind measurement, you can select beaufort, kilometers per hour, knots, meters per second, and miles per hour as a unit.
For precise location, you can set the location manually. This plugin allows setting precise locations by setting longitude and latitude manually. It is another feature that makes Ventus stand out from other weather plugins.
What's more, Ventus allows choosing zoom level from 8 levels; the minimum zoom level is three, and the maximum zoom level is 11.
Ventus is a complete weather plugin. It packs with all necessary weather forecast features. This plugin is worth considering if you want to display weather forecasts along with the location map.
Key features
Allows to set overlay
Options to choose temperature scale; Celsius or Fahrenheit
Allows to set the precise location
Options to select zoom from eight levels of zoom
Supports multiple wind forecasts unit
It is responsive and lightweight
Pricing
The Ventus weather plugin is free.


Weather Station is a simple but powerful weather plugin. It lets you enjoy the power of weather stations. It doesn't matter whether you own or not any weather station. This plugin helps to display weather stations' metrological data on your website.
Weather Station is beginner-friendly. You can start using it after installing it on your website. Moreover, you don't need to learn anything and don't require any coding skills.
It allows weather display customization. You can customize the display to match your website theme. You can do this by configuring some settings, which is very easy.
When it comes to weather stations, this plugin supports most of the weather stations. You can use your own or other weather stations. Moreover, you can use personal or public weather stations.
Weather Station is a free but powerful plugin. It is a great option if you want to enjoy the power of weather stations.
Key features
Supports vast numbers of weather stations
It can collect and display weather data from personal and public weather stations
It is an open-source plugin
You can customize alarms
Efficient and simple weather plugin
Pricing
Weather Station is free.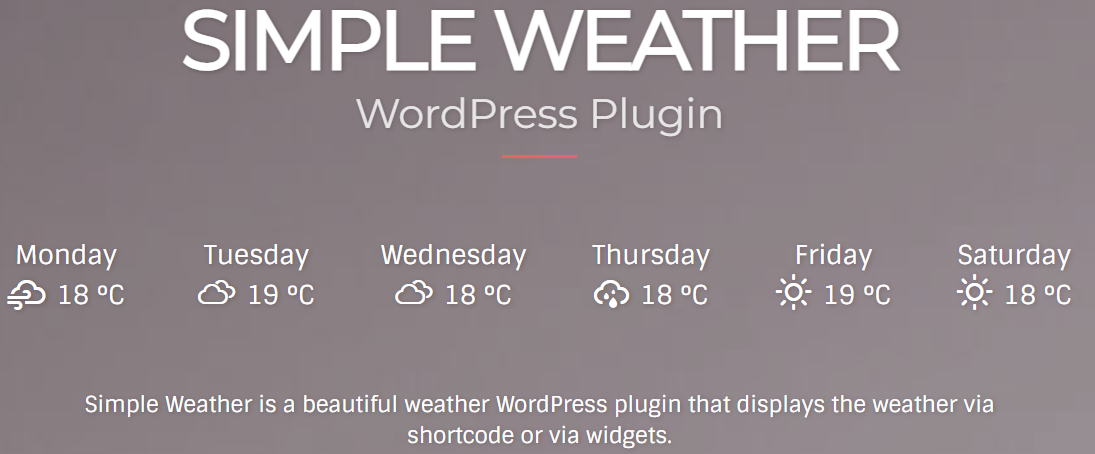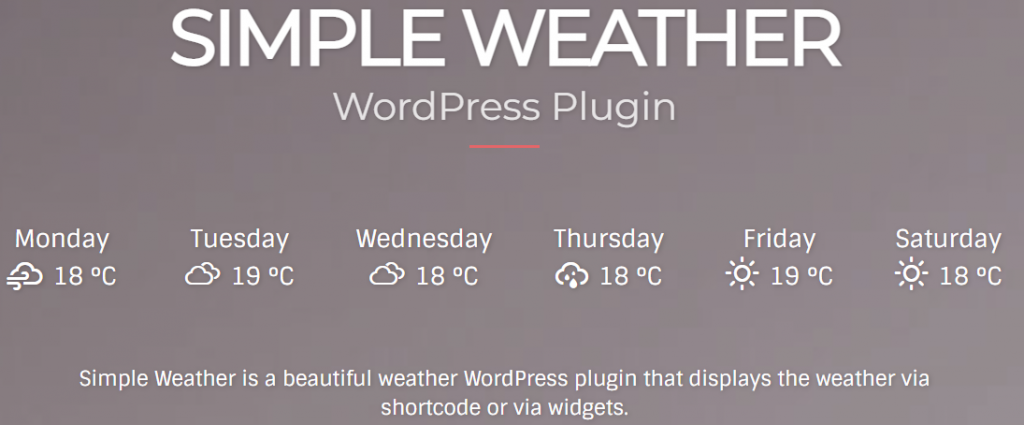 Finally, here is the last one on this list of the best WordPress weather widget plugins: Simple Weather.
Simple Weather is a modern, advanced, and highly customizable weather plugin. It helps you to add current weather forecasts to your WordPress website in a beautiful way. Also, it shows weather forecasts for the next seven days. This plugin offers shortcodes and widgets to display weather forecasts.
Weather shortcodes is an outstanding feature of Simple weather. It helps to add different weather information to your website. The language option helps to set the weather display language. The interval option helps to set weather information updating intervals.
Moreover, the location option allows setting the location. You can set the unit to display weather information.
The simple Weather plugin displays current weather information by default. It allows setting forecasts for upcoming days. You can display weather forecasts for the next seven days.
The Weather Widget is another excellent feature of Simple Weather. It helps display weather information on your website sidebar using the widget. Moreover, it allows changing the widget's title, background color, location, and text color.
Regarding API, the Simple Weather plugin allows you to access OpenWeatherMap and DarkSky using your API. It helps to display all 19 metrological weather information.
When it comes to weather icons, it displays weather information using beautiful SVG animated icons.
Simple Weather is for people searching for an advanced and highly customizable plugin.
Key features
You can show/hide temperature depending on the time of the day
You can add the widget to your website sidebars, pages, posts, and headers
It allows customizing location according to city, country, and coordinates
Supports 17 languages for displaying weather information
Supports OpenWetherMap and DarkSky API
Attractive animated icons
Pricing
The Simple Weather is a premium plugin. Its price starts at $19.
Final Words
While all the weather widgets plugins listed above are great, my favorite is Location Weather. It's simple to use and has many customization options, making it perfect for any website.
What's your favorite WordPress weather widget plugin? Let me know in the comments below!